Montee Ball
Kevork Djansezian/Getty Images
April 30, 2012
The Wisconsin Badgers are coming off a tremendous season. There were a few missteps, but their path ultimately led them to a Big Ten championship. 2012 will see the Badgers poised to repeat that success.
The offense once again has the potential to be explosive. It begins with Jared Abbrederis, a great threat on the edge as a wide receiver—the guy you look for on 3rd-and-8—and a fast return man with great escapability. He made big returns for key field position against Michigan State in the Big Ten championship for the 2011 season. He will pile on more 30-plus-yard returns this season to give the offensive good starting field position.
Wide receiver Jeff Duckworth will also be a good deep threat once again. He is maturing as a route-runner and is excellent at fighting off defensive backs and making plays.
Oh, yeah, and some guy named Montee Ball might run in a few scores as well. I won't, however, beat a dead horse here. Ball was analyzed enough all last season, this year in preseason Heisman predictions, etc., etc. Montee Ball will be a superb tailback in 2012.
A large blow was, however, dealt to the offensive line. Second team All-American center Peter Konz entered the NFL draft. The Badgers are always rolling out good offensive linemen, though, so coach Bret Bielema should have some promising players stored away to fill the gap.
Additionally, third-team All-American quarterback Russell Wilson entered the NFL draft. His departure is another area of concern. There are a slew of quarterbacks who will be gunning for the starting spot over summer and fall camp, and one should emerge as the clear front-runner well before the season starts.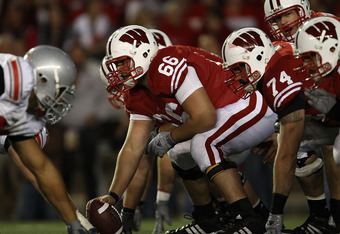 Peter Konz
Jonathan Daniel/Getty Images
The defense was the chink in the Badgers' armor last season, as the team had too many close victories. The offense was forced to pick up the defense's slack and win thrilling fourth-quarter shootouts.
The story on defense will be slightly improved. Many starters are returning and hopefully they learned from the big plays they gave up to teams like Oregon.
Without further ado, the predictions (prepare to flame):
Wisconsin Badgers: 11-1 (7-1)
W: 09-01-12: Northern Iowa Panthers 17  @ Wisconsin Badgers 45
W: 09-08-12: Wisconsin Badgers 35  @ Oregon State Beavers 10
W: 09-15-12: Utah State Aggies 24  @ Wisconsin Badgers 35
W: 09-22-12: UTEP Miners 20  @ Wisconsin Badgers 45
L: 09-29-12: Wisconsin Badgers 31  @ Nebraska Cornhuskers 38
W: 10-06-12: Illinois Fighting Illini 24  @ Wisconsin Badgers 52
W: 10-13-12: Wisconsin Badgers 55  @ Purdue Boilermakers 24
W: 10-20-12: Minnesota Golden Gophers 3  @ Wisconsin Badgers 48
W: 10-27-12: Michigan State Spartans 10  @ Wisconsin Badgers 45
W: 11-10-12: Wisconsin Badgers 48  @ Indiana Hoosiers 17
W: 11-17-12: Ohio State Buckeyes 24  @ Wisconsin Badgers 44
W: 11-24-12: Wisconsin Badgers 28  @ Penn State Nittany Lions 24
Like the new article format? Send us feedback!