BYU Football: Conference Membership or Continued Independence?
May 1, 2012
With news that college football will be moving towards a four team playoff after the 2014 season to effectively change the format of the four Bowl Championship Series games, where does this leave BYU? 
Some argue that BYU should still be pushing hard to gain membership in the Big 12 for all its athletic programs, yet others insist that football independence and continued membership in the West Coast Conference is the best fit for the Cougars.
What fans have to ask is how relevant will BYU emerge with any of the options that loom on the immediate horizon? 
But what many fans often overlook is the league affiliation with respect to the academic mission of the institution.
Is the school a teaching institution or one that has a strong research or postgraduate culture?  When one looks at the academic make-up of the various conferences, even the so called BCS aligned "power-leagues", there are differences between the Big-Ten for example (as well as the Pac-12) and the SEC.
Being affiliated with the Association of American Universities (AAU) is often a prerequisite to be part of leagues like the Big-Ten (although their most recent addition of Nebraska was expelled from the academically elite organization last year) or weighs very heavily to be part of the Pac-12. 
For the past two decades, Brigham Young University, its administration and governing Board of Trustees have been debating this direction for the school.
What I hope people understand is that those who have overseen BYU for a number of years have, for the most part, resisted the idea of BYU athletics moving up in conference affiliation in part due to the "constrained consensus" that BYU remain primarily a teaching university as opposed to a graduate research institution.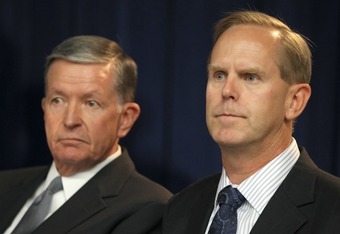 George Frey/Getty Images
If BYU were to join the Big 12 (seven AAU affiliated schools prior to the losses starting in 2010) or even more so the Pac-12 (next to only the Big-Ten in overall AAU affiliation), BYU becomes more exposed to the academic culture that promotes graduate research level work.
Concerns persist about BYU becoming more of a graduate research destination as opposed to the teaching of undergraduates within the higher ranks of senior LDS Church leadership.
In the past many of the Brethren (whom many in the LDS church refer to their senior leaders as) have been concerned about the impact of such a direction on the state of Utah's flagship research institution, the University of Utah. This is now effectively in the rear-view mirror with the Utes moving into the Pac-12, but concerns likely persist among a small yet powerful handful centered around the future of Utah State University.
It's fairly obvious some of the Brethren simply feel that the BYU faculty and student-body shouldn't be out competing for federal research grants with Utah State. There are genuine fears that BYU being part of a league of such research institutions might further diminish Utah State's academic and athletic relevance to that of Weber State, Utah Valley and Southern Utah Universities. Not to mention, the past instability of Utah State's league affiliation that only in recent weeks appears headed for more solid ground in the Mountain West Conference.
This is the political situation that BYU AD Tom Holmoe and President Cecil O. Samuelson have had to work around. Last September when it became apparent the Big 12 was genuinely interested in BYU to replace Texas A&M, it became sadly apparent the political cards at LDS Church headquarters weren't in place when word came that some of the Brethren didn't want BYU abandoning the significantly smaller faith-based schools of the WCC so quickly.
Likely one of the single hardest duties Samuelson as well as some of his predecessors have had for the past 9 years as president of BYU is being the "go-between" with college deans with their department chairmen and the Board of Trustees (the "Brethren") who make strategic decisions with respect to what level of mission they should have.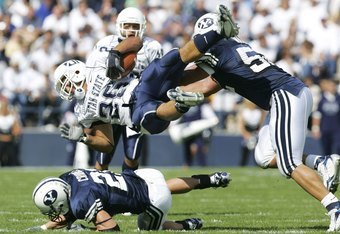 Kent Horner/Getty Images
With the Big 12 now down to three AAU affiliated institutions (Texas, Kansas & Iowa State), some of those fears might be alleviated, and the timing of this possible invite might now finally work favorably politically at LDS Church headquarters for BYU.
Also, others often fail to realize the Pac-12 administrators (most notably Stanford and Cal-Berkeley) actually really like BYU, mostly due to the large pool of highly qualified undergraduates BYU has available to them each year for their graduate research and professional programs.
But for the time being, what Pac-12 administrators don't like is the school's resistance to morph into a graduate research institution and some of the attitudes a very small few senior leaders have towards BYU advancing towards this end. It is this more than it is just not being a religiously owned and operated school (as opposed to sponsored such as Baylor, TCU and Wake Forest etc…).
The political arguments of the LDS Church's past positions on race, or currently gender preference or even academic freedom are all issues secondary by significant distances to the academic mission of the university.
The majority of the senior Brethren realize BYU will move in this direction, particularly with more Masters (MS, MA, MFA etc…) Degrees and programs in the years ahead as many students are clamoring for such programs as more and more employers desire to have prospective employees with this additional qualification for entry level positions (the job announcement states: "Masters Degree Preferred").
Additionally, many Masters level students are postgraduates from the same university or university system. The entire premise of elevating Rexburg to 4 year status is to be an additional feeder school for this. BYU isn't completely likely to be an exception.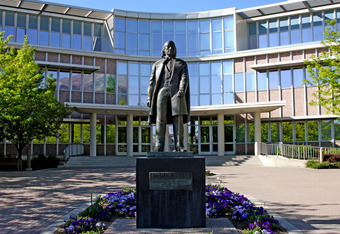 There is also a strong likelihood the LDS Church will one day formally take over Southern Virginia University in Buena Vista, Virginia. But all this takes time since, as I've understood, it was discussed for a number of years before elevating Rick's to BYU-Idaho.
While more PhD programs beyond the 23 they presently have at BYU are also inevitable, what the senior brethren don't want is pressure to do more (something membership in the Pac-12 would do).  This is something President Samuelson has said time and again "BYU can't do everything"…a hint that BYU won't have a medical school even in the distant future.
Michigan State University is a prime example since once it was admitted to the Big-Ten as Michigan State College in 1949 it only took 15 years to morph from a school much like Utah Valley University is academically today into a big research-level AAU affiliated university by 1964.
With the move of Pacific to rejoin the WCC, and more recently Utah State's future becoming more stabilized by joining the MWC, many fans perceive this as the pieces falling into place for BYU to accept an invitation to a so called "Power Conference."
But as Holmoe pointed out in a recent press interview for multiple media outlets, the "no Sunday play" policy that makes BYU unique will be the ONLY non-negotiable issue that is a deal breaker. FOX, as the second tier media rights partner to the Big 12, did not like this MUCH more than BYUtv last September when BYU was being considered as a replacement.
While BYU being so closely tied to the LDS Church will bring about as many detractors as Mitt Romney seeking the Republican Party nomination and the U.S. presidency has so far done, eventual league affiliation is still an issue hanging around for the Cougars and what the future could bring.
Perhaps the toughest job for Tom Holmoe is selling off to the fans that BYU will survive and thrive, even though the future football schedule suggests more than enough wiggle room should the right league opportunity appear on the administration building's doorstep.
Love or hate BYU, the "doubting Thomas" syndrome will stay prevalent at least through the 2012 calendar year.