Heat vs. Knicks: Game 3 TV Schedule, Live Stream, Spread Info and More
May 2, 2012

Mike Ehrmann/Getty Images
So much for one of the best series on paper actually being a series. The Miami Heat have taken a commanding 2-0 lead over the New York Knicks and are looking to go up 3-0 on Thursday night as the series switches to New York.
As if things couldn't get any worse for the Knicks, they will have to play this game without All-Star forward Amar'e Stoudemire. He had the bright idea of punching a glass case that was holding a fire extinguisher after the Game 2 loss. 
As we inch closer to Game 3 of this playoff matchup, here is everything you need to know about this crucial game.
Where: Madison Square Garden, New York, N.Y.
When: 7 p.m. ET, May 3, 2012
Watch: TNT/MSG

Live Stream: NBA League Pass

Betting Line: Miami, -5.5
Key Injuries (via CBS Sports):
Miami: No injuries reported
New York: Iman Shumpert (out with knee injury), Amar'e Stoudemire (out with hand injury), Jeremy Lin (out with knee injury) 
What's at Stake?
The series pretty much comes down to this game. There's simply no way the Knicks can lose this contest and end up winning the series by winning four straight. If New York somehow finds a way to win this game, maybe Stoudemire will be able to play Game 4 and things could get a little interesting.
This game is a must-win for the Knicks if they still believe they have any chance left to move on in the playoffs. 
What They're Saying
New York center Tyson Chandler says that although the Knicks are going through a rough time right now, they're still not out of the series. They must just continue to take it one game at a time and defend home court.
"This is a series," Chandler said via ESPN. "We've got to go home win the next two and turn into a best-of-three after that."
Heat head coach Erik Spoelstra says that taking a 2-0 lead is what they expected to do considering they were the home team. Now that they travel to New York, they must continue to play hard and finish the job.
"We did what we're supposed to do," Spoelstra said. "It's not anything more than that. We're already trying to leave this game behind." 
Most Important Player to Watch: New York Knicks center Tyson Chandler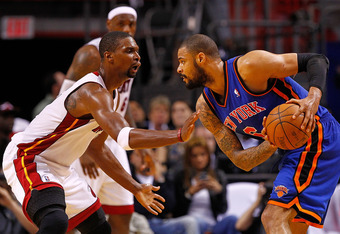 Mike Ehrmann/Getty Images
We know that Carmelo Anthony is going to do his fair share in this game. He played extremely well in Game 2, but received little help from much of anyone else. That's where Chandler needs to step in and contribute in a big way.
He's had the flu the last couple of games, but should be feeling much better with a few days off. Throughout Game 2 he did seem to begin playing like his usual self, as he finished the game with 13 points and seven rebounds. With Stoudemire out of the lineup, Chandler has to play an even bigger role if the Knicks are to have a chance.
Key Matchup: Landry Fields/J.R. Smith vs. Dwyane Wade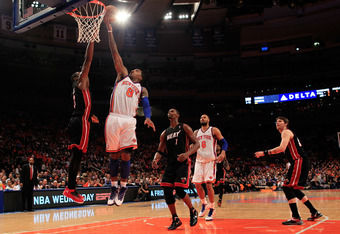 Chris Trotman/Getty Images
This was the key matchup for me in Game 2. It's the key matchup for this game as well, simply because I didn't see enough from this position, Fields in particular. Smith once again played very well, scoring 13 points off the bench with 6-of-11 shooting.
But Fields only scored two points as a starter. He also was horrendous on the defensive end. He constantly let Wade blow right by him and was often too too busy watching the ball instead of defending his man.
The Knicks need all the help they can get at this point on both ends of the floor. If Fields isn't contributing in any department, the Knicks must look elsewhere. 
Prediction
I was going to pick the Knicks in this game before Stoudemire cut his hand in half and removed himself from participating. Now anyone in their right mind would go with the Heat in this matchup. Anthony won't be able to do it alone and the home crowd in New York will only do so much.
This Heat team is playing amazing on both sides of the ball. With the limited weapons the Knicks have left, it's really hard imagining anyone but Miami winning this game.
Heat win, 97-82.