NFL Draft 2012: Keenan Robinson Could Be Washington Redskins' Answer at ILB
May 2, 2012

Harry How/Getty Images
It's safe to say that with the exception of Robert Griffin III being taken with the No. 2 pick, the Washington Redskins' 2012 draft did not pan out as many expected. 
Most of us were expecting the Redskins to draft with particular emphasis on the O-line, defensive secondary and receiver.  While they may have made a few picks specific to those needs, the Redskins cashed in at least one head-scratcher (cough—Kirk Cousins—cough), but the selection of Texas linebacker Keenan Robinson shows that the Redskins were conscious of their needs at the linebacker position. 
With London Fletcher fast-approaching his 37th birthday, it won't be long before time as well as the weekly grind of the NFL have taken their final toll on the 'Skins captain. 
While there were undoubtedly several other options in the draft that fit the more traditional middle linebacker mold, Robinson will be be a very capable and exciting project once he arrives in Ashburn and position coach Bob Slowik, along with defensive coordinator Jim Haslett, will have carte blanche with the Plano, TX native. 
It's not as if the Redskins don't have an established trend in recent years of converting players to fit their needs on defense. 
Look at Brian Orakpo and Ryan Kerrigan.  The current standout outside linebacker tandem were former star defensive ends at the college level for Texas and Purdue, respectively.  What allowed them to excel at a new position in the NFL was their speed, strength and quickness coupled with their size. 
Naturally, it was these abilities that allowed them to contribute almost immediately after landing in DC as rookies. 
Robinson, at 6'3", 240 lbs, is a gifted athlete with 4.7 speed and good play recognition.  As a senior at Texas, Robinson was a Butkus award semi-finalist and tallied 106 tackles, 10 tackles for a loss, one sack and two forced fumbles.  He was also unafraid to work his way in between the tackles and confront linemen with regularity. 
It's that fearless nature to run down into the trenches and engage runners head-on that makes Robinson an ideal prospect for crossing over to the middle linebacker position. 
There's no question that Orakpo and Kerrigan, with as many snaps as they'll take in 2012, will be in need of some relief at regular intervals.  But they're young, talented players who will help anchor the Washington defense for years. 
Looking to the inside, Perry Riley, third year man out of LSU, is the only player currently holding the mantle of Fletcher's heir-apparent.  Riley is consistent and has displayed progress in his time with the 'Skins, but nothing about his game is jarring. 
While Robinson will undoubtedly take his first steps as a greenhorn on special teams, his formal education in linebacker duties for the Redskins will begin on day one. 
Personally, I like the Keenan Robinson pick. 
It displays creative thinking on the part of the Redskins front office.  He may not have been the prototypical middle linebacker in college, but if Robinson is able to master the duties and general mindset required of middle linebackers, he will be a disruptive, athletic force in the middle of the Redskins defense in just a few short years.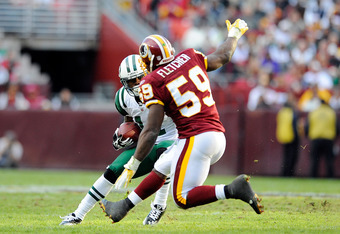 Patrick McDermott/Getty Images
It may not have been the name that most of us were anticipating when the Redskins went-a-shopping in the middle round for an inside linebacker.
Though I am thankful, it wasn't Vontaze Burfict, either. 
Keenan Robinson has all the tools.  What he needs is fine-tuning and to understudy one of the best and most seasoned inside linebackers in the game. 
Any questions Robinson might have about the intrepid journey from one position to the other, he need only tap another former Longhorn on the shoulder in Brian Orakpo and ask him if it was really that hard switching from defensive end to outside linebacker. 
As Orakpo's Pro Bowl jersey can attest, it wasn't that daunting. 
London Fletcher has big shoes to fill.  It's time for Keenan Robinson to get to work.