Kansas City Chiefs: Brian Daboll Has a Chance to Prove Critics Wrong
May 2, 2012

Gregory Shamus/Getty Images
When the Kansas City Chiefs announced the hiring of offensive coordinator Brian Daboll, it was hard to find a single group of Chiefs fans who were excited about the move. When it was revealed that Daboll had history in New England with head coach and defensive coordinator Romeo Crennel and general manager Scott Pioli, the move was not considered a surprise.
This season, Daboll has a chance to prove many critics—including me—wrong. As many of you might remember, I heavily criticized the Chiefs for hiring Daboll, since the biggest deciding factor seemed to be his link to the Patriots franchise.
That being said, following Kansas City's recent offseason activity, it looks like Pioli could help Daboll to achieve his best ever offensive output in his 10 years of offensive coaching.
Daboll's move to the Chiefs organization made running back Peyton Hillis want to come to Kansas City.
Hillis will now be teaming up with running back Jamaal Charles. Charles can't help but be ecstatic about this season when it comes to teaming up with Hillis. Charles put up back-to-back 1,000-yard seasons in 2009 and 2010, and hopes he and Hillis can successfully rebound together in 2012.
The Chiefs can also work with Dexter McCluster at running back, who had the highest yards-per-carry average on the team in 2011.
Now that wide receivers Jonathan Baldwin and Steve Breaston can spend an entire offseason with the team, Kansas City can also take command in the receiving department. If the Chiefs can successfully come to terms with Dwayne Bowe, there is reason to believe Matt Cassel can lead this offense with great aplomb.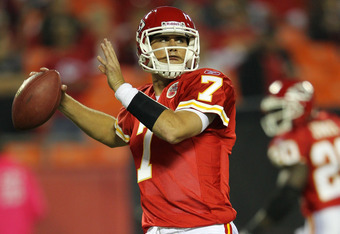 Jamie Squire/Getty Images
Cassel will also get Tony Moeaki back at tight end, who never saw the field during the 2011 regular season. Moeaki will be able to make his way back to the field with Kevin Boss, who spent the majority of his career with the New York Giants.
The Chiefs quarterback now has an improved offensive line with Eric Winston—the team's new right tackle—joining Branden Albert, Ryan Lilja, Rodney Hudson and Jon Asamaoh. Meanwhile, rookie Jeff Allen will be one of the team's top reserves.
Cassel should have more time in the pocket this season, giving him a better opportunity to make the right pass.
With all of these pieces now in Kansas City, will it spell success for Daboll in his first year as the offensive coordinator?
The Chiefs almost repeated as AFC West champions without Cassel, Charles and Moeaki on offense a season ago. With those three players returning, along with the newly acquired players from this offseason, Daboll finds himself in position to surprise a lot of critics and coach a good offense.