WWE People Power Era: Who Are the People in Power?
May 2, 2012

"My name is Mr. John Laurinaitis and I am the WWE executive vice president of talent relations and the permanent general manager of Monday Night Raw and Friday Night Smackdown."
For a decade, the WWE roster was split in two or more brands, separated in time and space by being on different shows. While the brand extension has not officially ended, the presence of the Raw Supershow and superstars competing freely on both shows signal that it is probably history.
Also, Team Teddy's loss at WrestleMania 28 ushered in a new era in the WWE. Now not only are the rosters practically united, the authority figure is the same. Johnny Ace has bridged the chasm and ushered in the "People Power Era."
Of course, this era has led to the people (fans) wondering where the power actually is. Because unlike the "Power to the People" episode of Monday Night Raw, they are not actually having a say—except perhaps with the "Yes!" chants—in what decisions are made in the WWE's storylines.
In fact, the People Power Era is actually an era where there are many authority figures on WWE TV. Here is a list of the major players:
1. Vince McMahon (Chairman, WWE)
OK, he does not appear on every TV show, since his powers were stripped by the board. But we all know he is lurking in the shadows, waiting for an opportunity. When the time is right, he will reappear, possibly to call out a superstar or an authority figure and say the magic words—"You're Fired!"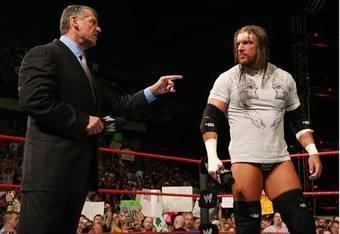 2. The Board of Directors
The WWE Board of Directors is a mysterious entity. While they do not appear in full force, they do make decisions that impact the entire landscape of the company. And they have been doing so on a regular basis over the last year.
3. Triple H (COO, WWE)
Former multiple-time world champion Triple H suffered the same fate as his father-in-law, Vince, when he got personally involved in feuds with superstars and also failed to protect their safety. While he cannot make matches without Board approval, he does appear on Raw to set up feuds and, occasionally, get his arm broken in the process.
4. John Laurinaitis (The Executive Vice President of Talent Relations and the Permanent General Manager of Monday Night Raw and Friday Night Smackdown)
Not only does he sign talent, he also books wrestling matches. He is the most powerful man on WWE TV at the moment, and he has a thirst for even more power. He just recently booked himself into a match with John Cena, the biggest name in the WWE. Who knows where else his ambitions lie?
5. David Otunga (Legal Counsel and Executive Assistant to Mr. Laurinaitis)
The captain of Team Johnny at WrestleMania, Otunga has been associated with Laurinaitis ever since he rose to power. He has often been put into title matches he does not deserve and has received an unfair advantage by association. The "Devil's Advocate" has also been portrayed as secretly coveting more power himself, especially when Laurinaitis comes under fire.
6. Eve Torres (Executive Administrator)
Recently appointed by Laurinaitis, Eve is portrayed as a power-hungry, cutthroat lady who will do anything it takes to get her way. While she has recently shaped the Divas division by her booking, she too seems hungry for more power.
7. Theodore Long (Employee under Eve)
The former GM of Smackdown, Laurinaitis has kept Teddy on the payroll as an employee under Eve Torres. He is ridiculed and insulted, but he still has some power as an authority figure—when it is delegated to him. Since he is still on TV, he will probably have some role to play in upcoming storylines.
8. William Regal (General Manager, NXT)
As a knight (Sir William Regal), a Lord (Lord Steven Regal) or a king (2008 King of the Ring), the "Real Man's Man" always has an air of aristocracy about him. The former GM of Raw is currently running NXT, but he cannot be counted out of the power struggle in the WWE. If he decides on going on a conquest, using his NXT minions, he may have a larger kingdom to govern.
9. Stephanie McMahon (Executive Vice President, WWE Creative)
The daughter of the boss and wife of the COO, Stephanie is no stranger to power. She has served as GM of both Raw and Smackdown on different occasions. While she has been infrequent on TV recently, she did appear in Triple H's feud with CM Punk. And if the power struggle gets heated up again, we just might be graced by "Mrs. Game."
10. Anonymous (Former GM, Raw)
While this angle was abandoned by the WWE, it was never announced who the person behind the emails was. While it is unlikely that the this storyline will be addressed again, you never really know with the WWE.
While any major corporation has many people in official posts and authority roles, pro wrestling promotions usually do not have many on-air authority figures. Perhaps the "People Power Era" will showcase storylines involving the power struggle between all these people in addition to the feuds of the superstars. If that is the case, it can get really chaotic.
Thank you for taking the time to read this article about the people in power in the "People Power Era." Please leave comments, opinions and ideas below. Thank you!