Kentucky Derby Post Positions 2012: Complete Listing for Every Horse
May 3, 2012

Rob Carr/Getty Images
The post positions have finally been drawn and most trainers can breathe a sigh of relief.
The Kentucky Derby is the biggest race in America in both size and prestige, and post position can mean the difference between wearing a blanket of roses and finishing up the track.
Two post positions seem to be the worst on Derby day, with the No. 1 horse nearly being forced to run into the rail and the No. 20 horse having to maneuver quickly in order to get a ground-saving trip.
The two horses that have to deal with this issue on Saturday are European invader Daddy Long Legs and Bob Baffert-trained Liasion. These horses drew the short end of the stick, getting the No. 1 and 20 hole respectively.
While Liasion doesn't have any experience outside of California tracks, Daddy Long Legs raced on the track in the Breeders' Cup Juvenile last November and finished second-to-last.
That being said, Daddy Long Legs isn't the only colt with experience over the Churchill track during Breeders' Cup weekend last year. The first four finishers of the Breeders' Cup Juvenile are entered, as well as Optimizer, Alpha and Prospective. In addition to the Juvenile, one starter from the Breeders' Cup Juvenile Sprint is also in the race with Trinniberg's entry. The colt finished seventh of nine in that race.
However, none of the Breeders' Cup starters are going into the race as the morning line favorite. G1 Arkansas Derby winner Bodemeister grabbed 4-1 odds to be named the favorite. Bodemeister will be starting from the No. 6 spot and only started racing in January.
Like Liasion, Bodemeister is also trained by Bob Baffert.
Below is the full chart of post positions for the May 5 Kentucky Derby. 
PP-Horse-Jockey-Morning Line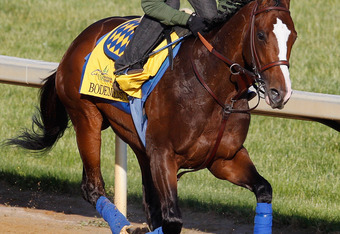 Rob Carr/Getty Images
1-Daddy Long Legs-Colm O'Donoghue-30-1
2-Optimizer-Jon Court-50-1
3-Take Charge Indy-Calvin Borel-15-1
4-Union Rags-Julien Leparoux-9-2
5-Dullahan-Kent Desormeaux-8-1
6-Bodemeister-Mike Smith-4-1
7-Rousing Sermon-Jose Lezcano-50-1
8-Creative Cause-Joel Rosario-12-1
9-Trinniberg-Willie Martinez-50-1
10-Daddy Knows Best-Garrett Gomez-15-1
11-Alpha-Rajiv Maragh-5-1
12-Prospective-Luis Contreras-30-1
13-Went the Day Well-John Velazquez-20-1
14-Hansen-Ramon Dominguez-10-1
15-Gemologist-Javier Castellano-6-1
16-El Padrino-Rafael Bejarano-20-1
17-Done Talking-Sheldon Russell-50-1
18-Sabercat-Corey Nakatani-30-1
19-I'll Have Another-Martin Gutierrez-12-1
20-Liaison-Martin Garcia-50-1
The Kentucky Derby has also created an also eligible list this year, but only one horse has taken the chance to get into the Kentucky Derby in case of a scratch. My Adonis with Elvis Trujillo will take the place of another horse if they scratch before Saturday morning.