Junior Seau Death a Testament to the Pervasive Nature of Despair
May 3, 2012

Sandy Huffaker/Getty Images
Junior Seau was one of the greatest linebackers in NFL history. The hard-hitting phenom posted an astonishing 1,524 tackles, 325 assists, 56.5 sacks, forced 11 fumbles and recovered 18. At one of the league's most violent positions, he forged for himself a sparkling 20-year career. Twenty years!
Seau got to play for his hometown San Diego Chargers for 13 years. His name became synonymous with the club and he helped to lead them to their only Super Bowl appearance in the 1994-95 NFL season. He was also a part of the New England Patriots' undefeated regular season in 2007. Unfortunately, neither campaign resulted in a championship ring for the great linebacker.
Championships notwithstanding, Seau's career is the stuff football legend. To say Seau left a mark on the game is a gross understatement.
Now he is dead. At 43. Gone.
Preliminary indications are that Seau took his own life, shooting himself in the chest.
Seau's death is being compared to the death of former Chicago Bears safety Dave Duerson. Last year, Duerson also committed suicide by shooting himself in the chest. The stark difference in the two is that Duerson left a suicide note, explaining he shot himself in the chest rather than the head because he wanted his brain to be used in the study of how trauma of professional football damages the human brain.
According to CBS News, Seau left no suicide note. He simply texted "I love you" to his ex-wife and their three children.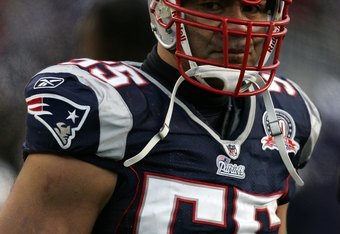 Elsa/Getty Images
What medical science will reveal about the toll football may take on the human brain remains to be seen. There is an emerging picture that seems pretty severe, but what Seau's death says about this subject may forever be unclear.
What seems crystal clear, however, is the message that this man was in the clutches of despair. This man that had reached the highest pinnacle of his profession. This man that had earned millions of dollars in his career. This man that played the game he loved and all but transcended that game. This man who seemed to have so many reasons to live could not think of one that would keep him from ending his own life.
The sadness of it is palpable. The sorrow of those closest to him, those who loved him best, is heart-wrenching. Even if some good comes of this tragic death—some advancement in medical science, some warning to younger NFL players—it will not assuage the sorrow of his family.
If there is an immediate lesson to be learned, I think it is this: Despair is not reserved for the down-and-out. Despair may touch the person whose life seems as full and rich as Junior Seau's. The up-and-in are as vulnerable to it as the down-and-out.
Whether it is the emptiness one feels when the stadium lights go out on a career for the last time, or the nagging feeling there was work left undone, or the reality that what has always defined you as a person is now forever a part of the past, despair may seep into the human psyche and become so entrenched as to skew perception and alter reality.
Most who read this will have never scored a touchdown or recorded a tackle in the NFL. However, you do something. You build something. You teach something. You repair something. There is something you do that is a part of you.
However, what you do is not you. What you do is not the sum total of who you are. What you do is not what determines your value. You are who you are, even when you cannot do what you do anymore.
And that matters. Not just to you, but to those that know and love you best.