EPL: Why the Race for the Champions League Spots Is Most Exciting
May 3, 2012

Clive Mason/Getty Images
For a majority of the season, the blue and red halves of Manchester have captured all the headlines and plaudits due to their respective quests for EPL glory.
Manchester United, a typical mainstay when it comes to battling for English supremacy, are looking to lock up their unprecedented 20th league title. Sir Alex Ferguson's squad are constantly fighting atop the table and it comes as no surprise that they are ever so close to locking up yet another league trophy.
But pesky neighbors Manchester City, after experiencing a shot of life thanks the Sheikh Mansour's takeover, are ready to crash the party. And after assembling an all-star cast over the last two seasons, many feel the power is shifting towards the Citizens.
Last week's clash between the Manchester clubs was something of a record-setting affair; with so much at stake and virtually every eye on the planet fixated on this match, you couldn't help but truly take in the seriousness of the result.
City ran out winners thanks to Vincent Kompany's shiny bald head, sending the entire title chase into frenzied chaos. Such close drama has not been present in the EPL for a while and as a fan, I am glad the league winner could potentially be determined on the final match day.
As die-hards look on, players dig deep and managers meticulously plan their season's end, anxiety will take over from here on out as a champion will soon be crowned.
And while the race for the league title demands plenty of attention, the coveted 3rd and 4th place positions will prove to be even more thrilling.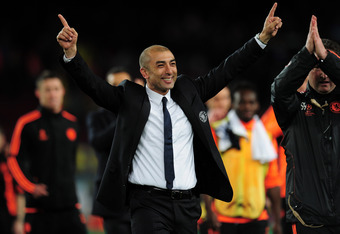 Shaun Botterill/Getty Images
Currently, four teams are vying tightly for the last two Champions League qualifying spots. 3rd place Arsenal are a point clear of heated rivals Tottenham Hotspur and Newcastle, while Chelsea are only five points adrift.
This close proximity in the table adds a massive amount of pressure, stress and compensation for all the teams involved.
Arsenal, for example, edge closer and closer to locking up the third spot and will be playing with fervor and passion until the final kick. The club and fans alike would be nauseated at the prospect of rivals Spurs overtaking them. Their hatred towards one another adds to the incentive of finishing without any letdowns.
A rivalry like this adds so much to a season's push. Just think, THREE London-based squads are all fighting it out.
But Newcastle is the in-form team at the moment, and do not for once count them out of 3rd place. After dismantling Chelsea yesterday, thanks to yet another sublime display from Papiss Demba Cisse, not a single team fancies facing Alan Pardew's men.
Cisse has be a revelation since arriving from France during the January transfer window. His presence in the Toon lineup has lifted this side as legitimate contenders.
Yet while obtaining access to Europe's elite club competition is certainly great from a rivalry standpoint, the monetary implications extend beyond the pitch.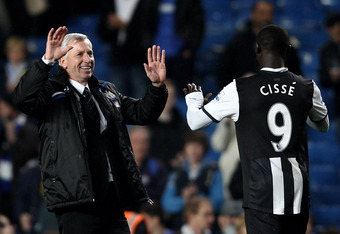 Ian Walton/Getty Images
Think about all the transfer speculation that goes on in world football, and now recite the age-old reasoning behind said player's move to a specific club: "I want to win trophies".
And for teams like Arsenal, Chelsea, Spurs and Newcastle, who have similar ambitions and wish lists when it comes to player signing, qualifying to the Champions League boasts one's resume and abilities to court elite talent.
World-class players want to compete at the highest level, and contesting for league and/or Champions League success is reflected by a team's final standings. It doesn't take much to finalize a signature when a squad is competitive and constantly battling domestically and in Europe.
Also, if a team does indeed qualify for the Champions League, prize money is awarded and this adds to appeal and spending power. Bringing in top class names takes substantial financial effort, and the extra cash from qualifying goes a long way.
But there is a slight detail that could shatter the hearts of Spurs, Arsenal, and NUFC. Chelsea is in this year's Champions League final, and if they win, it doesn't matter where they end up. They will take the final spot and only 3rd place will go to Europe.
It would be absolutely devastating for the team who finishes 4th if this scenario plays out. Nobody wants to play in the Europa League if they have the opportunity to play for the Champions League, and Chelsea could potentially place a monkey-wrench in the system after all.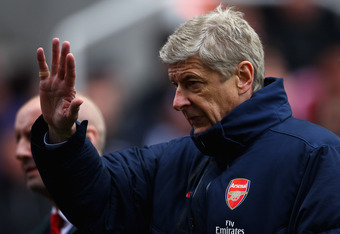 Clive Brunskill/Getty Images
United and City's lead over the field has been pretty comfortable from the beginning. Nobody was–and is–going to catch either of them, and that has been apparent since the turn of the new year.
Having such a mountain to climb redirects a team's focus and priorities, causing them to chase other "trophies", like the Champions League spots. Arsenal have been chasing said "trophies" since their FA Cup triumph in 2005!
Nonetheless, stayed tuned until the very last second on the final match day, because as fans of the beautiful game, all we want is a little entertainment.
I think we got plenty this year.