Kentucky Derby 2012: Top Jockeys in This Year's Race
May 3, 2012

Matthew Stockman/Getty Images
As North America's most illustrious horse race, the Kentucky Derby attracts the best of everything. The best horses. The best trainers. The best jockeys.
This year's 138th running will be no different. Twenty of the world's top 3-year-olds, guided by the best jockeys in America, will square off at Churchill Downs May 5 in search of that go-ahead victory in the first leg of the coveted Triple Crown.
It's impossible to talk premier jockeys in the Kentucky Derby without starting with Calvin Borel. The Louisianan nicknamed "Bo-rail" has lived up to that name as of late, using the rail to help guide him to victories in three out of four Derbies between 2007 and 2010.
"You just have to have the horse and then ride him with a lot of confidence," Borel told Albany Times Union reporter Tim Wilkin recently. "I don't let the pressure bother me. When I go out there, I go out there thinking I am going to win. It has paid off.
"I just want to get on my horse and forget about everything."
Borel isn't just dangerous in the Derby, either. No, he knows Churchill Downs a way few other riders ever have or will. In addition to his three Derby victories there, he's also captured the Kentucky Oaks (2009), Breeders' Cup Juvenile (2006) and a plethora of other stakes races at Kentucky's historical track.
One of his biggest breakout wins came at Churchill Downs—when Borel captured the $750,000 Stephen Foster Handicap in June 2006 aboard 91-1 shot Seek Gold. Little did the world know that Borel was just beginning his reign of terror over the Twin Spires dirt.
There are plenty of other more-than-capable jockeys competing for this year's Kentucky Derby Trophy. Past winners Kent Desormeaux, Mike Smith and John Velazquez are dangerous in any race; they've already proven that they can win the Derby, regardless of the odds.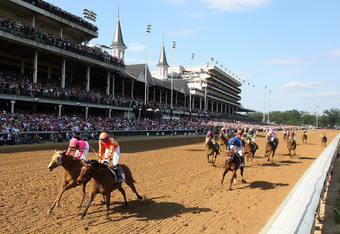 Jamie Squire/Getty Images
As we all know, there's a first time for everything. Some of the top jockeys on the American racing circuit also know that. Jockeys like Julien Leparoux, Ramon Dominguez, Javier Castellano, Corey Nakatani and Martin Garcia are all stiff competition, and there's no doubt they have the same goal as their Derby-winner counterparts: victory.
Desormeaux has won the Kentucky Derby three times, most recently on Big Brown in 2008, the one Derby that Borel did not win over that four-year stretch. Unlike Borel, Desormeaux's three Derby victories were spread over a decade. Borel may be red-hot right now, but Desormeaux has longevity in his corner.
Smith and Velazquez have each won one Derby, but that doesn't make either win any less impressive. Smith's victory in 2005 on 50-1 shot Giacomo was the second-biggest upset ever in Derby history. Velazquez's win last year on 21-1 shot Animal Kingdom was also remarkable. While Animal Kingdom may not have had the odds of Giacomo six years prior, the move Velazquez made toward the outside—to win by more than two lengths—says a lot about the horse and more about the rider.
After his mount on Uncle Mo, the favorite heading into the Derby, was scratched, Velazquez picked up his mount on Animal Kingdom. He knew what he had to do to win, he put himself in position to do it, and he got it done. I hardly doubt last year's Derby win was Velazquez's last.
The list of rising jockeys who have yet to capture a Derby win is even more daunting. It's a deep pack of hungry jocks with the capabilities to be the best in the nation, if not the world. Leparoux, Dominguez and Castellano are three seasoned jockeys who have captured riding titles and records all over the country in the past few years. It's only a matter of time before one—if not all—of these guys earns a Derby victory.
The same can be said about Garcia and Nakatani. Both are regular riders in California, and they have both contended in some of the biggest races in the United States lately.
The 41-year-old Nakatani has been competing longer, but Garcia is a constant threat. Nakatani's resume boasts six Breeders' Cup victories, including three consecutive Sprints—from 1996-98. He also rode Nehro to a solid second-place finish behind Animal Kingdom in last year's Derby.
Garcia—a favorite rider of three-time Derby winning trainer Bob Baffert—has won the Haskell Invitational the past two years, in addition to capturing the 2010 Preakness Stakes and the 2011 Kentucky Oaks.
As the biggest race in America, the Kentucky Derby draws the best of the best, as it should. It's a chance for some of the most elite jockeys to establish their place in history and for the lesser-known ones to thrust themselves into the spotlight.
And we should expect nothing less in the 138th Run for the Roses.