Green Bay Packers: Who Could Be in for an Expanded Role in 2012?
May 5, 2012

Just a week ago at the NFL Draft, Ted Thompson was consistent in his ways.
The picks kept coming, and the league's 32nd-ranked defense kept getting better. Nick Perry, Jerel Worthy and Casey Hayward each bring something very different to the table, but all three players figure to improve a defensive unit that struggled at every level a year ago.
While several rookies were drafted with the intention of making an immediate impact this season, several returning players could be in for an expanded role in 2012.
Some players will enjoy expanded roles because they shined when given an opportunity to play while others will see the field more because another player at the position is no longer with the team, and several may fall under both categories.
Longtime starting left tackle Chad Clifton suffered a significant hamstring injury on October 9th in Atlanta, and he was unable to return the field again until January 1st against the Detroit Lions. With their regular starter out of the lineup, the Packers were left with a gaping, Chad Clifton-sized hole at left tackle.
First-round draft pick Derek Sherrod was clearly not ready to step into the starting lineup, so the Packers looked to 2010 fifth-round pick Marshall Newhouse to fill the void.
Newhouse was impressive prior to the season in training camp, and he continued his steady play when the games mattered. Replacing Chad Clifton at left tackle and occasionally filling in for Chad Clifton at right tackle, Newhouse's versatility proved to be vital for an offensive line forced to deal with injuries to several key players.
Although Newhouse proved to be a serviceable stopgap at left tackle, he wasn't exactly among the league's elite. Among the 76 offensive tackles that played at least 25% of their team's offensive snaps, Newhouse graded out 76th - dead last - according to Pro Football Focus.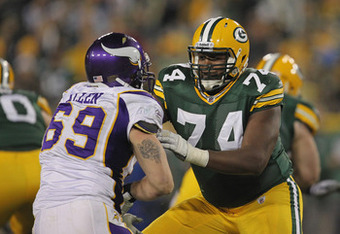 Clifton started the Packers' week 17 game against Detroit, and head coach Mike McCarthy named him his starting left tackle for the playoffs. Clifton appeared quite rusty and was exposed by a deep New York Giants defensive line, ultimately leading to his being benched for ineffectiveness.
On top of the nagging hamstring problems that kept him out of the majority of the 2011 season, Clifton underwent surgery in February to alleviate recurring paints in his lower back and hip.
After 12 seasons in Green Bay, Chad Clifton failed his physical and was subsequently released by the Packers on April 23rd.
With Clifton out of the picture indefinitely, the Packers will likely rely on Marshall Newhouse again to protect MVP Aaron Rodgers's blindside.
Despite his 2011 campaign being less than stellar by a starting left tackle's standards, Newhouse's game experience is something he will look to build upon in 2012. Many players make their biggest improvements between year one and year two of their career, and Newhouse will certainly hope to gain consistency from his 13 starts a season ago.
Newhouse figures to be one new starter on Green Bay's stellar offense, and a pair of 2011 rookies will join him in expanded roles.
It's almost a foregone conclusion that Ryan Grant's days in Green Bay have come to an end. After visiting both New England and Detroit, it appears there are more serious suitors for Grant's services than the Packers.
With Grant likely on his way out of town, 2011 third-round pick Alex Green figures to complement starter James Starks as the 1-2 punch in the Packers' backfield. Green showed some flashes in limited preseason work, but he missed the majority of the 2011 season due to a torn ACL.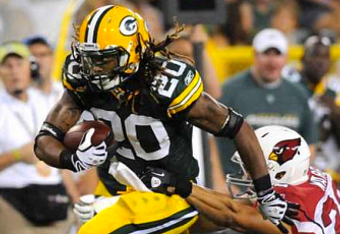 Following the selection of Green with the 96th overall pick a year ago, NFL Network draft guru Mike Mayock was very complementary of the former Hawaii running back.
"The rich just get richer. Alex Green, I love ...What he does as well as any running back in this year's draft is catch the football. Alex Green is going to be an impact player this year for the Green Bay Packers."
No one will confuse Mike Mayock with Miss Cleo; it would have been impossible to foresee a torn ACL in Alex Green's future last April. However, the Packers have lacked a serious receiving threat out of the backfield since Ahman Green and Alex Green will certainly have the opportunity to give Green Bay's offense something it hasn't had in recent years.
When the Packers drafted Green, they added another piece to an already potent offense after selecting Kentucky wide receiver and return man Randall Cobb with their previous selection.
Despite there being a crowded depth chart at wide receiver, Cobb could make the biggest jump of anyone entering his second year in the league.
It didn't take Cobb long at all to make his presence felt with the Packers.
In the first game of the 2011 NFL season, Cobb shined in the national spotlight by scoring two touchdowns against the New Orleans Saints.
His electrifying 108-yard kick return was named Play of the Year at the NFL Honors award show, and he added a 32-yard touchdown catch on the same night for good measure.
It hasn't yet been determined if veteran Donald Driver will be brought back for a 14th season in Green Bay, but Cobb's workload should increase regardless of Driver's future with the team.
Even before Cobb's breakout performance in the season opener, it was clear that he had home-run ability. In training camp and in preseason action, Cobb seemed like he was a shoe-string tackle away from turning a short gain into a touchdown on multiple occasions.
At just 5'10" 192 pounds, Cobb lack's the size to be a serious vertical threat on the perimeter, but his speed and elusiveness transfer perfectly to the slot receiver position.
Clearly, the Packers have one of the deepest and most talented receiving corps in football. Greg Jennings and Jordy Nelson are two of the best all-around receivers in the league; both have the ability to "take the top off" of defenses and extend the field vertically, as well as winning one-on-one matchups in the slot.
James Jones has struggled with drops, but he'd be a regular starter on numerous NFL teams, and as a third option, he's one of the best that the league has to offer.
Tight end Jermichael Finley demands constant attention in the middle of the field, and Randall Cobb does the same, in a very different way, from the slot position. Putting a home-run threat after the catch like Randall Cobb in the slot alongside Finley would be an absolute nightmare for opposing defenses.
Some of the Packers' possibilities with their offensive personnel seem "Madden-esque."
You have the MVP under center in Aaron Rodgers. You have two of the best wide receivers in the game on the outside - Greg Jennings and Jordy Nelson. You have an ultra-athletic tight end, Jermichael Finley, playing in one slot, and a quick-as-lightning receiver Randall Cobb in the other slot.
That sound you just heard was a collective gulp from Rod Marinelli, Alan Williams and Gunther Cunningham - the defensive coordinators responsible for solving the puzzle that is the Packers' offense twice a year.
Green Bay gave its opponents fits last season, to the tune of a 15-1 record in the regular season.
If several returning players take a step forward in expanded roles, perhaps the Packers will have some hardware to show off following the 2012 season, and not just a gaudy regular season win total.