Carmelo Anthony, Knicks Keep Hopes Alive in NBA Playoffs
May 8, 2012

Jeff Zelevansky/Getty Images
Moments before tipoff, an optimistic but restless crowd was treated to a lavish team introductory presentation. A deafening pyrotechnic extravaganza lit up Madison Square Garden and intoxicated throngs of exuberant Knicks fans.
The sold out venue was dazzled by the elaborate display, but once the presentation had concluded, many fans wondered if they had just witnessed the greatest excitement of their afternoon.
They wondered if the exorbitant amount of money they had spent to watch their hometown team take on a bitter rival would be headlined by a frivolous pyrotechnic display. Their team was down 3-0 and had suffered decisive defeats in each of the first three games.
The Knicks had been decimated with injuries, losing their defensive dynamo, Iman Shumpert and overnight sensation, Jeremy Lin, to knee injuries. One of their star players, Amar'e Stoudemire suffered a self-inflicted wound that sidelined him for Game 3. All hope was lost…we thought.
Most experts agreed New York would succumb to the more athletic, more talented and more playoff-ready team. New York fans would be outraged, but many would concoct a series of excuses ranging from the excess of injuries or the insufficient amount of time to have their pieces gel.
Early on, everything was going as predicted by the experts and as scripted by the Miami Heat. The Knicks provided some early cheers, highlighted by a few thunderous dunks by a rejuvenated Stoudemire, but Miami was lulling the offensively anemic Knicks to sleep.
The third quarter began and the Heat Index rose to unbearable temperatures as Miami methodically built an 11-point lead. The crowd was silent. You could hear a pin drop and most believed they were witnessing the final quarters of their team's season.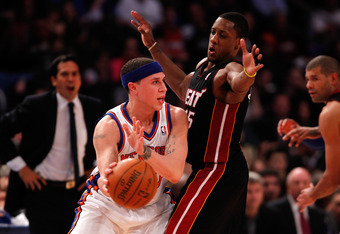 Jeff Zelevansky/Getty Images
Suddenly a one-handed Stoudemire added a couple of put-backs, and Carmelo Anthony continued a high scoring, but not yet spectacular performance to tie the game.
Shortly after, Knicks point guard Baron Davis was carted off the court after a gruesome knee injury. The Knicks had been fortunate enough to break even, but another disheartening season-ending injury would almost certainly derail the team.
A raucous garden crowd hoped for the best, but prepared for the worst by imploring their hometown team to show some resolve and fortitude.
But then something happened that defied logic. The Knicks did something many fans are not accustomed to seeing. They were hit, but this time, they punched back.
Carmelo Anthony put his team on his back, diving for loose balls, rattling home 18-foot base line jump shots, finishing and-ones at the rim and answering the Lebron James cold-blooded three with a final-minute trey of his own.
Moments earlier, a washed up Mike Bibby reenacted his 2002 Western Conference Finals clutch performance and unexpectedly made a gigantic three to put the crowd in a frenzy.
The cheers of the invigorated Garden crowd reverberated throughout the arena. The crowd was practically hyperventilating with astonishment and bliss. Dwayne Wade's last-second heave fell short and the crowd exhaled. Their team was alive for another few days, for at least one more game.
Carmelo Anthony's heroic late-season performances had been largely dismissed after lackluster, some would say listless, performances from Games 1 through Game 3. But, still Game 4 presented an opportunity to thwart Miami's sweep attempt and end an excruciatingly painful 11-year playoff-winning drought.
He came through. Most say a team's on-court presence is an extension of their coach's personality. This is true in many sports, but the NBA is a player's league and, as such, demands leadership and a positive outlook from its stars. These are the actions that will define the personality of a team and for one day, one game, Carmelo Anthony's team followed his leadership, poise and grit.
New York fans are some of the most intelligent in the world. They often possess an unending passion for their team with a wide spectrum of emotions, but most are realists. They know this team isn't making history by becoming the first team to ever overcome a 3-0 deficit. But, Knicks fan did not want to see their team fall victim to a third consecutive sweep.
Carmelo Anthony showed he has fight and flashed a glimmer of hope. If not for the series, it was a much-needed win to not only end the drought but also to achieve some semblance of hope for a franchise that has dwindled in obscurity for longer than a decade.
This win will almost certainly not alter the outcome of the series, but for the first time in years, New York can get excited about what's to come. For the first time in years, New York fans have hope.