Fixing the Core Problem That Has Reduced the WAC to 2 Football-Playing Members
May 6, 2012

Jonathan Daniel/Getty Images
"We can't solve problems by using the same kind of thinking we used when we created them."
—Albert Einstein
The WAC's biggest need today is a fundamental change in thinking by the leaders at the University of Idaho and New Mexico State. Today those leaders have taken the wheel from Louisiana Tech, Utah State and San Jose State's leaderships and are the current drivers in the culture of instability that has crushed the WAC.
The members (and, specifically, the leadership at Idaho and NMSU) aren't helping new interim commissioner Jeff Hurd at all. Hurd has no skins on the wall as a commissioner, and he is in the difficult situation of having to recruit new members with a membership that is showing no loyalty to the conference.
That isn't likely to yield good results.
For those keeping count, the WAC may soon consist of Idaho, New Mexico State and three non-football members—Boise State, Seattle and Denver. Boise State has also been mentioned in the news as a possible defector if it can find a conference that will admit it.
Six of the WAC's current members appear poised to leave.
Outbound Members
UTSA will apparently leave the WAC for C-USA without owing the WAC an exit fee, as they have not even begun play.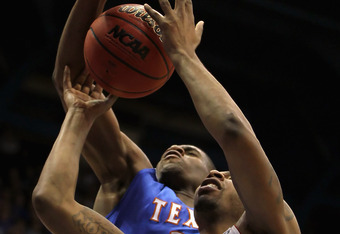 Jamie Squire/Getty Images
With UTSA leaving, Texas State was forced to take a very critical look at the WAC. The idea of adding Texas-based Lamar to get to eight football-playing members and 12 all-sports members was something the majority of the WAC membership did not favor. (It is entirely likely the western schools, including at least Idaho and probably NMSU, were the driving force behind that stance.) Texas State may have tired of potential resistance to the idea of adding Texas members in the face of instability.
In addition, all of the other five remaining WAC football schools openly coveted spots in the MWC/C-USA alliance. The reality of Texas State possibly being left out in the cold was apparent.
Texas State left the instability of the WAC behind for the Sun Belt Conference. (The Sun Belt is headed by former WAC commissioner Karl Benson, who also may have had issues with the leaders of the western WAC schools. Benson was denied an extension by the WAC membership earlier this spring. It now seems fairly likely Texas State was a dissenting vote.)
The team's decision appeared to be a no-brainer, even though it was unpopular with a lot of Bobcat fans and does represent a move to a less prestigious conference.
The Deseret News confirmed Utah State and San Jose State will be leaving for the Mountain West Conference.
ESPN is reporting Louisiana Tech will be joining UTSA in the new Conference USA.
UT Arlington is rumored to be scheduling approval to follow Texas State to the Sunbelt. 
How Did Idaho and New Mexico State Get Here?
I think answer is they (along with Utah State and San Jose State) learned the wrong lesson from "The Project"—the WAC's bold attempt to execute an unprecedented major up-conference pecking-order raid on the MWC to steal BYU, the MWC's best asset.
The Project failed when Fresno State and Nevada, Reno stabbed their conference mates in the back and bolted to the MWC. Without two of its better basketball schools, BYU decided to align its Olympic sports with the West Coast Conference (home of basketball powers Gonzaga and St. Mary's).
The productive lesson would be that if you had just stuck together you could have accomplished something far, far greater than you could accomplish on your own.
It appears instead the lesson the leadership at the football schools learned was "look out for yourself first."
While I have a great deal of respect for NMSU President Barbara Couture and Idaho athletic director Rob Spear, I feel a lot of the blame for today's WAC lies at the feet of the final decision makers on realignment issues at those two universities.
I don't know who has been making the final call on realignment decisions at both universities. These days realignment decisions are usually handled far above the athletic-director level. These days the presidents, chancellors and/or boards of regents seem to make the final calls on realignment issues.
I have a deep and heartfelt admiration for Couture's willingness to engage the public on issues and Spear's unquestionable passion to do right by Idaho and WAC athletics. But the current actions being taken at both universities amount to trying to cover the final decision maker's butt after a big screw-up on that person's watch.
If it was their call to make and not their bosses (and it may not have been), they should be under fire from alumni and boosters.
If it was their call, they should just own up to being wrong. They should focus on making the right decision for this moment, not trying to find a change that will obscure how incredibly bad the decision was to go along with SJSU and Utah State's leaderships' WAC expansion thoughts.
It's time to play smart team ball.
The "look out for yourself at your conference mates' expense" mindset is a shameful one for a university and a horrible lesson for its students.
It is Time to Be a Good Team Member Again.
It is possible that things could fall just right and that down the road Idaho could get an invite from the Mountain West Conference. The thing is, considering the attributes of Idaho, that may not be likely.
C-USA invited two schools from the I-AAA (non-football) and FCS ranks. What if the MWC is as open-minded? How does Idaho compare to UC Davis, North Dakota State or Montana as a candidate?
It is possible that Karl Benson may convince the Sun Belt Schools to add New Mexico State to help improve the perception of Sun Belt basketball, but that amounts to naming New Mexico State as a peer university to the least prestigious collection of universities in the FBS. There is a reason Louisiana Tech fought the idea of Sun Belt membership for years.
These should not be plan "A" for either school.
I am going to call it like I see it. It is time to put to bed the presidential-level whining at both schools about the nature of realignment. The mechanics of realignment are what they are. Complaining about the injustice of it all in an attempt to appease boosters is a waste of time.
They want to appease the boosters? Deliver solutions.
It is time to start taking the action necessary to rebuild their best potential home—the current WAC.
Right now their current scramble to leave is totally undercutting the remaining WAC schools' potential to rebuild.
Right now the leaderships at Seattle and Denver should be giving both Couture and Spear an earful because their actions are eroding a conference that still has a ton of potential to remain where the WAC has been—the best of the bottom trio of FBS conferences, a middle-of-the-pack Division I basketball conference and a collection of schools with respected academic reputations.
Idaho and NMSU easily could be stuck in the WAC for the next few years. Do they want it to be a strong conference or the Great West Conference part two?
Their actions are probably limiting the pool of realistic replacement schools to about a fourth of what they should be. End the culture of instability, and that turns around overnight.
Idaho and NMSU need to man up and get with the program. Commit to eat the required football travel costs for the next few years to do what is required to save the WAC.
It is time to commit to the WAC.
Getting the Ball Rolling
To attract new members, the WAC will have to fix the perception of instability, just like the Big East had to. Basketball, academics, an NCAA automatic tournament bid, a long-term relationship with ESPN and the ability to promote a school to the FBS ranks are potent selling points for the WAC, but the stability argument is trumping all of those today.
While financial penalties for departures make basketball schools happy to stay, the only conference-level protection policy that seems to have had any teeth at the FBS level is the Big East's policy that requires schools to give 27 months advanced notice before leaving.
It is time to adopt a similar policy in the WAC.
I think three years advanced notice on an intent to depart should be required. I think it would be smart to spell out a one-year earlier exit fee (i.e. schools can leave with only two years advanced notice if they pay a toothy fee—say $3 million for football schools and $1 million for non-football schools).
I think adding such a clause would be smart because unlike the Big East's rules, it could be written to underscore that there is absolutely no parole with less than two years advanced notice. Two years should be the absolute minimum lead time required, and schools should have to pay for that early departure.
A three-year notice clause combined with the NCAA's two-year grace period for rebuilding gives five years to replace a departing member. That window suggests the required stability to optimally recruit new members.
Save Who You Can
There is one school I think the WAC can save, and it is one well worth saving.
The UTA Board of Regents has not discussed the school's departure for the Sun Belt yet. It isn't a done deal. If the WAC can convince UTA to stay, it will pull it off the BOR's schedule.
Why would UTA stay? A better question is "Why should it go?"
Like Texas State, this has the look of a school taking a Sun Belt invite because it feels it has to, not so much that it wants to.
UTA saw first hand how the press in the Metroplex handles the Sun Belt. In basic terms, the Sun Belt is not considered a Texan conference. It will not be covered well in the Metroplex.
The schools are much lower in academic stature than the WAC.
It is a football conference that hasn't done much in basketball.
The Sun Belt is basically a slightly better version of the FCS Southland Conference.
UTA just built a really nice basketball arena in an effort to mine the rich Dallas recruiting grounds. There are no elite basketball programs in DFW. UTA has a shot to do quite well in basketball in a reasonably strong basketball conference.
Will that happen in the Sun Belt? As a Dallas resident and UNT fan, I think the odds are strongly against UTA in the Sunbelt conference.
Sun Belt games draw horribly. It took UNT five straight years of 20-win seasons to land top DFW recruits, and UNT still doesn't get much media coverage in the Metroplex outside of Denton. The Sun Belt is a crap conference for a DFW school. It just is.
I suspect UTA has no desire to yoke itself to the Sun Belt, but it feels it has no choice. Staying in a WAC that doesn't want to evaluate regional members with an open mind and may implode is nonsensical.
UTA isn't just going to walk away from the Sun Belt. It has an offer; NMSU does not. Unless NMSU commits to the WAC in a substantial way, UTA would be foolish to commit to the WAC, as it would risk simply trading places with the Aggies.
UTA has been surrounded by rumors of a potential start-up football program. If the WAC loses all of its football members, it opens the door to NCAA rewriting the rules to prevent the I-AAA WAC from inviting FBS upgrades. UTA has a lot of potential reasons to go and no reason to stay today.
If it ends the scurrying, the WAC can make UTA a better offer.
A stable core of an Olympic Western Athletic Conference—with two FBS members in the fold that are trying to rebuild—is not going to get stripped of the ability to invite FBS upgrades. If UTA commits to the WAC, there is little chance the NCAA will put hurdles in front of the WAC's efforts to rebuild.
The WAC can offer the FBS invite to UTA in exchange for UTA staying around and say, "While we would love it if you added football immediately, we have voted to offer this to you with a 10-year window to accept on this offer, AS YOU ARE A CURRENT MEMBER."
What else do departing members San Jose State, UTSA, Louisiana Tech and Texas State have in common? None of them have well-supported basketball programs.
While there is no putting a happy face on losing Utah State, the remaining WAC is a pretty promising basketball conference without those other four schools. The basketball culture in the remaining WAC is fairly strong, and that could be a very good pull on UTA.
If the WAC will protect UTA's potential for an FBS future, give its regional expansion desires the same weight the conference gave San Jose State's, and give UTA a better basketball present and an association with respected universities, then the conference might have a real shot to retain UTA.
Saving UTA would dramatically help the WAC. DFW is a top media market, and the recruiting potential of DFW could quickly help WAC basketball programs mature.
That gets the WAC back to a two football member, six all-sports member conference. That is, frankly, very fixable and could yield a conference at least as good as "the WAC that almost was."
Doing What Is Needed Will Yield Better Candidate Schools
I think stabilizing what it has is the first step to saving the WAC. Anything less than a serious commitment to the WAC by Idaho and NMSU is a halfhearted effort that will yield very few candidates, and substandard ones at that.
Anything less than a commitment to stability puts the conference at risk.
In my next articles, I will discuss strategy and schools that could help if the conference completes this first step. It is a long list, so there is every reason to take the first step.