Analyzing 2nd-Year Leap Scenarios for Chicago Bears 2011 Draft Class
May 7, 2012

Stacy Revere/Getty Images
While we'll talk about them over the course of the next few months, we've closed the books for now on the 2012 NFL draft and the NFC North's selections.
While we love to grade things right after the draft, the truth is it takes several seasons to know if a class was truly as good or bad as we thought. It's worth a look back each year to see how the players are progressing and how they could fare in the coming year.
With that in mind, we're going to take a look at some different ways the class of 2011 for the Chicago Bears can take a big step forward in 2012.
There were just five picks in 2011, one short of this year's amount. Let's take a look at what each has to do to jump forward.
Gabe Carimi, OT: Round 1, Pick 29
Carimi looked pretty good when he went down for the season in Week 2, and he's apparently on pace for training camp. Staying healthy and at right tackle would be fine for his progression, but if he wants to take a leap forward, the needs to steal left tackle J'Marcus Webb's job.
To secure that spot in his second year after recovering from injury would be huge, and it would instantly justify that first-round pick. The Bears desperately need the offensive line to improve its play, and they are banking that the guys they already have will get the job done. Carimi needs to be a big part of that and taking that left tackle job from a competent but not spectacular guy like Webb would be the way to do it.
Stephen Paea, DT: Round 2, Pick 62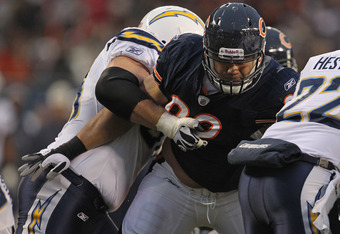 Jonathan Daniel/Getty Images
Paea spent a ton of time inactive at the start of last season, in part due to slow recovery from a Senior Bowl injury and in part because he was overwhelmed by the transition to the pro game. When he finally got on the field, he did a great job showing improvement.
The Bears have lost two tackles in Amobi Okoye and Anthony Adams, so there is space for competition. Henry Melton played very well in his second season, but Matt Toeaina is an average nose tackle—a job Paea could excel at and one it looks like they'll slot him for.
To take a jump forward, Paea has to get on the field more, and he'll do that by taking that job from Toeaina. Paea ended the season with a pair of sacks and 19 tackles—as a starting nose tackle, he'd easily double that.
Chris Conte: Round 3, Pick 93
I'm not the biggest Conte fan around but looking back on it, he had a pretty good rookie year considering he was really just in his second full year as a safety (he spent three of four years playing cornerback in college). I've probably undersold him in previous columns.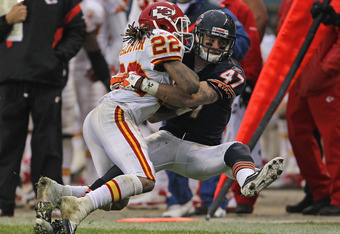 Jonathan Daniel/Getty Images
There are two things he needs to do and they're actually intertwined. Conte needs to continue to get in better shape and stay healthy. One will follow the other.
Holding off rookie Brandon Hardin at free safety (perhaps forcing Hardin to move into Major Wright's strong safety spot or to the bench) will be big. Now entering his third year as a safety, second in the pros, Conte has the experience needed to really take a leap forward, and I expect it to happen.
Nathan Enderle: Round 5, Pick 160
It's hard to call any efforts by a late fifth-round pick "disastrous" but when you get leapfrogged by a guy who was just signed, as Enderle was when Josh McCown came to town, it's hard to see it as anything but.
That said, Enderle needs to take the long view while fighting in the present. A guy like McCown has had his shots and always comes up short. Enderle's career has just begun and he needs to focus on next year as well as this one.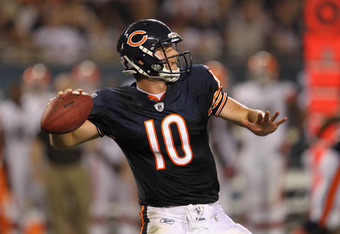 Jonathan Daniel/Getty Images
Enderle needs to do to things to position himself for a leap forward.
First, he needs to make the roster. That's no guarantee at this point, though with the expanded rosters of 90, he'll get a shot. He needs to show he knows the playbook and can execute it. In his second year, even in a new offense, it's a must.
Secondly, he needs to climb the depth chart. No more lip-service No. 2 quarterback. He has to earn his slot in a way to where we believe he can step in for Cutler. He needs to earn back at least the third spot.
JT Thomas: Round 6, Pick 30
First and foremost, Thomas needs to stay out of trouble. Late-round draft picks don't get any leeway for things like that, especially ones who don't perform well or stay healthy (he was placed on injured reserve before the 2011 season).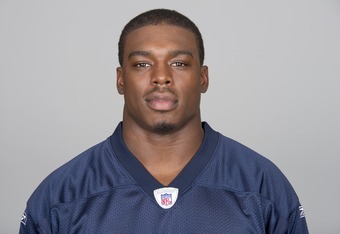 Handout/Getty Images
Thomas has had his physicality questioned, a problem for someone who was going to spend time on special teams.
In order to have a nice jump forward in his second year, Thomas needs to stay with the team and show he can be as physical as the other eight linebackers on the roster.
He's unlikely to get any regular playing time, though, best-case scenario is he's so good they can't keep him off the field. However, if he can prove himself in special teams, play tough and physical all summer and carry it into the season, it would go a long way towards improving his fortunes this year.