Kansas Football: Charlie Weis Will Bring Immediate Success to Jayhawks' Program
May 12, 2012

Memorial Stadium has had an appropriate name during the past two seasons, because football has gone there to die. Charlie Weis will change that.
Make no mistakes, Lawrence is a basketball town—some would argue that it's the Mecca of college hoops.
However, few realize the tradition of its gridiron counterpart, dating back to 1901. A tradition that's highlighted by all-time greats, such as Gale Sayers and includes a victorious Orange Bowl appearance just five seasons ago. 
As the Mark Mangino scandal died down, so did the popularity of his former team. 
Mangino's reputation came under fire after rumors of player mistreatment circled the program.
The University of Kansas responded by abruptly firing him and hiring Turner Gill—a man whose Dalai Lama-like approach backfired when attempting to motivate his defense. 
Under two seasons of Gill's supervision, the Jayhawks tallied a 5-19 record. Last year, Kansas allowed an average of 43.8 PPG (ranking 120th nationally). 
Fans' outspoken displeasure resonated with the athletic department, which announced on December 8 that Charlie Weis would take the reins.
Serving as the Kansas City Chiefs offensive coordinator in 2010, Weis isn't a newcomer to the region. 
However, the 56-year-old has brought along some friends.
Weis is universally perceived as a quarterback guru. During Brady Quinn's freshman campaign—under head coach Tyrone Willingham—the coveted Golden Domer threw for 2,586 yards, 17 TDs and 10 INTs. Notre Dame proceeded to sign Weis as its head coach in 2005 and Quinn's numbers were the beneficiaries. In his sophomore season, he aired it out for 3,919 yards, 32 TDs and only seven INTs.
Weis would eventually jump back into the NFL in 2010, but his effectiveness remained immediately visible. Taking over as offensive coordinator for the Chiefs, he was given the task of honing Matt Cassel's game. 
In 2009, before Weis' arrival, Cassel's quarterback rating (QBR) finished at 69.9. During Charlie's brief one-year stint as coordinator, Matt Cassel's QBR skyrocketed among the league's best at 93 and earned the much-maligned quarterback a Pro Bowl nod. However, when Charlie packed his bags for Florida, Cassel's rating plummeted back down to earth, concluding at 76.6.
The aforementioned scenarios, amongst others, piqued the interest of highly touted quarterbacks Dayne Crist and Jake Heaps. 
Coming out of high school, Rivals tagged Crist as the second-best quarterback prospect in the nation. Heaps, a junior who is ineligible to play until next season, was the top-ranked quarterback according to the publication in 2010.  
The quarterback transfers are welcomed news in Lawrence, but it's only one piece of a disarrayed puzzle.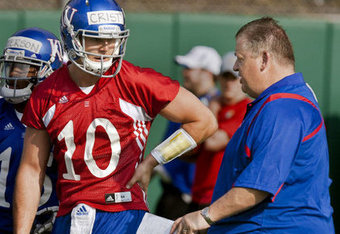 The void left by Turner Gill's lack of talented recruits has evolved into a gaping hole on defense. 
It's feasible that only one of Gill's prospects (LB Michael Reynolds) will start defensively.
Although Weis has brought along his own batch of talent, the most notable change from last season's squad will be new defensive coordinator Dave Campo.
Campo has spent the last four years as the Dallas Cowboys secondary coach and will attempt to spearhead an improved defensive regime—progression should be relatively easy considering that Kansas finished last in the FBS in total defense at the end of 2011.
As Campo will attempt to infuse his defense with a more rugged mentality, the same task will be duplicated offensively by Tim Grunhard. An 11-year NFL center for the Kansas City Chiefs, Grunhard provides credibility and bring a no-nonsense philosophy.
The coaching staff, as a whole, have appointed conditioning a primary focus of the offseason program. A simple tweet, alone, paints a stark contrast between the philosophies of Turner Gill and his successor: 
Not very happy with today's running. Tomorrow morning's weightroom workout just got much tougher. That's the price you have to pay.

— Coach Charlie Weis (@CoachWeisKansas) March 15, 2012
The approaches of Mark Mangino and Turner Gill anchor opposite ends of the coaching spectrum.
Mangino is a hard-nosed disciplinarian, whose tactics produced wins, but his antics translated into ire on behalf of the players and attracted unwanted headlines.  
Turner Gill is the prototypical "player's coach." He covered the muddied tracks that Mangino's reputation left and virtually every youngster would vouch for him, but his easy-going mentality resulted in an unsatisfactory record. 
It's a tale of two extremes—tangibles vs. intangibles.
With the hiring of Charlie Weis, Kansas discovered a happy medium.