2012 Fantasy Football Rankings: Updated Top 10 Quarterbacks
May 7, 2012

Doug Benc/Getty Images
Not only did Drew Brees become the first player to have two 5,000-yard seasons, but in 2011  he broke Dan Marino's previous single-season record of 5,084 passing yards.
In fact, he shattered it.
The Saints quarterback threw for 5,476 yards last season as he broke the record with a game to spare. In addition, Brees broke a number of other single-season records including completions (468), completion percentage (71.2 percent) and 300-yard games (13).
In his two postseason games this year, Brees threw for the second- and third-most yards ever in a playoff game after Cleveland's Bernie Kosar (489 yards on 1/3/87). Brees completed 73 of 106 passes for 928 yards, seven touchdowns and two interceptions in those two games.
So, if you include the playoffs, Brees threw for a staggering 6,404 yards, 53 touchdowns and 16 interceptions in 18 games this year.
That said, Brees, the 2011 AP Offensive Player of the Year, was not the league MVP. And neither were the other two 5,000-yard passers this season.
Here are our 2012 fantasy football quarterback rankings:
1. Aaron Rodgers, Green Bay Packers
Although 15 quarterbacks threw more pass attempts than Rodgers (502), no quarterback had more fantasy points. Rodgers, the league MVP, set the NFL single-season record for passer rating (122.5) and broke the franchise record for passing touchdowns (45) while throwing a career low of six interceptions as a starter.
2. Drew Brees, New Orleans Saints
If it weren't for a full year suspension of head coach Sean Payton and the apparent lack of progress in his contract situation, Brees, who was designated with the franchise tag, would be a legitimate challenger for the top spot on this list. Instead there is a minuscule difference between Brees and Tom Brady, the No. 3 QB on this list.
3. Tom Brady, New England Patriots
While Brady finished second in the league in passing yards (5,235) behind Brees last year, it was a career-best year for him and that total is the second-highest in NFL history. Last year, Brady had 300-plus yards and/or multiple touchdowns in all 16 regular-season games.
Not only does Brady have the league's top TE duo in Rob Gronkowski and Aaron Hernandez, the Pats have added a bunch of receivers in the offseason—Brandon Lloyd, Jabar Gaffney, Donte Stallworth, etc...
4. Matthew Stafford, Detroit Lions
After playing only 13 games in his first two seasons, Stafford played a full 16-game season, was named AP Comeback Player of the Year and led the Lions to their first playoff appearance since the 1999 season.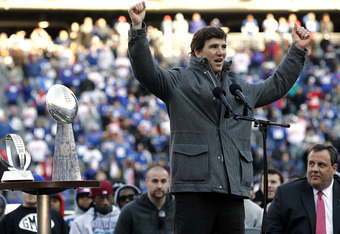 Jeff Zelevansky/Getty Images
Like Brady and Brees, Stafford threw for 5,000-plus yards in 2011, and he threw a league-high 663 times, which is the third highest in league history after Drew Bledsoe (691 in 1994) and Peyton Manning (679 in 2010).
5. Cam Newton, Carolina Panthers
Panthers quarterback Cam Newton had a record-setting rookie campaign and ran away with the Offensive Rookie of the Year award (see past winners). Not only did Newton break the record for rushing touchdowns by a quarterback (14), he became the first player in NFL history to throw for 4,000-plus yards (4,051) and run for 700-plus yards (706) in the same season.
A bit snubbed on NFL Network's list of Top 100 Players for 2012 at No. 91, Romo threw for just under 4,200 yards with 31 touchdowns and only 10 interceptions last year.
There aren't many quarterbacks who have the weapons that Romo has at his disposal in Miles Austin, Dez Bryant and Jason Witten (among others).
7. Eli Manning, Giants
Speaking of snubs, I feel like I'm snubbing Eli a bit here. Not only was he named Super Bowl MVP (see past winners), but he was only 67 yards shy of becoming the fourth 5,000-yard passer last season.
In addition, the Giants are loaded at wide receiver with Hakeem Nicks, Victor Cruz and rookie Rueben Randle, who slipped to them in the second round.
8. Michael Vick, Philadelphia Eagles
As a dual-threat quarterback, Philadelpia's Michael Vick had a disappointing season. Not only did Vick miss three games and fail to reach 4,000 total yards (3,303 passing yards and 589 rushing yards), but he ran for only one touchdown.
In 2010, Vick ran for nine touchdowns. With his size and style of play, Vick will always have a higher-than-average risk of injury (missing games), but fantasy owners have the potential to reap huge returns on a per-game basis considering his much lower fantasy draft status in 2012 compared to last season.
9. Peyton Manning, Denver Broncos
While Peyton Manning missed the entire season with his neck injury, all indications are that he will be fully ready to be under center in Week 1 as he begins the next era of his career in the Mile High City.
With the transition from Tebow to Manning, the Broncos will obviously become a much better passing offense, which really boosts the fantasy value of their receivers: Demaryius Thomas, Eric Decker, etc... That said, it's unlikely that Peyton returns to his pre-injury form considering the majority of his games will be played outdoors and he has missed an entire season. If he does, however, he's a steal here.
10. Philip Rivers, Chargers
With a career high in pass attempts (582), Rivers threw for more than 4,600 yards for a second consecutive season. That said, he also set four-year lows in completion percentage (62.9 percent) and touchdowns (27) and set a career high in interceptions (20).
Although there was speculation that Rivers might have been hurt, he has insisted that he wasn't. If he has a bounce-back season, Rivers could be a bargain where he's currently being drafted.
To see the rest of our top 25 quarterbacks for 2012, click here.  We will update all of our fantasy rankings over the course of this week.
To keep track of our updates, follow @EDSFootball on Twitter and/or "like" us on Facebook.