Arsenal FC Transfer News: Yann M'Villa, Junior Hoilett, Alessandro Del Piero
May 8, 2012
Giuseppe Bellini/Getty Images
After another roller-coaster of a season in which Arsenal finish without a trophy and struggle to finish in the top four, it appears we are beginning to see some change.
Arsene Wenger, who is usually the slowest mover in the transfer market, appears to have made some incredibly early deals as the current season comes to a close.
I reported as far back as early February that Lukas Podolski had agreed to a move to the Emirates.
Now Arsenal have stepped up their bid for Rennes defensive midfielder Yann M'Villa with an £18-million bid.
That sum would suggest Wenger means business and is not looking to cut corners when it comes to matching a price tag.
Many would suggest that the price may seem a little steep, but M'Villa on performance and aptitude alone could be worth more.
He's a tough-tackling midfield marshal who plays his position perfectly and knows his role.
Despite Alex Song's great performances and improvements in ability over the last few years, he lacks the discipline to remain a DM and often leaves his back four exposed to quick counterattacks.
M'Villa has strength and determination—exactly what this current Arsenal squad still lacks in areas.
Many will point to Francis Coquelin and Emmanuel Frimpong and will quote the usual Arsene line of halting the youngsters' progress. Those fans need to remember the same was said for Nicholas Bendtner, Carlos Vela, Denilson, Abou Diaby and others.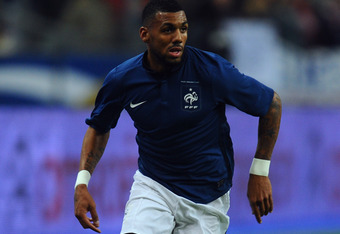 Mike Hewitt/Getty Images
You don't bring a knife to a gun fight, and you shouldn't bring inexperienced kids in to do a man's job. Not in this climate. Not with the competition being the way it is now.
Many will spout off about the return of Jack Wilshere, but to be honest, he doesn't play DM and who knows how long it will take him to get to full fitness after a whole season out of the game.
M'Villa is more than welcome, and it's time Arsenal fans embraced change rather than hedging their bets on perennial failures.
Other transfer rumours doing the rounds consist of Wenger's interest in Junior Hoilett and none other than the Juventus legend Alessandro Del Piero.
Both would be on a free transfer, and both would be more than welcome to join the squad for different reasons.
I've sung Junior Hoilett's praises all season on my Twitter account because he has raw ability. His pace and skill is also accompanied with a decent final product.
As for Del Piero. A 37-year-old being purchased by Wenger seems a crazy notion, and I can just imagine a 100-metre race between him and Per Mertesacker in training resembling that of the one held at the Chelsea pensioners sports day. Slow.
However, Del Piero is a Champions League winner and a consummate professional with extreme technical ability. The Arsenal squad still cries for experienced winners, and he is definitely that.
I would like to state that Leighton Baines would be on my list, as I've championed him for too long now. He is a great Premiership professional and knows his duties inside and out.
Follow me: @SamuelMensahLDN