Karlos Dansby and Kevin Burnett: Are the Dolphins Set at Linebacker?
May 8, 2012

Marc Serota/Getty Images
Despite a slow start to the 2011 season, the inside linebacker duo of Karlos Dansby and Kevin Burnett led a Miami Dolphins' defense that finished third against the run and had the sixth fewest points allowed.
Spectacular play from these two seasoned veterans was a big reason the Dolphins won six of their final nine games of the year.
So, by all logic, Miami fans should feel good about the middle of their defense with these two guys on the roster.
Right?
Well, after another losing season, sweeping changes came to the Dolphins' coaching staff. One of those changes was the hiring of former Cincinnati defensive backs coach Kevin Coyle to be defensive coordinator.
Coyle is switching Miami from a 3-4 defensive scheme to a 4-3. Instead of two middle linebackers on the field there will be one who has different responsibilities. Some indications point to a hybrid of both systems being used, where they bring in different situational packages, but the Dolphins have said their base will be a 4-3.
Of all the talents that Dansby and Burnett have, covering ground is not high on the list. An inside linebacker in the 4-3 must be able to essentially cover the whole field and be intelligent enough to know where to go when he reads the play. In the 3-4 the two middle backers focus on their sides. These players are typically bigger and stronger, pure speed is not as important.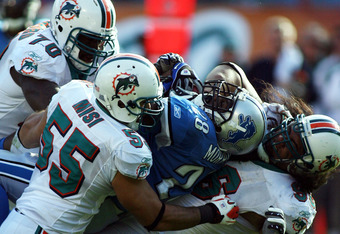 Marc Serota/Getty Images
That all being said, it stands that Miami does not have a true, starting-caliber 4-3 middle linebacker on their roster.
2010 second round pick Koa Misi is an outside linebacker who's skill set actually may make him a better fit in the middle in Coyle's scheme. New Dolphins head coach Joe Philbin is on record saying that they may experiment with Misi in new roles.
Drafted to be a pass rusher, Misi has been considered an overall disappointment so far with only 5.5 sacks in 28 games. His career may benefit from a new role.
When you think of the great defenses that ran the 4-3, there is usually a Derrick Brooks, Brian Urlacher, or Ray Lewis on the inside who could go sideline-to-sideline and make the sure tackle. Even the Dolphins' fans saw it in the early 2000s when the great Zach Thomas was roaming the middle of the field.
Defense has been the one thing that Miami fans have been able to cheer about these past three seasons. For the Dolphins to continue to succeed with the new scheme, they will need to find a player who can play inside linebacker at a high level. Can Burnett or Dansby fill this need? Can Misi embrace a new role and revitalize his career? Will Miami need to look outside the current roster for a solution?
Considering its importance, this might be the biggest question mark for the Dolphins going into training camp.