Analyzing 2nd-Year Leap Scenarios for Green Bay Packers 2011 Draft Class
May 8, 2012

Yesterday, we looked at what some huge second-year leaps might look at for the Bears' 2011 draft class. Today, it's the Green Bay Packers' turn.
The 2011 class was a mixed bag with some big hits (Randall Cobb), some solid play (Sherrod, before the broken leg) and some whiffs (Elmore and Schlauderaff).
Let's see what it would take for them to kick it up several notches.
Derek Sherrod, T: Round 1, Pick 32
Sherrod's technique and grasp of the scheme was just really getting going when he got hurt in December. He's not quite 100 percent yet but should be by camp. For now he's slated behind Marshall Newhouse at left tackle and, in some ways, it's almost like starting from scratch.
A huge leap for his 2012 development would be for him to be healthy in camp and beat out Newhouse for that tackle spot. A lot of that would depend on how much time he spent in the film room while hurt, whether or not he was able to continue to improve that way. Getting in for at least part of camp is critical as well.
That would be an impressive leap for him. At this point, getting on the field and proving he knows what he's doing will be a big deal as well.
Randall Cobb, WR: Round 2, Pick 64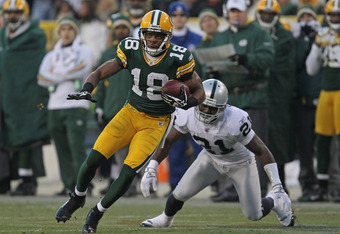 Jonathan Daniel/Getty Images
I love Randall Cobb. He certainly proved his worth in the run game last year as well as doing quite well when he got the chance as a receiver.
A huge leap for him would be one where he secures that third wide receiver spot over James Jones once and for all, while keeping up the good work on special teams.
He's not going to catch Jordy Nelson unless there is an injury, but he can be a deadly third wide receiver. He's a guy who could very well become the new Donald Driver—a tough receiver not afraid of contact who will get you critical yards.
I'd like to see him get more of a chance for some fancy plays—this is a guy who has played multiple positions and has a ton of skills. Sure, the Packers aren't really a fancy team and don't go in for many tricks, but that would make Cobb throwing the ball just once something that will cause instant chaos.
Alex Green, RB: Round 3, Pick 96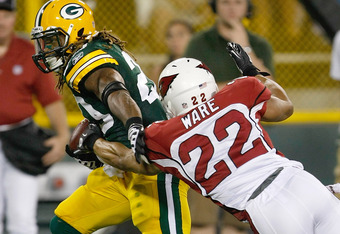 Scott Boehm/Getty Images
Green tore up his knee last year but before that was slowly gaining a grasp of the offense. The transition from a spread offense was a bit of a hurdle, but he was getting there. He's got good burst and is light on his feet but did have some fumbling issues previously.
For him, aside from health, the next big step is holding Brandon Saine off for the No. 2 running back position. He's likely to get some work regardless, as McCarthy will change his backs up to suit a situation, but as the No. 2 he'd have a better chance to shine, especially if Starks gets banged up.
Showing he knows his assignments, the offense and a comfort level of both will be huge as well.
Davon House, CB: Round 4, Pick 131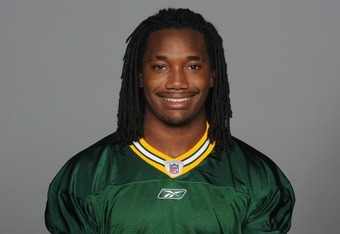 Handout/Getty Images
House got hurt in training camp and never seemed to catch back up. He's very clearly still learning and grappling with the change from New Mexico State to the pro level, though, going to Green Bay (a small town compared to, say, Dallas) must have helped his comfort level.
House isn't likely to crack a starter's slot, but showing continued progress, an understanding of his role and killing it when he's on the field will be a big focus.
A huge leap would be getting into the regular rotation, being the first off the bench.
D.J. Williams, TE: Round 5, Pick 141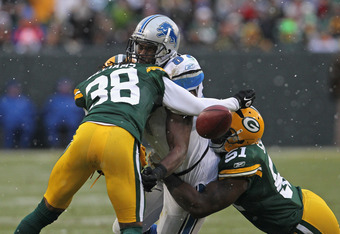 Jonathan Daniel/Getty Images
Williams is a solid player who does a good job in his blocking assignments but ultimately is stuck in a glut of four tight ends behind Jermichael Finely. Even when Finely is down, Williams is not the first option, though, he does see enough time on the field as a blocker.
Williams needs to stand out, continue to get on the field and when his chance comes (and it will), show that he can be a reliable player for the Packers.
If he can leapfrog some of the guys in front of him, get on the field more, that would show significant progress.
Caleb Schlauderaff, G: Round 6, Pick 179
Schlauderaff is a guard on the New York Jets now behind Matt Slausen at left guard and is no longer with the team.

D.J. Smith, ILB: Round 6, Pick 186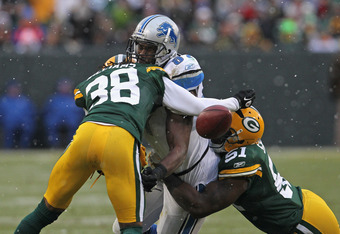 Jonathan Daniel/Getty Images
Smith showed great instincts in his first year, and while he was buried on the depth chart, there were several times when he showed a real nose for the play. It's going to be hard to supplant AJ Hawk or Desmond Bishop...or is it?
Hawk is making a lot of money and while McCarthy came out and said they weren't cutting him back in February, if Smith could have a tremendous camp, that tune might change.
Ricky Elmore, OLB: Round 6, Pick 197
Currently buried on the depth chart in San Diego.

Ryan Taylor, TE: Round 7, Pick 218
Jonathan Daniel/Getty Images
If Williams' leap is to crawl up the depth chart, Taylor's might be just to make the team. He's a tremendous special teams player, though, and that's where he'll continue to make his mark.
His big leap would be to have an even bigger role in special teams and perhaps crack the tight end rotation a few times.
Lawrence Guy, DE: Round 7, Pick 233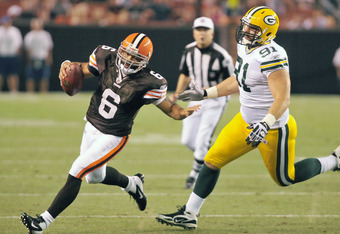 Jason Miller/Getty Images
Guy was concussed and still hasn't been allowed to practice with the team, apparently, on top of being deep on the depth chart. He will probably buy some time with Mike Neal being suspended—that and a chance to steal a spot from Neal. He's a pretty big defensive end who has to stay healthy if he's going to stay on the team.
Grabbing a big role on special teams would be a big deal at this point—it keeps him on the field and in the coaches' heads.