Tiger Woods: Plenty of Credible Golf People Scratching Their Heads
May 9, 2012

Ryan Pierse/Getty Images
There seems to be an interesting split between the knee-jerk factions of the golf community and those willing to express knowledgeable opinions. 
The inordinately wishful folks who desperately want to see Tiger Woods return, conveniently look past a bucket-load of credible reasons why Tiger has not, and will not, return to his "glory days" and come close to challenging Jack's records.
The credible golf people have begun to use a variety of ways of expressing their deep understanding of the game.  
Recently, I wrote about Butch Harmon, and since Tiger's missed cut last week, a number of ESPN personalities, from Bob Harig to even Rick Reilly have expressed uncertainty about the state of Tiger's game.  
Last evening, at the Golf Hall of Fame induction ceremonies, super-veterans of the game, writer Dan Jenkins and broadcaster Peter Alliss were openly and poignantly willing to comment on the state of Tiger's hapless game.
Sir Nick Faldo has once again joined the list of those questioning Tiger self-confidence.
The only person seemingly willing to give Woods an even shake is Tom Rinaldi, who many consider to be Tiger's "chosen" golf reporter.  Rinaldi, as many will recall, was the reporter who Tiger chose to lob "softball" questions to him in what I have dubbed "The Interview" after Tiger's double life of debauchery was revealed.
The bottom line is that there are many, too many, things that are against Tiger from ever reaching Jack Nicklaus' records.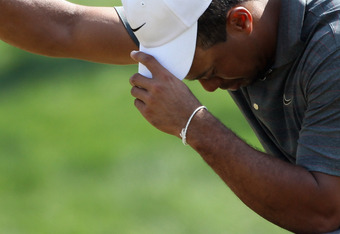 Andrew Redington/Getty Images
Tiger has sacrificed his body for golf, and we all know that Humpty-Dumpty could be made whole but still had cracks.
Lastly, there's his age.  
Many will comment that he is a young man, and I agree.  The problem is that he has been playing golf at "his" level for so long that his personal odometer has gone further, for longer, than any other golfer, ever.
I'd love to see Tiger returned to his old form but that's simply not going to happen.  The future belongs to the young, and after last week's event, sans Tiger, we saw that the future is bright.