The 7 Best Running Back Handcuffs in 2012 Fantasy Football
May 9, 2012

Bob Levey/Getty Images
One of the reasons fantasy football owners win leagues each year is because of the handcuffs they stash at the bottom of their rosters. 
If you are not familiar with the term "handcuff," other than if you have had a run-in with the law or an adventurous sexual partner, a handcuff in fantasy football is the backup of a superstar starter. The strategy is that if you draft the starter in the early rounds you also draft the handcuff in the later rounds so this way you are guaranteed the starter at that position on that NFL team.    
Fantasy football owners like drafting handcuffs at the running back position as much as Austin Powers likes shagging. This way they have insurance policies in case their franchise RBs are knocked out due to injury. Rather than have to swing a trade or pick up someone on the waiver wire, if they have the injured RB's handcuff, they have no worries. They can just plug in the handcuff into their fantasy lineups until the superstar RB returns.  
But you do not want a backup who splits carries with the so-called starter on his team. That's no handcuff. You want a RB whose role is to sit on the sidelines unless a catastrophe happens. If you draft two backs from the same team who could share carries, such as Washington's Roy Helu and Evan Royster, you are defeating the purpose because each guy will take away from the fantasy worth of the other.   
Here are the seven best running back handcuffs in fantasy football for 2012:  

Ben Tate, Houston Texans
Tate is the best backup running back in the NFL and the best handcuff to own in fantasy football. He could probably start for half the teams in the NFL. The powerful between-the-tackles runner rushed for 942 yards in 2011 despite only starting in Houston's opening couple of games while Arian Foster was dealing with anti-awesomeness in his hamstring.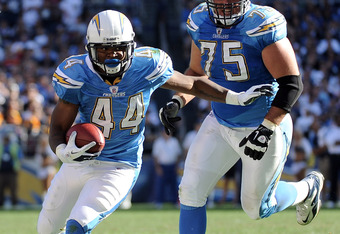 Harry How/Getty Images
Tate is the benefactor of the perfect situation. Houston's zone-blocking is among the best in the business and could open holes wide enough for King Kong Bundy to waddle through. And because defenses key on Foster so much, Tate can sneak out late in games and get 50-60 yards without anyone blinking an eye.
Whether you have Foster or you don't, Tate is a great pick, because if Foster's body becomes anti-awesome again, Tate could be a top-10 fantasy RB.      
Darren McFadden is as injury-prone as Daffy Duck is accident-prone. McFadden has been the anti-Brett Favre in the durability department, missing 19 games over his four-year career, including nine games last season due to a foot injury. 
Michael Bush owners were ecstatic last year when "DMC" broke down, but now that Bush has moved to the Chicago Bears the recently acquired Goodson looks to be McFadden's understudy. Goodson did good work in limited appearances as a handcuff's handcuff in Carolina when he backed up both DeAngelo Williams and Jonathan Stewart. McFadden owners need to pick up Goodson in the late rounds.  

Bernard Scott, Cincinnati Bengals
Now that Cedric Benson and his 45-foot-long rap sheet are out of the way, many thought Scott would have had a chance to be Cincy's starter. But "The Law Firm" BenJarvis Green-Ellis was signed quickly after the free-agent period began to be the lead runner in the Bengals offense.
We have never seen Green-Ellis score touchdowns in a non-New England system, though. The guy is not a burner or a tackle breaker. He probably has similar skills to Benson. And Tom Brady is not around to keep setting him up with goal-line carries. So taking a flyer on Scott, a hungry back with speed, is a solid late-round handcuff move.    

Curtis Brinkley, San Diego Chargers
With Mike Tolbert now playing fullback for the Carolina Panthers, ultra-talented Ryan Mathews no longer has to worry about somebody vulturing his touchdowns. Mathews is the main man in San Diego's rushing attack and should be ranked among the top 10 at RB on your 2012 cheat sheets.
But Mathews has suffered through injury problems and fumble troubles during his short career, so handcuffing Brinkley to him via a late-round fantasy draft choice is the Jerry Reese way to go.
Brinkley is a straight-ahead, no-nonsense runner who can hit holes fast and hard. He is built low to the ground and has a stocky build that makes him hard to tackle. He has only 32 career carries in two seasons, but he would get a lot more if Mathews falls to another injury.   

Javon Ringer, Tennessee Titans
Ringer has shown flashes of talent in limited duty. The problem is that Chris Johnson has missed only one game in four years, and Johnson will not be holding out this preseason like he infamously did last preseason.
Johnson is on the smallish side for a full-time tailback who normally touches the ball more than most. That's why Ringer has to be considered as a handcuff pick for Johnson owners, because Johnson may be due to break down heading into his fifth season. 
The larger the roster size in your fantasy league, the more attractive Ringer becomes. If you have a couple of extra spots, then snagging Ringer in the last round or two and stashing him on your bench as Johnson insurance is a wonderful luxury. But if your league does not allow many reserve spots on your roster, passing over Ringer is fine since Johnson is normally durable.   

Felix Jones, Dallas Cowboys
Jones failed in his audition as Dallas' starting tailback. He is better used as a situational player because it keeps his legs fresh for the home run long runs he has the sprinter speed for. When he was given 15-20 touches per game, he would not break any big plays, and instead his body would break down. 
Do not blame Dallas' offensive line for Jones' mediocre starting stint. DeMarco Murray ran behind the same line last year and did more in four starts than Jones did in a dozen games. The fact is Murray is an every-down back. Jones is not. 
If you draft Murray within the first three rounds like you should, sign Jones up later on. Murray has not proven his frame can hold up for a whole season. A fractured ankle prematurely ended his 2011 campaign. Jones would be the perfect handcuff if Murray gets hurt—until Jones himself gets hurt.     
Isaiah Pead, St. Louis Rams
It feels like Steven Jackson has been around so long that he used to be Eric Dickerson's backup. The man has put a lot of miles on his dreadlocks. He has rushed for 1,000 yards in seven consecutive seasons and really shows no signs of slowing down.
But St. Louis knows running backs do not last forever and that Jackson has missed at least one game in four of the past five years. So the Rams drafted Pead in the second round as an heir apparent, although in 2012 he will just be Jackson's cleat shiner.
Pead will not get more than a handful of carries per game as long as Jackson is healthy, so that makes him the ideal handcuff since he won't have any fantasy value unless Jackson gets banged-up. Pead had 1,259 rushing yards in his senior season with Cincinnati and has soft hands just like Jackson, so he should pick up right where Jackson leaves off if the latter is injured.