Indy 500: Guy Fieri To Drive Pace Car, Make Indy Racing Even Less Bearable
May 9, 2012

I have a love/hate relationship with Guy Fieri, and it will come to a head this month when he oozes into a shiny new pace car at the Indy 500. 
That's right. At some point on May 27th, you will have to wonder what that loud yellow thing is driving the newest Corvette pace car. 
WCPO reports the Indy 500 will be paced by a sick new ride and driven by Food Network star Guy Fieri. 
There are a certain amount of things you have to forgive if you are going to sit back and watch hours of Diners, Drive-Ins and Dives. 
First, ignore your need to know why a man would try to rock the Susan Powter look, or why there is ever a reason to wear wrist bands without taking part in anything remotely athletic.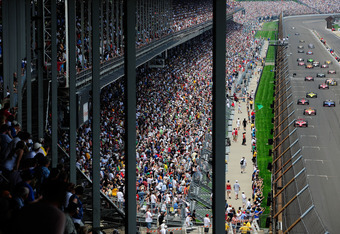 Robert Laberge/Getty Images
Sure, big guys like Fieri and myself may sweat profusely when having a snack, but that doesn't mean I'm getting gussied up in sports paraphernalia before heading down to crush a burger and fries. 
The last straw comes this weekend when Fieri waltzes into the fringes of the sports world, the pace car. Driving the pace car is like ghost riding a Zamboni, only less cool but just as slow. 
I was on the fence as to whether I would watch hours of cars go vroom or just catch the lone highlight later in the night when one of the Indy cars passes the finish line. 
With Fieri in tow, I have made up my mind. 
Like I said, it's a love/hate thing with this guy.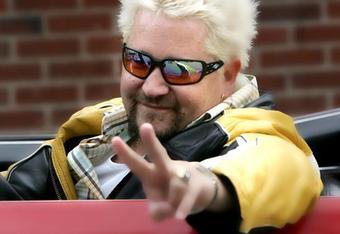 I have a huge crush on DDD and lose hours of my life when the channel meanders over when it's on. Call me fat or a dullard, but I like sitting around exclaiming, "Oh, honey. That looks good. We should totally take a trip to Norman, Oklahoma."
I just don't have the man crush on Fieri that I should. He is so in your face that you have to make sure your TV isn't really 3D, and he has a knack for second guessing the cooks on the show. 
Oh, yeah. I notice these things. Look at the the 3:05 mark of this video and the 2:05 mark of this one.
It's subtle, but Fieri has a knack for side-seat driving some cooks that have been specializing in preparing their particular meals for, you know, their entire lives.
Ah, maybe I just love to hate on Fieri. That has to be it, because I am really scared to think of the counter argument, that I hate to love him.
Follow me on Twitter and we can fight about Fieri.