Ryan Fitzpatrick Is Not the Answer for the Buffalo Bills in 2012 Season
May 10, 2012

Jim Rogash/Getty Images
Going into the 2012 NFL season, many Bills fans believe this is the year the team brings the playoff drought to an end.
With the signings of Mario Williams and Mark Anderson along with another solid draft, it's not wrong to think this team can be a serious contender for the playoffs.
One major issue still remains though, and it could be the biggest problem this season.
The quarterback, Ryan Fitzpatrick.
Many people believe Fitzpatrick took strides in 2011 and can really improve heading into the 2012 season.
I'm not buying it. Here's why.
First, he's a career backup. Always has been. He wasn't good enough for the Rams and when the opportunity presented itself to start 13 games in Cincinnati, he failed again. 
While starting with the Bengals, Fitzpatrick threw for only 1,900 yards. That averages out to 146.5 yards per game. He also managed to throw more interceptions (nine) than touchdowns (eight) during that season.
His receiving corps with the Bengals included Chad Ochocinco, TJ Houshmandzadeh, Andre Caldwell and Jerome Simpson. Most people would agree that those receivers were superior to the group of wide receivers the Bills had in 2011. 
After signing with Buffalo, he was only thrown into the starting role in Buffalo once Trent Edwards tanked after three games. This isn't the way you find a successful starting quarterback in the NFL.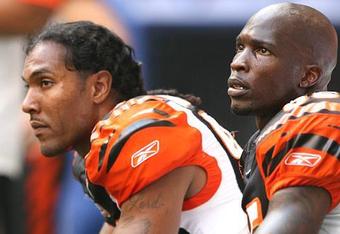 In 2010, Fitzpatrick had his best season as a quarterback. He threw for 3,000 yards in 13 starts and threw 23 touchdowns while throwing only 15 interceptions. Those numbers would normally be something to build on.
Unfortunately, in 2011, Fitzpatrick's numbers regressed while being the full-time starter. He threw 24 TDs and 23 INTs, which backtracked toward his career TD/INT ratio of 1.04.
A TD/INT ratio of one is a stat that most backup quarterbacks hold. A successful starting quarterback needs to have a ratio of 1.5 or higher, as Ben Roethlisberger and Philip Rivers do. The most elite quarterbacks have a ratio near or above two.
No matter how solid your defense is, a quarterback who hovers around a ratio of one will rarely lead his team through the playoffs, let alone clinch a playoff birth, due to such inconsistency. 
If that doesn't scare you, maybe this will.
Out of the 16 games Fitzpatrick started last season, he threw two of more interceptions in half of them. In three of those games, he threw three or more interceptions.
While quarterbacks do have their share of bad games, Fitzpatrick isn't consistent enough to compete at a high level, especially against top defenses.
In games against the top AFC teams the past two seasons (Steelers, Ravens, Bengals, Jets, Patriots, Chargers and Broncos) Fitzpatrick averaged a TD/INT ratio of exactly one. He threw 20 touchdowns and 20 INTs in those games.
Another interesting stat is his numbers against the top AFC teams dropped from 2010 to 2011. In 2010, he averaged 292 yards per game, while in 2011, he averaged only 243. If you take out the games against the Patriots in 2011, he only averaged 205 yards per game that season against the top of the AFC. 
This goes to show that he can be a great quarterback against mediocre and below-average defenses such as the Patriots, but stumbles against the tougher defenses that the Bills will need to beat to make the playoffs.
Overall, Fitzpatrick is a middle-of-the-road quarterback. If he hasn't succeeded by now, why would it all of a sudden be different?
It's been said that quarterbacks should be given three years to develop before you give up on them. Fitzpatrick has had four. The numbers aren't showing improvement, they're staying the same.
With superior talent in the AFC due to the rising Bengals, the Peyton Manning-led Broncos, the Chargers, the revamped Patriots defense, the Jets and the always-dominant Steelers and Ravens, Fitzpatrick will have to do better if the Bills plan on making the playoffs.
If he continues posting the same mediocre numbers, this playoff drought may last another year or two until a better solution can be found.