Chicago White Sox: Way Too Early to Tell If Kenny Williams Buys or Sells
May 10, 2012

Jason Miller/Getty Images
The Chicago White Sox pulled to within three games of first-place Cleveland Wednesday night. Is it too early to discuss trades?
In a word, yes, but let's do it anyway.
Following Chicago's 8-1 win over the Indians, we have an off-day before the White Sox begin a weekend set with visiting Kansas City. Robin Ventura's club is only 15-17 as we prepare to hit the middle of May. However, as usual, that's been good enough to compete in the AL Central so far.
Chicago is a team that has players prospering as well as struggling. Unlike 2011, a lot of the players putting up good seasons are pulling in the big bucks.
Jake Peavy pushed his record to 4-1 with seven solid innings of work. Adam Dunn hit his 10th homer in the first inning. Paul Konerko is hitting .345. Alex Rios' average is in the .280's and he had Tuesday's game-winning RBI.
The White Sox weren't tabbed contenders when the season started and they might drop out of this race by next month. At this point, the starting pitching has been solid. As long as that's the case it isn't crazy to think that Chicago could stay in the mix in a division no one ever seems to want to dominate.
To review, the White Sox have a lot of high-priced players who could be as movable as their going to get. On the other hand, GM Kenny Williams has a hard time not buying when he thinks his club has any chance at the playoffs.
Does this make the White Sox buyers or sellers two months from now?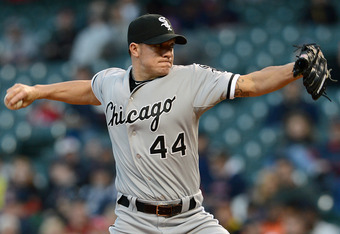 Jason Miller/Getty Images
For the sake of argument, let's say the aforementioned players hold their course and Chicago is within four or five games of the division lead. Williams has three choices:
Go out and get a veteran third baseman to upgrade the struggling Brent Morel, maybe a corner outfielder in case Dayan Viciedo hasn't found a stroke by then. Top it off with some bullpen reinforcements (let's dream big and obtain an impact closer type) and we're all set up for "All In 2012: Better Late Than Never."
Knowing this may be his only chance to rectify several years of bad contracts, holds his breath and declares the fire sale to be open. Deal Peavy, Dunn, Rios and Matt Thornton, cornering the market on Double-A pitchers or whatever prospects he can get.
Stand pat and let everything play out (but that isn't our Kenny Williams).
A case could be made for any of these scenarios and if we're really lucky, the White Sox will be in a position to seriously discuss those options. On May 10, however, it's just a lot of empty speculation.
At some point you'd think Detroit would play up to their talent or that Chicago just drops off the pace. Excuse me for not being ultra-optimistic about a team two games under .500 staying in the thick of a division title race. I've been around this circus tent called U.S. Cellular Field to know that anything can still happen in the next two months.
Let's get Chris Sale through his MRI and decide where he's going to pitch. Let's get Jesse Crain back into the bullpen. Avoiding playing dead for the Royals would be next on the list.
Kenny Williams is going to have to decide if his team is a buyer or seller in the trade market. We can debate the validity of any decisions he makes when he makes them. I just don't think that time is now by a long shot.