Analyzing 2nd-Year Leap Scenarios for the Vikings' 2011 Draft Class
May 10, 2012

Hannah Foslien/Getty Images
The success of the 2011 NFL draft class for the Vikings will largely rest on the shoulders of Christian Ponder and, to a lesser extent, tight end Kyle Rudolph.
Ultimately, though, the team took a shot at their franchise quarterback, and whether that proves a successful decision will largely color our perception of a draft class filled with depth and role players.
A year later, let's take a look at what these players might do to make some noise in 2012.
Round 1, No. 12 Christian Ponder, QB
Ponder had a rough rookie season. Instead of hanging out behind Donovan McNabb and learning the ropes, he was forced into the lineup when McNabb flamed out.
No offseason, a shortened preseason and some injury issues made Ponder's life harder than many people realize. I was a big fan of Ponder's prior to the draft last year and still believe he has the tools to be a successful quarterback in the NFL.
With new left tackle Matt Kalil and several new receivers, Ponder has to take a big step this year. He needs to be more comfortable in the pocket, read his progressions and hit his targets.
I wouldn't put a win total on him or anything—too many outside factors—but he needs to raise his completion percentage from the 54 percent in 2011. I'd also like to see him continue to build his leadership in and out of the huddle—and not just on the offense. Being a leader for the whole team can be important.
If he could do those things, it would be a significant step forward.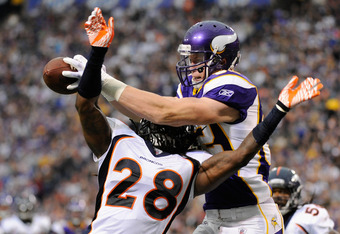 Hannah Foslien/Getty Images
Round 2, No. 43 Kyle Rudolph, TE
The key to a big leap for Rudolph is, in many ways, out of his hands. He caught a lot of the balls thrown his way—there just weren't a ton thrown his way.
The arrival of John Carlson might hinder a significant increase in targets, but Rudolph will have a chance to change that in camp. I like Carlson, but he's been pretty underwhelming since his first year or so. There's room for Rudolph to get involved.
A big leap for him would be doing just that—getting more involved, perhaps on the high end, winning the starting tight end job. It's possible that even if he doesn't, the Vikings might start rolling out some two tight end sets in which case, he just needs to keep up the good work.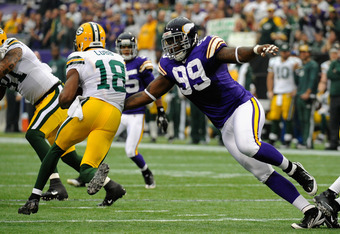 Hannah Foslien/Getty Images
Round 4, No. 106 Christian Ballard, DT
Ballard got in the game a few times last year, but isn't someone making a significant impact snap to snap. That could change this year.
He's not going to push Kevin Williams out of the way, but Ballard is set to take more snaps at the nose, and when he gets the chance, he needs to crush it.
Ballard needs to make the most of the snaps he gets and make an impact each time he's on the field. At some point, Williams will retire or move on—or get moved on considering the push by the Vikes to get younger—and Ballard will have a chance to win his job.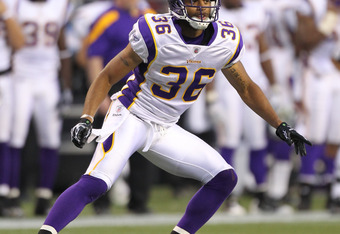 Otto Greule Jr/Getty Images
Round 5, No. 139 Brandon Burton, CB
Burton is buried on the depth chart, and that's not likely to change. While there's not much to do about that in many respects—he's a decent but not fantastic player and has a low ceiling—he can have a tremendous impact on special teams.
Making his name as a tackler there and then being solid in relief of the starters at corner will keep him on the team.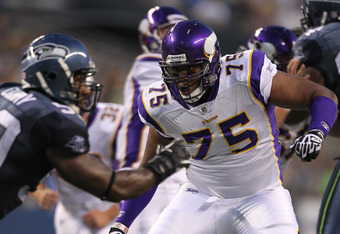 Otto Greule Jr/Getty Images
Round 6, No. 168 Demarcus Love, OT
Love was never going to be a starting left tackle, even before Kalil came on the scene. That doesn't mean his role isn't critical. Any coach can tell you that depth along the line is a huge thing. Ask the Packers during their Super Bowl run or the Jets as they disintegrated last year.
If you don't have trustworthy players behind the starters, you're asking for trouble.
So along with helping Kalil get acclimated to his spot, Love can make sure he's ready to step in if something happens to any of the starting tackles or guards.
If all hell breaks lose, Love could step in and be a hero. If he's unprepared, he might find himself out of work.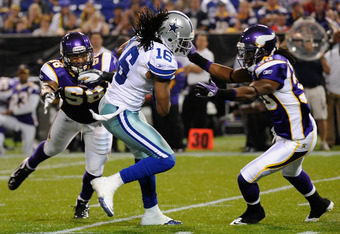 Hannah Foslien/Getty Images
Round 6, No. 170 Mistral Raymond, S
Raymond is currently in line for a starting spot at free safety, though he may have to hold off rookies Harrison Smith and Robert Blanton to do it. Head coach Leslie Frazier has said it's an open competition, and it doesn't look like he'd be afraid to start two rookies at the safety position.
If he can stay on the field, Raymond has to improve both his ball skills and his tackling skills. He's done a lot in a short time and is a tremendously hard worker, but that isn't enough.
He needs to prove he can hang with the big receivers coming his way if he wants to hang onto that starting job long term.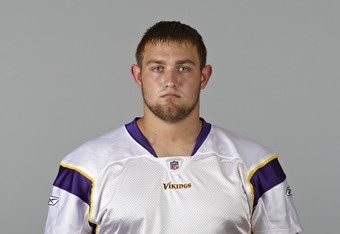 Handout/Getty Images
Round 6, No. 172 Brandon Fusco, C
Fusco, like Love earlier, is stuck on the second string behind a starter who is unlikely to go anywhere this year. John Sullivan is firmly entrenched as center.
However, also like Love, Fusco can prove himself a big asset by being ready to go if something happens to Sullivan, even for a play. The center position is one of the most critical on the offensive line, so if he has to step up, he has a tremendous responsibility.
All he needs to do it be ready to step up.
Round 6, No. 200 Ross Homan, LB
Homan is currently out of the league after being cut by the Vikings and a stint on the Buccaneers' practice squad.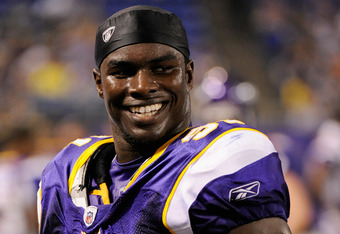 Hannah Foslien/Getty Images
Round 7, No. 215 D'Aundre Reed, DE
Reed isn't too far behind Jared Allen, Brian Robinson and Everson Griffin for a more significant role on the line. A solid camp and some good work on the second string will buy him a little more time rotating in when one of the others needs a breather.
The key to Reed's advancement is to make an impact when he's on the field—refine his tackling some more, work on reading the offense pre-snap and getting a jump on the play.
If he can see an increase in overall snaps this year—say by 25 percent, maybe—that would be a great start to getting up to the next level of his development.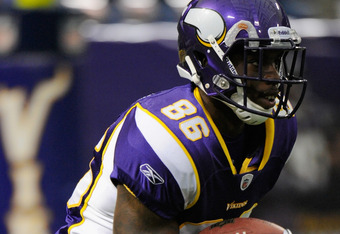 Hannah Foslien/Getty Images
Round 7, No. 236, Stephen Burton, WR
Since the team took on Jarius Wright and Greg Childs, it's not a good sign they are looking or expect much from Burton. It may be difficult for him to even make the main squad.
Burton is a serviceable depth receiver who, if he sticks around, may need to try and get more involved in special teams. He's not a special teams standout, and he doesn't return punts or kicks.
He's going to have to find some way to stand out from the crowd just to stay on the team.