NHL Trades: Toronto Maple Leafs Trades That Could Keep Brian Burke Employed
May 15, 2012

Rich Lam/Getty Images
After a fourth consecutive season at the helm of a Toronto Maple Leafs team on the outside looking in when it comes to playoff action, Leafs GM Brian Burke is starting to feel the heat from fans and the media alike.
Some are already willing to pull the plug on the animated GM's tenure in Toronto, while others believe Burke deserves one last season.
While Burke was left with a team in shambles and has undoubtedly added some important pieces and re-stocked Toronto's farm system, missing the postseason for four straight years was not part of the plan.
In fact, when Burke traded for goal-scoring machine Phil Kessel, he said he didn't mind coughing up two first-round selections as he wasn't interested in five-year plans.
At this point, it seems fairly evident if the Maple Leafs were to miss the postseason in 2013, Brian Burke's time in Toronto would come to an end.
So what kind of big moves can Brian Burke pull off on the trade market to ensure the Leafs return to the postseason for the first time since 2004, and save his job?
Let us begin with the trade that so many are already confident is a done deal.
The rumor of Luongo asking to leave Vancouver this offseason has been spreading like wildfire.
Toronto's lack of goaltending, combined with the imaginations of Toronto's sports media has ensured Luongo-to-Toronto rumors are plentiful.
With his job on the line, however, Brian Burke may be anxious to acquire a goaltender that would not cost much in terms of picks, prospects or current roster players in order to provide some stability in the crease for the Leafs.
After all, the main downside to this kind of trade would be Roberto Luongo's contract, which wouldn't be a nuisance for another five years.
Jonathan Bernier/Anders Lindback

Should a trade for Roberto Luongo not come to fruition for Toronto, Burke will likely continue to pursue other avenues in acquiring a goaltender.
While veterans Tomas Vokoun and Josh Harding are available through free agency, they aren't the type of goalies that can steal games or provide the upgrade needed in goal to push Toronto into the playoffs.
While Lindback and Bernier may not yet be proven starters, they're two of the best young goalies in all of hockey and are both blocked by All-Star caliber netminders in their respective markets.
At least with Bernier and Lindback, Burke would be able to point to the fact they can be useful for both the short-term and long-term plans of this club, while failing with Vokoun and Harding would not provide any upside moving forward.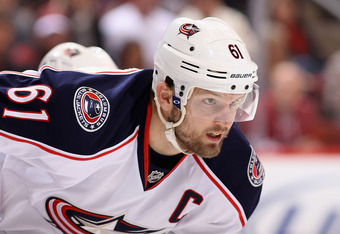 Christian Petersen/Getty Images
Rick Nash
Yes, it's just about that time.
After the non-stop rumors surrounding Rick Nash around the trade deadline cooled down, hockey fans (Leafs fans in particular) knew that they were bound to resurface at the end of the season and before the draft.
While the pros and cons of bringing Nash to Toronto have already been discussed thoroughly, the impact of bringing a star like Rick Nash to Toronto would be massive both on, and off, the ice.
While some fans and members of the media may not like what Burke will have to give up to obtain the services of Nash, it's definitely a trade that can save Brian Burke from being terminated at the conclusion of next season.
Dustin Brown
Let me preface this by saying that as the Los Angeles Kings continue to win games in the postseason while Dustin Brown is the captain, the harder it will be for the Kings to trade him.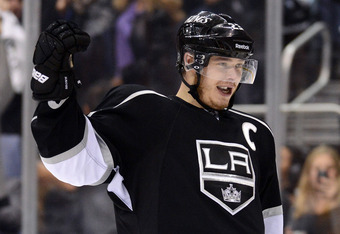 Harry How/Getty Images
But no matter how many wins the Kings may accumulate, if the divide in the Kings' locker room persists, it's the duo of Carter and Richards who are locked in with long-term contracts and will be the cornerstones of the Kings for the next several years.
While he remains their captain for now, there may still be a chance Brown is moved this summer if Los Angeles doesn't win it all.
Brown would bring everything Brian Burke loves in a player to Toronto (size, skill, hustle and an American passport) and would give Toronto another leader in the locker room.