Manchester United: Can the Class of 2012 Emulate Fergie's Kids?
May 11, 2012

Giggs, Scholes, Butt, Beckham, Gary and Phil Neville. In 1995, Alan Hansen said they would win nothing. They went on to win everything, including the Treble in 1999.
On Thursday night we may have witnessed the emergence of a similar generation of United youngsters as they won the Premier League Championship with a team of under-20s.
"In 1995, United were finished, washed up, leaderless and rudderless in a sea of uncertainty," says Neil Humphreys.
And then came the kids.
Naturally, he was referring to the likes of Smalling, Jones, De Gea, Cleverley and Welbeck, but on Thursday night the next generation displayed their wares and there was much to be excited about.
Manchester United Reserves 3, Aston Villa Reserves 1 (on penalties)
The last time United's Reserves won the Barclays Premier League Championship, in 2010, they also beat Aston Villa on penalties. The difference was that the team was more experienced, with England man Ben Foster in goal, Rafael, Diouf, Macheda and Obertan also on display.
Villa also had Marc Albrighton, while two stars of the future made their appearance—Barry Bannan for Villa and Will Keane for United.
Both the latter players started again this year, with Barry Bannan captaining Villa and Keane once again displaying his burgeoning goal threat for United.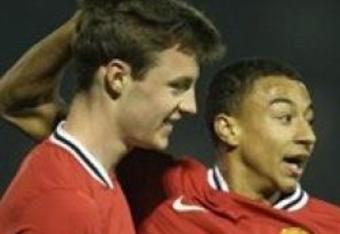 The score at full-time was 0-0, but Sam Johnstone saved three of Villa's four penalties, while Josh King, Jesse Lingard and Will Keane brought the Cup home.
Full credit to Warren Joyce, United's highly-rated reserve team coach, for the way his team set up and having the courage to play a team where none of the starters was over 20, nor has any started a Premier League match.
The future is bright
Humphreys referred above to players who are now established in the first-team squad. Of the team that beat Villa, six were listed in the wider squad this season: Keane, Brady, Tunnicliffe, Johnstone, Fryers and King.
Sir Alex, like his mentor, Sir Matt Busby, is as good as anyone in the world at producing young talent. It would be convenient for some people to think that he has no choice but to rely on Academy products because he has no money. But you wouldn't say that about Barcelona.
Whoever Sir Alex may buy this summer, he now has the makings of a deep and talented squad based not only on Thursday's performances, but also throughout the season.
The only obvious omission was Paul Pogba, who has been injured. There is no certainty that he would have appeared, however, if the rumours that he has signed for Juventus are true.
In reviewing the winning team, including the substitutes, there were no poor performances and several players look to have a bright future at United.
Is Ryan Tunnicliffe the new Roy Keane?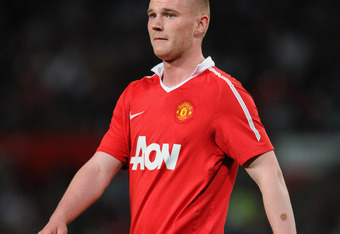 Michael Regan/Getty Images
This lad has a bright future at United and will surely begin to feature in the first team next season. He is the sort of player that is easy to admire. He has bulked up and his drive and determination was just as important to United as Barry Bannan's was to Villa on the night.
He is strong in the tackle, heads well, is intelligent, can pass off either foot and has a cracking shot. At barely 19, he still has some developing to do, but United have found their next holding midfielder.
Will Keane—the new Dennis Bergkamp
I don't believe I am overestimating Will's potential. Along with Ryan and goalkeeper Sam Johnstone, he was the standout on the night and only needed to convert one of his few chances to be man of the match.
He is a genuine target man who, like Dimitar Berbatov, can trap the ball with his head or either foot. He can flick lay-offs, has a deceptively impressive turn of speed, wins tackles, can shoot with either foot and could teach Wayne Rooney a trick or two about heading.
He is also intelligent and selfless. There is no chance of Will running off to Italy for cash; like his brother Michael, he's locally born and bred and will only be leaving to go on loan for Premier League experience.
He needs to bulk up a bit, but at only 19 in January, he has already represented his country 27 times. When he came on in the ill-fated Blackburn Rovers match, he looked born to play at the highest level.
In my opinion, he's ready now to be United's fourth striker next season. Don't send him on loan, Fergie.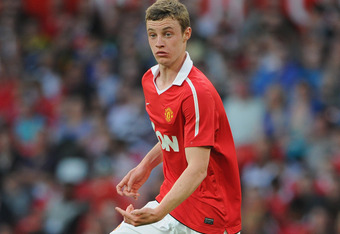 Michael Regan/Getty Images
Zeki Fryers—ready to challenge Evra
People keep talking about signing Leighton Baines, but first Sir Alex should secure the signature of this bright young talent. Even Chelsea are rumoured to be after him. He's also 19, but looked mature against Villa's Reserves.
The difference between him and Evra is that Zeki can tackle. He is good enough in the air to play centre-back if needed, has pace and ball skill and several times dribbled United out of difficulty by weaving left and right and deftly laying off.
He suffers occasional lapses of concentration, but his pace is always there to remedy the situation.
Sam Johnstone—future England number two?
In a previous article, I implied that I was relaxed about the possibility of Ben Amos leaving United, as he hinted in the summer, due to lack of opportunities at Old Trafford.
Sam Johnstone is the reason why. He has represented England 21 times at just 19.
He was the difference between United and Villa winning last night. Apart from some smothering saves, he made several Premiership-level saves that De Gea would have been proud of during the match and then proceeded to save three—yes, three—of Villa's four penalties. None was a fluke.
Michael Keane and Scott Wootton
Surely this is a future United first-team pairing? Meanwhile, Michele Fornasier (who has featured in most of the reserve matches this season) couldn't get a game and Tom Thorpe had to play in a holding role in front of the back four. Fornasier will also be a first-team player.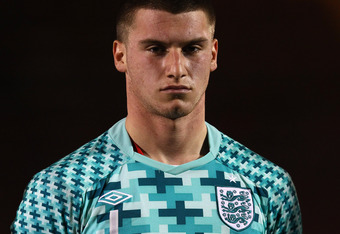 Julian Finney/Getty Images
United are well blessed in the centre-back stakes. Scott Wootton was signed from Liverpool youth and is highly rated at Old Trafford. He has been on loan with Darren Ferguson's Peterborough for most of the season. Fortunately, injury brought him back early.
Like Michael Keane (Will's twin brother), he was a rock on Thursday. He is genuinely two-footed, strong in the air and the tackle and could develop into a Vidic Mk 2.
Michael Keane oozes talent and confidence. Like Rio Ferdinand, he loves to take the ball forward and is a genuine goal-scoring threat in the box with feet as well as head. He was flawless last night.
Tom Thorpe is a versatile player who had captained both the Academy and the reserves. He surely has a future at Old Trafford?
And we haven't even mentioned Freddie Veseli, who United have nicked from City.
Davide Petrucci—the next Teddy Sheringham?
Petrucci has been beset with wretched bad luck on the injury front. Having had a steady run in the reserves, he has been good enough to take over the captain's role in the second half of the season.
If I had one criticism last night, he was playing too deep, even though Villa were throwing the kitchen sink at United in the first half, running at the middle of defence at every opportunity.
He is a very intelligent player and everything you would expect from a creative Italian player. He has two cultured feet and an unerring sense of direction on goal. He is already very mature and should become a fixture for United in future years.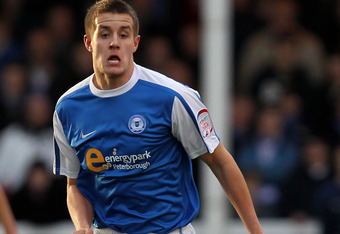 Jan Kruger/Getty Images
Jesse Lingard and Larnell Cole—Ryan Giggs and Anderson?
Neither of these two was as effective as they could be in the first half, as Villa's thrusts were through the middle. In fact, both were well marked and Will Keane was starved of service.
In the second half, Warren Joyce made a tactical switch, bringing on Robbie Brady on the left and putting Cole through the middle alongside Tunnicliffe. United were suddenly very dangerous.
Lingard swarmed all over the front line, as he also played through the middle after Josh King came on. He has great skill and a bullet of a shot. His big challenge currently is that he has suddenly shot up a few inches and looks leggy. He also needs to put on weight, but can emulate Ryan Giggs in due course.
Larnell Cole was very effective through the centre of the park. He has great ball control and a low centre of gravity. Like all United's Academy and Reserve graduates, he can tackle as well as create and score. Presumably, he will suddenly have a growth spurt, after which he, too, will be a versatile midfielder.
Robbie Brady
Hands up. I was wrong about Robbie in my aforementioned article. Unlike Oliver Norwood, United should cling onto Brady.
He was a revelation on Thursday. He was brought on out wide on the left and became the focal point of most of the attacks. Every ball that was hit at him—in the air, or on the ground—he killed and controlled. He then either wove his way past the left back, laid it off or centred it.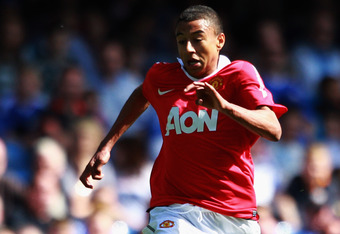 Dean Mouhtaropoulos/Getty Images
On this form, he could walk straight into the United team. He is very strong with superb ball control.
Together with Marnick Vermijl, who also came on in the second half, they formed a potent, overlapping partnership in the United style that we all love. Vermijl is also intelligent with great skill. He is a right-back for the future at United.
The future is bright red
As I've said before, there is a truckload of talent coming through the ranks at United.
Josh King played last night and, like Federico Macheda, is something of an enigma. Between King and John Cofie, I have always preferred the latter (currently on loan at Royal Antwerp). Both are powerhouse strikers—very strong and very direct with a powerful shot and superb headers of the ball.
King looked dangerous every time he touched the ball, but, in the event, spurned an easy chance when standing in the clear in the box. He has great pace and started from the left after he came on.
Paul Pogba has made me very angry. He appears to be a greedy, self-serving brat who has been led astray by his overpaid agent. On reflection, while he oozes talent, he always looked languid in games—as if it was too easy for him—shades of Mario Balotelli (also managed by Raiola)?
Ravel Morrison's talent may be missed, but he was a seriously disruptive influence. Apart from being charged by the FA within weeks of moving to West Ham, how many times has he started for the Hammers since? Answer: none (oh, plus one substitution).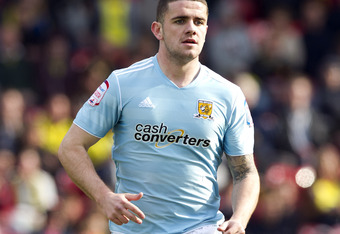 Ben Hoskins/Getty Images
Reece Brown, who was among the substitutes, but never made it onto the pitch, looks better than brother Wes at the same age. He is a strong centre-back who can also play DMF.
Sean McGinty was poached from Charlton Athletic. He is very highly regarded, comes from Maidstone (like Chris Smalling) and is almost as tall. At only 18 and already with 18 caps for Ireland at under-age, his preferred position is left back but he, too, can play centre-back. He has also been on loan.
So in summary, I have never been more excited about the young talent coming through. There is no Paul Scholes, nor David Beckham, but there are more talented players than 1995 and that gives a fair chance that even more will make the first team.
As I've said elsewhere, United need a minimum of three signings, while letting go of Berbatov, Owen, Park, Anderson, possibly Fletcher (if he retires). Then Sir Alex would have a delicious mix of raw young talent, established young players (like Cleverly, Welbeck, Jones, De Gea, Chicharito and Smalling), experienced players (like Young, Nani, Rooney, Martinez, Sneijder or Modric, Gaitan) and mature players who've been there before, like Giggs, Scholes, Carrick, Vidic and Ferdinand.
Meanwhile, I'll leave the last word to the Boss:
"We have some terrific young players here, (Jesse) Lingard, (Larnell) Cole, the two Keanes, Petrucci, Fryers, (Marnick) Vermijl, (Ryan) Tunnicliffe, Thorpe."