Big 12 Basketball: Why the Regular Season Will Be Another Three-Way Race
May 12, 2012

Jamie Squire/Getty Images
Last year, the Big 12 regular season championship race turned out to be on the most exciting in the country. At one point, Baylor, Kansas and Missouri all had a shot at the crown and were only worried about the other two toppling those dreams.
In the end, it was carved down to Kansas and Missouri, with the Kansas Jayhawks bringing home their eighth straight regular season title.
This season (2012-13), from what we can see so far in the offseason, the race is shaping up to be another three-way race. Two familiar faces will make an appearance: The Jayhawks, vying for their 14th Big 12 title, and the Baylor Bears, hoping to continue the Year of the Bear and bring home their first Big 12 regular season championship. As for Missouri's replacement as they head to the SEC, the Texas Longhorns are once again looking like the early favorites to rank among the elite Big 12 basketball teams.
As is common, all three of these teams have brought in impressive recruiting classes. According to ESPN, Kansas ranks No. 11, Baylor ranks No. 5 and Texas ranks No. 4, so the 2012 class will most certainly aid in these three teams' efforts. However, each of these three programs will bring distinct advantages to the court when they face each other, and the crown will be handed to whichever team uses its strengths most effectively against the other two.
For Baylor, the name of the game is its athleticism from unexpected players.
The Bears are losing all three of their frontcourt starters, but some of the most athletic players on the roster are ready to take their place. First, Cory Jefferson, the likely starter at power forward, stands at 6'9'', but can run the floor with the best of them. His defense does not falter n transition or breakaway plays and he is commonly seen bursting through the paint to pound the glass or the rim.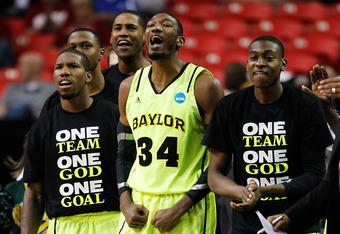 Streeter Lecka/Getty Images
Deuce Bello, a small forward who saw more time as last season progressed, is beyond athletic. He is a freak of nature that has lightning-quick speed and an incredible vertical, which he uses to burst through his 6'4'' frame.
Lastly, Isaiah Austin, a five-star center and second best in this year's class at his position, is the coveted seven-foot man. However, his length, like some in the league, does not hamper him. His body type resembles Kareem Abdul-Jabar, not showing a great amount of muscle, but he can run up and down the court and fly to the basket before the defender even knows it.
If these three can pair their skill sets with their athleticism, they have the potential to be one of the most explosive, and surprising, frontcourts in the game.
For Kansas, experience is going to be key.
Yes, the Jayhawks are losing two of their best players in Thomas Robinson and Tyshawn Taylor, but this is nothing new to Kansas and head coach Bill Self.
Even Travis Releford noticed the situation as just another year, "Guys leave, other guys step up. And it's going to continue to be like that at a program like Kansas." 
Next year, the experience of Elijah Johnson and Jeff Withey will be key in leading the Jayhawks to victory. Johnson has already been called one of the best returning guards and Jeff Withey proved last year that he is an absolute monster on the court.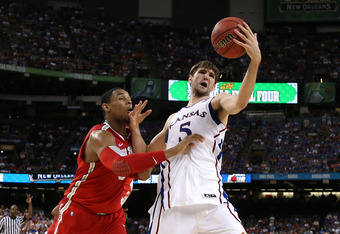 Chris Graythen/Getty Images
Withey bested Anthony Davis in terms of blocks with 31 in the tournament (NCAA tournament record) and averaged just under nine points on the season. His offensive output will have to increase next year if Kansas is going to rely on him to put up big numbers, but his experience on the court will provide a great deal of leadership for another young squad.
Speaking of experience, head coach Bill Self is the definition of an experienced coach. He has worked wonders at Kansas in his time there and he has made the Jayhawks an annual powerhouse.
No team should ever count this man and his year's coaching out.
Lastly, the Texas Longhorns will rely on their impressive length.
Somehow, head coach Rick Barnes managed to snag two of the best centers in this year's class, with both standing at 6'10'' (Cameron Ridley and Prince Ibeh). The Longhorns are also bringing in a 6'10'' power forward (Connor Lammert) and a 6'8'' small forward (Ionnas Papapetrou) to pair with two 6'7'' forwards already on the roster.
Clearly, this team is going to be a long one and will be reminiscent of Baylor last year in terms of its length. Now, Texas is going to have to utilize that length better than the Bears did and own the frontcourt in each and every game.
This height will be a great advantage when Texas plays Kansas and Baylor. If Coach Barnes can develop these young men both offensively and defensively, it will be difficult to get any paint play going against this squad. 
All three of these teams also have other strengths that will play into their bid for the regular season title: Fantastic perimeter shooting and guard play for Baylor, an unrivaled homecourt advantage and history of excellence for Kansas and the potential to have the best point guard in the game for Texas. However, when these three teams play each other, they will have to utilize their biggest strengths in order to walk away victorious.
Once again, the Big 12 is going to be a competitive conference, and, who knows, maybe a different team will poke its way into the fray (perhaps Kansas State). However, at this point in the offseason, it is looking like the regular season championship will come down to a couple fights between some Bears, Jayhawks and Longhorns.