Will VA Tech Transfer Dorian Finney-Smith Become a Florida Gator?
May 14, 2012

Dorian Finney-Smith, a 2012 ACC All-Freshman selection, is transferring from Virginia Tech. 
He has reduced his possible future destinations to Florida and Memphis, according to the Commercial Appeal of Memphis, TN.
Finney-Smith, a 5-star recruit in the class of 2011, averaged 6.3 points and seven rebounds per game last season for the Hokies.
While his scoring numbers were not eye-popping, he is a sought-after transfer player who will only get better as he moves forward in his college career.
Billy Donovan has a lot going for him after reeling him in.
Florida was among the school's that made it to Finney-Smith's shortlist before he chose to play for Virginia Tech.
Old Dominion, Virginia and Wake Forest were the other schools that he considered during recruitment.
The forward already has a close relationship with former Gator Vernon Macklin, who now plays for the Detroit Pistons.
Furthermore, Florida was Finney-Smith's second choice behind Virginia Tech in the first place, according to Gatorcountry.com.
On top of that, Florida will present better opportunities in the 2013-14 season than Memphis.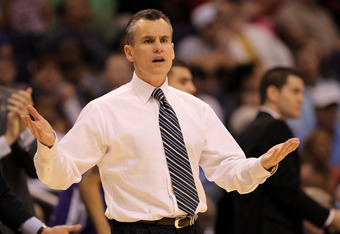 Jamie Squire/Getty Images
Regardless of what school he chooses, he will have to sit out the upcoming season.
A year from now, Billy Donovan's frontcourt will need an infusion of size and skills.
At Florida, following the 2012-13 season, 6'10" forward Erik Murphy will graduate and center Patric Young (pictured) will probably enter the 2013 NBA draft.
At Memphis, rising sophomore Adonis Thomas has a lock on the small forward position and rising junior Tarik Black is a fixture at power forward. Meanwhile, Tigers head coach Josh Pastner has just acquired a pair of 4-star forwards to add more depth to the team's frontcourt.
While nothing in the recruiting game is guaranteed, I fully expect Dorian Finney-Smith to be heading to Gainesville to lace 'em up for the Gators.