UConn Basketball: Why the 2012-13 Team Will Be Better Than Last Year
May 14, 2012

Jim Rogash/Getty Images
There were high hopes around Storrs, Connecticut heading into the 2011-12 season. The UConn Huskies were coming off the most exciting run in their program's history en route to winning the 2011 Big East and National Championships. 
Andre Drummond, then the most prized recruit in UConn history, had just shocked the college basketball world by announcing (via Twitter, naturally) his last-minute decision to forgo a final year of prep ball and join the UConn team for the upcoming season. 
Jeremy Lamb had emerged as a potential superstar, expected to replace the recently departed and much beloved Kemba Walker as the team's backbone.
On paper, the 2011-12 Huskies looked like legitimate contenders to defend their title. A preseason No. 4 ranking reflected the perception that UConn was stocked with enough talent to make a run at another Final Four. 
It didn't take long for those high hopes to be dashed. 
An early-season loss to Central Florida raised some red flags, but no one expected the Huskies to stumble through an entire season like they did. UConn finished 8-10 in the Big East, including losses to lowly Big East bottom-feeders Rutgers and Providence, an embarrassing blowout at Louisville and a whooping on their home court by Marquette. 
An uninspired and bona fide beat down at the hands of Iowa St. in the first round of the NCAA Tournament put the final nail in the already closed coffin of UConn's disappointing season. 
How did a team with so much talent and big game experience fall so drastically short of their potential?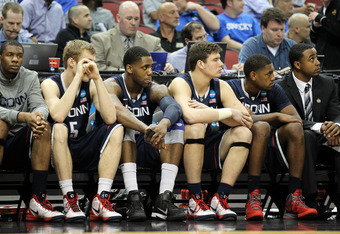 Andy Lyons/Getty Images
For starters, it is impossible to replace what Kemba Walker brought to the team the previous season—no matter how much talent is on the floor. Kemba's value ran far deeper than his 23 points, five rebounds and five assists per game. He was the heart and soul of a young, impressionable team. He instilled confidence in everyone on the floor with him. He played fearlessly, and it rubbed off on his teammates. 
Without their leader, the 2011-12 UConn team had no identity. They had no idea what their roles were.
Alex Oriakhi's performance was greatly hindered by the presence of Andre Drummond. Both players were accustomed to owning the paint, and neither could adjust to sharing their usual territory. 
Shabazz Napier felt pressure to become Kemba 2.0: mixing penetration and scoring with creating for his teammates. As much as Napier tried to be the leader and facilitator, it never quite clicked. 
Jeremy Lamb just wasn't the type of kid to be the vocal leader and calming presence that Kemba was. Also, Lamb's game is much better suited to run off screens and create space by moving without the ball. He struggled to make plays when the offense broke down—something Kemba excelled at.
Roscoe Smith, Tyler Olander, Oriakhi and Drummond all failed to provide a formidable inside presence. This allowed defenses to zone in on UConn's perimeter scorers—Lamb, Napier and Ryan Boatright. 
Jim McIsaac/Getty Images
So how in the world, given the departure of so many key players from an already underwhelming team, could next year's squad be better? I'm glad you asked. 
Basketball, more than any other sport, is a game that relies on chemistry as much as talent—and to say last year's UConn team had zero chemistry is being generous. 
Oriakhi, when he wasn't bricking five-footers or getting in foul trouble, was constantly arguing with refs and coaches. Unless he was catching an alley-oop, Drummond was completely lost on both ends of the court. Napier would switch from shoot-first gunner to refuse-to-shoot facilitator from game to game. Boatright, when available, showed signs of being a potent scorer, but also exhibited some classic freshman shakiness. Lamb relied too heavily on a steady diet of threes instead of utilizing his elite athleticism. The offense in general was uncreative and ineffective. 
With the losses of Lamb, Drummond, Oriakhi and Smith, UConn has no other options on offense than Napier, Boatright and incoming five-star recruit Omar Calhoun. This will be a blessing in disguise for the Huskies.
No longer will Napier have to worry about getting enough touches for Lamb, Oriakhi and Drummond—all players who considered themselves scoring options (with some more mistaken than others...ahem Oriakhi...). Napier has the ability to be an excellent scorer, and the team's success will depend heavily upon those skills. 
No longer will Boatright have to worry about fitting in as a freshman and not stepping on the toes of the accomplished upperclassmen. As mentioned earlier, Boatright showed flashes of what he is capable of. He has elite quickness and leaping ability to go with a decent jump-shot and excellent finishing skills.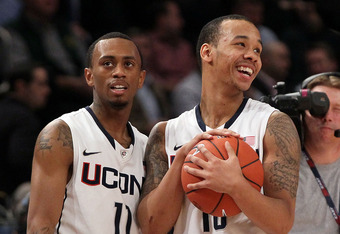 Jim McIsaac/Getty Images
Omar Calhoun will know from the moment he arrives on campus that he is to shoot, and shoot often. He will be expected to be a consistent scoring threat from the opening tip of the first scrimmage. 
The anonymous group of post players—Olander, Enosch Wolf, Philip Nolan and whoever else is added this summer—will know their role is to rebound, defend and set screens for the scorers. Unlike Oriakhi and Drummond, who were expected to be integral parts of the offense, this group of bigs should know their limitations and thrive in their roles as bangers and hustlers. 
Coach Calhoun's health, while always a wild card, appears to be much improved following last season's spinal surgery. This should allow him to remain with the team throughout the entire season, providing much needed consistency and stability to this unproven group of players.
The lofty expectations of last year's team undoubtedly played a role in their inconsistent performance. This year, UConn is expected to fall to the bottom of the Big East and is ineligible for any postseason tournaments. The lack of any kind of pressure should free the team to play to their potential, without fear of falling short of preseason goals and hype. 
The motivation of proving critics and haters wrong can be a valuable tool, and is one that Coach Calhoun has thrived on for years. 
In the mid-1990s, through the Donyell Marshall and Ray Allen years, UConn always seemed to fall just short in March. A couple chokes in the Sweet 16 led many to believe that Calhoun and UConn just weren't quite the type of program that could reach the top of the mountain. 
All that changed in 1999, when UConn upset what many believed to be Coach K's best Duke team ever in the National Championship.
In 2011, a year after losing in the second round of the NIT and expected to be on the decline, UConn shocked the world again, running off 11 straight victories to capture both the Big East and NCAA Championship.  
This year, UConn is expected to struggle again. If history is any indicator, that means they should over-perform and silence the critics once again. Unfortunately, they only have a regular season to try to do it. If there's one thing Jim Calhoun has showed us over the last quarter century, it's his ability to embrace criticism and turn it into motivation. He shouldn't be doubted again.