Why Ronda Rousey Will Be the First Female Fighter in the UFC
May 16, 2012

Dana White has long believed that Women's Mixed Martial Arts was not ready to become a legitimate professional sport because the talent pools are too thin.
Over the last twelve months, Dana appears to have his opinion of WMMA evolve into what could lead to seeing a female fight on a UFC fight card in the near future.
Take a look at how Dana's point of view of WMMA has progressed. This is what he had to say about WMMA last year:
"There's this big misconception out there about me that I don't like women's fighting and everything else. I have no problem with women's fighting. The problem right now, it was a problem with boxing and it's a problem with MMA right now is you don't have enough women that are good enough to create an entire division. So what you get is you get a couple of women who are really good, and a lot of women who really aren't. And I don't like lopsided fights, especially with women. So as this sport continues to grow, if there are more and more women where you can actually create an entire division with a lot of talented women, I'm all about it."
Dana has never bashed the future of WMMA, but whenever he is asked about the future of females in the UFC he dismisses the notion because there aren't enough good female MMA fighters according to him.
If you take a look at WMMA over the last three years, it does become evident that there have been stars in the making that have not panned out. Of course we are talking about Gina Carano, Cyborg Santos, and now Ronda Rousey.
Dana White didn't quite jump on the Carano and Santos hype train, and as it turns out, that was yet another wise decision for him.
Carano was last seen in the cage covering up as Santos earned a TKO victory over her. Santos is currently serving a one year suspension for failing a drug test. Rousey is the current face of WMMA.
Is it really far fetched to think Dana will put Rousey in the UFC? I don't think so.
Here is what Dana said following the much anticipated fight between Ronda Rousey and Miesha Tate:
"I'll tell you right now and I will be 100% honest with you, I was never a fan (of women's MMA). But I will tell you this, being honest, Ronda Rousey vs. Miesha Tate have changed my mind, they have changed my mind. I was excited for that fight, it was an awesome fight, they both looked like two skilled mixed martial artists and they changed my mind."
Strikeforce is fading fast, there is no denying that. Their contract with Showtime is far from a guarantee to be renewed, and once that goes, you can put the nail in the coffin for Strikeforce.
Dana is not going to let Rousey get far from the UFC. In fact I believe if Rousey wins her first title defense against Sarah Kaufman later this year, Dana will make a push to get Rousey and Cyborg Santos on a UFC pay-per-view card.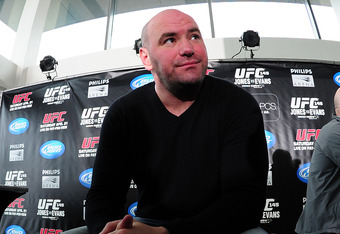 Scott Cunningham/Getty Images
Santos will be done serving her one year suspension in January 2013, which will be right about the time Rousey would be looking to have her next fight after Kaufman.
Dana is smart enough to know that he can have Rousey in the UFC without having to fill out a complete roster of WMMA fighters immediately.
For as bad as Strikeforce is now, the promotion has done a good job of bringing WMMA to a greater audience. The respect for the female fighter is far greater than it was even three years ago.
My suggestion would be to create a TUF series with Ronda Rousey and Cyborg Santos as the opposing coaches and have them build up towards the inaugural UFC Women's Championship fight between the two.
The talent pool of WMMA is growing at a rapid pace. Promotions such as Invicta FC are only going to help get more females interested in MMA and continue the evolution of the sport.
Whether it is through the UFC or something like Invicta FC, WMMA is going to thrive.
Oh, and Dana, never say never.
Follow Joe Chacon on Twitter.