Marc Bergevin and the Montreal Canadiens: Why Bold Is Better
May 14, 2012

Richard Wolowicz/Getty Images
This off-season for the Montreal Canadiens may prove to be the most important in recent memory. 
Marc Bergevin has been handed the wheel of a once mighty ship, adrift and listless.  His role as new GM is as much about hope, reinvigoration and renewal as it is about the X's and O's of personnel and cap management.  For a team where the shadows of past greatness loom large, the mediocrity and complacency that has lingered for too long within those shadows must now be cast out with bold vision, a renewed sense of pride and an expectation of greatness.
For Montreal — for the NHL — the Canadiens are more than just a team.  They are a flagship brand, and a living legacy to the hallowed past. They are the best foot forward for a league constantly seeking to define its image.  In recent years other flagship brands, be they the Packers and Giants, the Yankees and Red Sox, or the Celtics and Lakers have all experienced revivals or continued success.  The NHL however has been in the unenviable position of seeing its two marquee franchises wither into irrelevancy or simply be reduced to also-ran sideshows whose biggest story lines revolve around language flaps and championship droughts.  And that brings us to this off-season.
There is reason for optimism in Montreal.  A new, young, and well-regarded GM has arrived, tasked with the challenge of restoring the Canadiens not only to respectability, but to championship caliber status.  He appears game for the challenge.  The building blocks are there — a great young goaltender, a potential future star on D, and an emerging power-forward.  There are also challenges – cumbersome contracts, a thin farm system, and underperforming or aging veterans.  And then there are the 'X' factors — the coach, and the draft pick.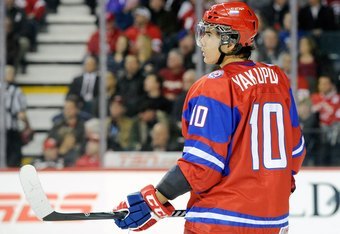 Richard Wolowicz/Getty Images
The selection of a coach — the "right" coach — will be among Bergevin's initial and perhaps biggest challenges.  In a market where consideration of coaching credentials goes beyond more than simply wins and losses, Bergevin must balance the necessary politics with his own vision of what is best for the team.  There is of course the list of potential re-tread candidates that always comes up when discussing the Montreal vacancy. There are other fantastical and unlikely hopefuls too, but regardless of the selection, this is Bergevin`s first best opportunity to illuminate his vision for his new team — a chance to take a bold step in a new direction, if he is willing to take it.
The draft poses another unique opportunity.  In a year where the consensus number one is seen as head and shoulders above his counterparts, and in a year where this pick belongs to a team already laden with young, offensively gifted forwards, there can be no better statement of intent for a GM looking to make a real change in Montreal than making a play for a potential generational talent.  Should Bergevin not make a play for the Oiler`s pick, will there still be a quality player available when the Habs`name are called?  Yes.  But the potential to generate some real excitement and inspire legitimate hope in a fan base that has not seen a top-tier offensive talent since Guy Lafleur would seem worth the risk.
The Montreal Canadiens are at a crossroads.  The decisions made in the coming weeks and months will determine one of two things — will the Habs continue down the path of mediocrity, with hopes resting on first rate goaltending and second rate talent, or will a fundamental change in organizational standards and expectations occur, emboldening the fans, the city, and the league itself? 
As the old saying goes, if you can't sell winning, sell hope.  With hopes high, it's a seller's market right now in Montreal, but until we see tangible steps in a new bold direction, caveat emptor.