LSU Football: Which Former Player Will Have the Best Rookie NFL Season in 2012?
May 16, 2012

Ronald Martinez/Getty Images
Call me crazy if you will. My mind must be running on instinct and intuition, as opposed to simple Mathematics 101.
If Player A and Player B are selected in the NFL Draft well before Player C, than it is A and B that should be better options, correct?
Well, let me recheck my....yep, my intuition is still taking over. Take note of this LSU fans, because it isn't every year that your school or alma mater has the potential to produce this many good rookies in one season. This is what a great rookie class looks like.
But to me, the former LSU player who will have the best rookie season in 2012 isn't the former Jim Thorpe Award winner who was selected No. 6 overall by the Dallas Cowboys.
It isn't the physically gifted defensive tackle who was also selected early in the first round, No.14 overall by the St. Louis Rams.
The former LSU standout who will enjoy the best rookie season in the NFL will be the New York Giants' new wide receiver weapon Rueben Randle, and here is why.
To understand how talented Randle really is, take a look back at rivals.com's 2009 Top 100 List, where Randle was listed as the No. 2 recruit in the nation. He was ranked ahead of names such as Matt Barkley, Trent Richardson, Dre Kirkpatrick and Manti Te'o, all of who were or will likely be first-round NFL Draft selections.
At the time of his commitment, LSU quarterbacks Jarrett Lee and Jordan Jefferson were both in their freshman seasons, and both had high expectations for the future. With those two in the mix and Randle now heading to Baton Rouge, the potential for LSU's passing game was off the charts.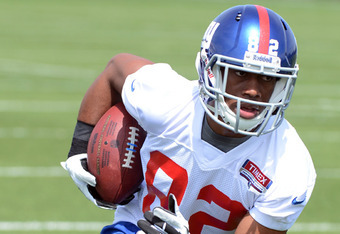 But Lee and Jefferson never lived up to those expectations, which in return directly affected the production of Randle in an LSU uniform. Lee struggled in pressure situations against good competition, while Jefferson struggled with everything in the passing game, but earned more playing time because of his scrambling ability.
After putting up subpar numbers in his first two years on campus, Randle had a breakout junior season, hauling in 53 passes for 917 yards and eight touchdowns. They were considered "breakout numbers" compared to any other LSU wide receiver who had played with Lee or Jefferson, but the potential was there to do so much more.
Not wanting to deal with poor quarterback play for another year, Randle made the decision to forgo his senior season and enter the NFL Draft. Many expected him to be an early second-round selection, but Randle ended up slipping down to the final pick of the second round, right into the lap of the pass-happy New York Giants.
The Giants were the best team in football last season, winning their second Super Bowl in five years. Leading the way was quarterback Eli Manning, who has established himself as one of the best signal callers in the NFL. But what makes Manning so special, and should also immediately benefit Randle, is his ability to adapt to new receivers on a yearly basis.
This past season, second-year undrafted free agent Victor Cruz came out of nowhere to lead the Giants in receiving. The year before that, it was Hakeem Nicks who led the Giants in receptions, yards and touchdown catches. In fact, in Manning's seven years as a starter in the NFL, the Giants have had five different players lead the team in receiving.
Randle is a guy who has a ton of talent and the ability to step right in and fill a void in the Giants' passing game that became open when Mario Manningham left to join the San Francisco 49ers.
Keep in mind that the Giants also let go running back Brandon Jacobs, which could mean that this team will throw the ball even more in 2012. They also failed to address the tight end position early on in this year's draft, which will create more opportunities in the passing game for Randle, Cruz and Nicks.
Standing at 6'4", 210 pounds, Randle has great size and the speed to stretch the field. He was a two-year starter at one of the best programs in America, playing in the SEC against the top competition in America. Because of that, there should be no doubt that he can come in and contribute in this offense right away.
This isn't to say that Morris Claiborne and Michael Brockers won't have good rookie seasons. Both are elite players at their respected positions and should be starters from the second they step onto an NFL playing field.
But still, that crazy intuition of mine is telling me that Randle will be the best of the bunch.
Now, all we can do in sit back and see if my bold belief can turn into a rewarding reality for Rueben Randle and his LSU supporters.