Andy Lyons/Getty Images
May 16, 2012
With the 2012 Preakness Stakes just a few days away, it's time to break down the contenders for the 137th running of the event.
Kentucky Derby winner I'll Have Another comes into this race red hot and looking to steal the second leg of the Triple Crown, but the field is full of strong contenders.
All of the following horses have a great chance to win this race, but it will take the right mix of good post and great start to make the run towards a win possible.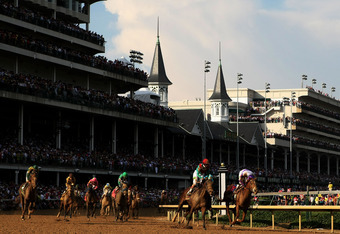 Elsa/Getty Images
I'll Have Another
After the biggest win of the horse's life and one of the biggest shockers in years, I'll Have Another walked away from the 2012 Kentucky Derby as the winner of the infamous first leg of the Triple Crown.
As good as his run was, he was an underdog for a reason. With no one underestimating him this time, the run to the front won't be so easy.
Projected Preakness Finish: Third
Went the Day Well   
With a legendary trainer like Graham Motion, there is always a chance for a horse as talented as Went the Day Well to steal the show. Before coming in fourth at the Kentucky Derby, this horse won two straight events and looks to get back to its winning ways.
Projected Preakness Finish: Second
Optimizer
After a disappointing 11th-place finish in the Kentucky Derby, most fans are writing off Optimizer. That's a bad move.
With plenty of experience running through traffic, this is the kind of long shot that can fall into the perfect post position and move his way through traffic on the way to a surprising Preakness Stakes win.
Projected Preakness Finish: Fifth
Bodemeister
After leading for most of the Kentucky Derby, Bodemeister came up just short to I'll Have Another in the final stretch. With another chance at glory, Bodemeister will be looking to take the second leg of the Triple Crown and stop I'll Have Another's dream run.
Projected Preakness Finish: First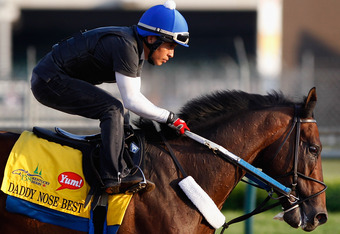 Rob Carr/Getty Images
Daddy Nose Best
With a 10th-place finish in the Kentucky Derby, the shockingly poor run by Daddy Nose Best almost certainly was a fluke. With three wins in the four races leading into the Derby, this poor performance will be made up for at the Preakness.
Projected Preakness Finish: Fourth
Check back for more on horse racing as it comes, and check out Bleacher Report's Horse Racing Page to get your fill of all things from the ponies.
Like the new article format? Send us feedback!