Philadelphia Eagles: Why Flying Under the Offseason Radar Is Great for the Birds
May 15, 2012

Patrick McDermott/Getty Images
Prior to the 2011 NFL season, the Philadelphia Eagles were constantly on television. Their offseason additions of Nnamdi Asomugha and Dominique Rodgers-Cromartie were highly publicized, and Michael Vick's expectations were through the roof. 
Then, Vince Young made his now infamous "Dream Team" comment, and the Eagles totally blew up. I mean you couldn't turn on First Take and not hear Skip Bayless going crazy about it. 
However, prior to this season I had recently found myself thinking, when was the last time you saw in-depth coverage on the Eagles this offseason? When was the last time you turned on ESPN and even heard the name Vick or Asomugha? 
The Eagles have totally flown under the radar this offseason, and frankly it's the best thing that could've happened to them. 
Last season they went in with huge expectations, and after the shocking 1-4 start, they were criticized 24/7 by everybody under the sun.
Now, with expectations still high but the spotlight on the team significantly reduced, this team is set to shine and make a Super Bowl run in 2012.
The Eagles went on a nice four-game win streak to close out the season last year and nearly made the playoffs. Had Miles Austin dove and caught the fourth-quarter pass from Tony Romo against the Giants late in the season, the Eagles would probably have been in the playoffs.
So hopefully the reduced media spotlight, coupled with the positive momentum from the end of last season will allow this team to finally mesh together and play to their full potential. The additions of Demeco Ryans and second-rounder Mychal Kendricks will undoubtedly help solidify the LB position, which hurt the Eagles last season.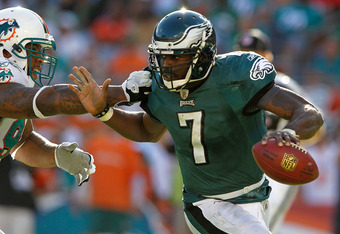 Mike Ehrmann/Getty Images
Rookie DT Fletcher Cox will also be a big addition to what was the best front four in the NFL on defense last year, compiling the most amount of sacks when rushing four or less men.
One guy to look out for is sixth-rounder Marvin McNutt out of Iowa. McNutt is a long, tall receiver who I think could be a big help on offense. The Eagles three starting wideouts are all 6'0'' or under, so the 6'4'' McNutt could be a solid option for Vick in the red zone.  
The Eagles will benefit, and have already benefited, from the lack of attention given to them by the media this offseason. Their focus will be at an all-time high, and they'll put in the work necessary to be a successful NFL team this season—and maybe even make a run at the Super Bowl. 
Follow me on Twitter: @rlongo924