St. Louis Rams: Offense Built to Protect Sam Bradford in 2012 NFL Season
May 16, 2012

Jay Drowns/Getty Images
After a season in which they finished with a 2-14 record, tied for worst in the league with the Indianapolis Colts, the St. Louis Rams have had a very active off-season. Not only have the Rams revamped their roster, they have also changed the faces on the sidelines.
Steve Spagnuolo was let go as soon as last season finished taking with him general manager Billy Devaney. Spagnuolo and Devaney were replaced by Jeff Fisher and Les Snead.
The first dilemma the Rams new leadership faced was what to do with the second overall pick in the draft. With Robert Griffin III and Andrew Luck coming out of college this year, the Rams had two options. They could either trade Sam Bradford and draft whichever quarterback fell past the Colts, or they could capitalize on the inflated value of the second overall pick and trade that.
In order to trade the second overall pick, the Rams had to decide whether Sam Bradford was their guy or not. Bradford had an outstanding rookie season but struggled in his second season. Fisher and Snead needed to decide whether Bradford's struggles were a product of the offense weighing him down or if his first year had been a fluke.
Ultimately the Rams decided to trade the second pick and look to build around Bradford.
A huge issue for the Rams last season was keeping Bradford upright.
The former Oklahoma quarterback started 10 games last year before being injured for the year. Even when he was on the field last year, Bradford was taking such a beating from opposing defenses that he couldn't be effective.
Bradford was injured twice before actually being knocked out for the season. He initially got injured in Week 6 but returned in Week 9. He sat again in Week 13 returning in Week 14 before being lost for the year.
Simple logic would tell you that the Rams' main priority this off-season to help Bradford would be to find him some better pass protecting offensive linemen. They did do that with the addition of Scott Wells from the Green Bay Packers. Wells replaces Jason Brown at center who struggled during last season so much that he was demoted to a backup role.
Wells was the only notable offensive line addition made this off-season, however.
The Rams are obviously hoping that Wells will improve the line as a whole with his leadership from the middle.
Roger Saffold and Jason Brown are much maligned linemen who had very poor seasons last year. However, both are still relatively young players who played relatively well the season before.
Saffold in particular has the potential to bounce back as he is only entering his third year in the league.
Instead of replacing inconsistent talent on the offensive line with proven talent, Fisher and Snead will be looking to Brian Schottenheimer to get the best out of the talent already on the roster. That does not mean however, the team hasn't made extensive efforts to protect Bradford this year.
Instead of replacing talent, the Rams have added talent around Bradford and his group of struggling linemen.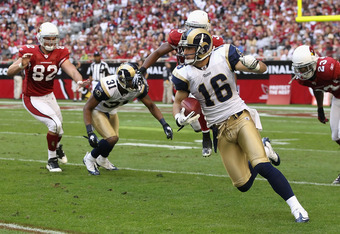 Christian Petersen/Getty Images
While Danny Amendola isn't really a new face, the Rams put a second round tender on him as a restricted free agent this off-season to retain Bradford's leading receiver from his rookie season.
With Amendola back on the field, Bradford has a receiver who can consistently catch short passes to move the chains.
If Bradford doesn't have to hold onto the ball as long, his offensive line won't be asked to hold blocks for as long while pass rushers will constantly have to worry about getting their hands in the passing lanes opposed to pinning their ears back.
Slowing down the rush is key this off-season. This can be done with quick passes, play-action or quality screens.
Amendola gives you the option for quick passes while the Rams also added Steve Smith to play that role also. Both Amendola and Smith are coming off injury hit seasons so they may just be juking it out for one spot but could also both play pivotal roles in a spread offense.
For Amendola and Smith to be able to work underneath, the Rams needed to add a big receiver to pull coverage outside. They did just that by drafting Brian Quick out of Appalachian State.
According to Bleacher Report's Matt Miller, Quick is a similar player to Vincent Jackson. If that proves to be true, then Quick will be everything that the Rams wanted Danario Alexander to be.
Adding Chris Givens' speed and size to the wide receiver corps also should help.
Those two rookie receivers will open up the field for Bradford and allow him to get the ball out. Having Smith and Amendola catching passes instead of Lance Kendricks should see a huge decrease in dropped passes for the Rams. A lot of Kendricks' dropped passes put the Rams behind in down and distance limiting their play calling in passing situations.
Givens and Quick not only spread the field, they also force teams to worry about play-action.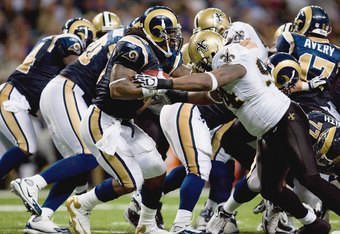 Dilip Vishwanat/Getty Images
With Steven Jackson in the back field, establishing the run will never be an issue; however, when the Rams ran play action last year, there was no receiver outside to threaten the defense deep. Brandon Lloyd did offer that dimension after coming over from Denver but Bradford was already struggling by that point.
Last year, the hesitation Jackson caused in defensive linemen in play-action situations wasn't taken advantage of. This year, that won't be the case.
Now that you have the defense thinking about quick passes, matchup issues and second guessing on play-action, adding a receiving running back to further push players towards thought rather than reaction is incredibly intelligent.
Isaiah Pead was drafted by the Rams in the second round out of Cincinnati. Pead provides a dual threat as a running back and receiver coming out of the backfield. He won't be asked to carry the load in St. Louis but will act as a third down back and a change of pace back.
Just like a Jahvid Best or Darren Sproles, Pead will be used repeatedly in screen plays to take advantage of aggressive blitzing from opposing teams and protect their quarterback while still punishing the defense.
While Brian Schottenheimer received a lot of flack in New York for not letting Mark Sanchez sling it deep last year, the Rams won't be desperate to expose their quarterback this year for the sake of the deep ball.
Getting Bradford in rhythm with quick passes to receivers and screen passes to his running backs may not win the fans over, but they will be exactly what Jeff Fisher wants to see from his offense.
The Rams made the decision to prioritize the long-term when they traded their second round pick this year. That does not mean that they should completely give up on this season, but they should treat it as the final year of Sam Bradford's initial development stage.
While this offensive attitude protects Bradford, it also gives the team the best opportunity to win games. Without a fully healthy Bradford, the Rams have no chance of winning the West next year.
The Rams play in a division that has no explosive offenses. Furthermore, Bradford is easily the best quarterback on any roster in that division unless Matt Flynn lives up to the hype in Seattle.
The Rams defense is definitely improving and should be stable this year, Bradford could be the difference in the division as the 49ers aren't guaranteed to repeat their success of last season.
General Manager Les Snead has been very impressive in his first off-season. The more you break down the moves he has made, the more you admire him and Jeff Fisher.