Boston Red Sox: How Long Can the Team Expect Rookie Hot Streaks to Last?
May 16, 2012

Elsa/Getty Images
The Boston Red Sox seemingly have seen lightning strike twice this season. 
First, Will MiIddlebrooks came up to play in place of the injured Kevin Youkilis and has been ripping the cover off of the ball. Now, Daniel Nava appears to be following suit.
In his first six games in Major League Baseball since playing 60 in 2010, Nava has put up some ridiculous numbers. His batting line reads like a video game: .533/.708/1.000/1.708. He has also driven in six runs in eight hits and scoring seven runs of his own.
In his 15 at-bats, he has managed to rack up four doubles and a home run. He has one stolen base to his resume as well. That would be more than David Ortiz, Adrian Gonzalez, Ryan Sweeney, Marlon Byrd, Jarrod Saltalamacchia, Cody Ross, Youkilis and Nick Punto combined.
OK, that last one is sort of a pointless statistic on a team that historically does not run all that much, but you get my point. Nava is contributing in all facets of the game.
Middlebrooks, on the other hand, has "cooled off." He's batting just .300 with a .340 OBP and a.640 SLG for a .980 OPS—third-best on the Red Sox behind only Ortiz and Nava and second for players with more than 10 games under their belt.
The interesting thing about Middlebrooks is that now he is approaching comparable at-bats as Youkilis in 2012. While Youk has played in 18 games thus far, with 74 plate appearances, Middlebrooks has played in 12 games and has 53 plate appearances. 
Youkilis went on the DL having managed a .219/.292/.344/.635 batting line, with 14 hits, two doubles, two home runs and nine RBI.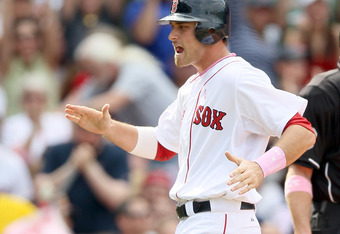 Elsa/Getty Images
Middlebrooks has already eclipsed those numbers. He has 15 hits, five doubles, four home runs, 14 RBI and two stolen bases.
True, Middlebrooks does strike out a lot. He has 15 hits to 15 strikeouts on the season. Having said that, though Youkilis has 14 hits to 20 strikeouts on the season.
With Nava and Middlebrooks producing as they are, this Red Sox team has seen some success. The offense has successfully been turned around, putting up 61 runs in their last 10 games and allowing 40, which brings their season total out of the red to 199 put up and 187 allowed.
With this shot of youth injected in the lineup, a fire is starting to burn. If the pitching can sustain the momentum, this team could very well be on its way towards stringing together a few winning series.
The road is going to be a challenging one; however, it will give the team a measuring stick of where they are amidst their development on the season.
The team will be on the road to face the Tampa Bay Rays, Philadelphia Phillies and Baltimore Orioles, before returning home to square off with Tampa again and Detroit. Then they'll head to Toronto to face the Blue Jays.
If the team can come out of that series of 18 games with a record better than .500, perhaps we have something. If not, it may be time to start thinking as sellers.