Sweden Euro 2012 Roster: Analyzing the Starting 11 and More
May 16, 2012

Scott Heavey/Getty Images
Much like a number of teams heading to Poland and the Ukraine in a few weeks' time for the 2012 European championships, Sweden will be without its full compliment of players.  Erik Hamrén named his 23-man roster on Monday and will have to make due without veteran defender Daniel Majstorović and promising striker John Guidetti.  Also of concern was Johan Elmander but he is expected to fully heal from a right foot fracture suffered in his club's final league game this past weekend.
With just over three weeks before Sweden opens their Euro 2012 campaign against host Ukraine in Kiev's Olympic Stadium, what will the starting 11 look like? And how will Sweden fare in Group D, which also includes England and France?
During Sweden's qualifying run, Hamrén experimented with a couple of different formations and a multitude of lineups to a great degree of success.
The Swedes, in fact, qualified automatically to the tournament by virtue of being the best runner-up in the qualifying phase, winning eight of their ten matches. In the process they scored 31 goals, only their qualifying group winner, Holland, and Germany had more.
Hamrén deployed a 4-5-1 and a 4-3-3, catering his attack around the prodigious offensive capabilities of Zlatan Ibrahimović. Ibra was usually partnered with Elmander up front while Kim Källström, Anders Svensson and Rasmus Elm were the tempo-setters in Sweden's midfield.
The likely dilemma for squad selection comes at the back-line positions.  With Majstorović and his 48 caps out due to knee injury there's a noticeable lack of international experience at the defensive positions outside of 34-year-old Olof Mellberg.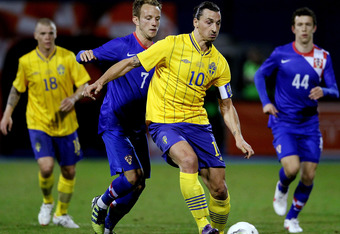 Scott Heavey/Getty Images
Defensive Doubts
Andreas Isaksson's steady presence gives the Swedes a lot of confidence in goal. He's got 91 caps for the Blågult including Euro '04, Euro '08 and the 2006 World Cup.
The rest of the defense doesn't inspire similar levels of security.  Majstorović's 25-year-old Celtic teammate Mikael Lustig, the starting right back, hadn't played in a competitive international fixture until the Euro 2012 qualifying phase, when he started all ten of Sweden's matches.  
On the other side of the defense, Hamrén will likely choose Blackburn's Martin Olsson over Anderlecht's Behrang Safari, both young players debuting and (hopefully for Hamrén) up to the demands of tournament football.
Partnering Mellberg in the central defense is an open competition between Jonas Olsson, Andreas Granqvist and Mikael Antonssen.
Olsson is a particularly intriguing selection.  He's another inexperienced player, with only six appearances with the senior side, but he was a key member and vice-captain at West Bromwich Albion.  West Brom was the former managerial post of one Roy Hodgson, who now leads England, Sweden's group opponents at Euro 2012.
Olsson will see minutes at some point in the tournament or at least be a valued resource for the coaching staff as they prepare for that crucial second group game against the Three Lions.
Midfield Potency
Sweden's midfield is an area replete with international pedigree and a source of overall team strength. Kim Källström, Anders Svensson and Christian Wilhelmsson have all represented the country in World Cup and European Cup final competitions.
And Sebastian Larsson, Sunderland's free kick maestro (he scored seven such goals in 2011-12), is a rising talent on the right wing with plenty of Premier League experience. He's primed for a breakout at a major international tournament. Rasmus Elm can also find time in the midfield, the 24-year-old served notice of his potential with a 10-goal season at Dutch club AZ Alkmaar.
Forward Progress
Up front, Hamrén will partner Ibra with Elmander.  Ola Toivonen could join them should Hamrén allow Zlatan, as he's hinted he might, to roam into the deeper playmaking role behind the two strikers, something he's accustomed to doing with AC Milan.
That might be the case in Sweden's first outing when they should go for goals and a convincing win against Ukraine.  No one doubts that Sweden's fortunes are squarely balanced on the world-class abilities of their star front man and captain.  
Ibrahimović is coming off the best season of his career, leading the Serie A with 28 goals, adding five goals and five assists in Champions League play.  However, in the group games against England and France, Hamrén might revert to more defensive-minded formations leaving Elmander, with Ibra just behind him, isolated at the top.
While that may prevent thrashings like the 4-1 loss the Dutch handed them in qualifying, it may also stifle Zlatan's creative endeavors.   The team worryingly struggled to find opportunities in two friendly shutout losses to the aforementioned English and another Euro-bound team, the Danes, last November.
Sweden's starting 11 might not match the talent level at each position when they face the football powerhouses of England and France but they can spring surprises and exploit favorable matchups, particularly with Ibrahimović.
On set pieces this team is especially dangerous; Larsson and Källström can provide a few highlight-worthy goals from dead-ball situations.
Some clues as to the potential of this roster and which 11 will line up as starters in Kiev will come with Sweden's scheduled warm-up matches against Iceland on May 30th and Serbia on June 5th.