Stop the Linsanity! Why Jeremy Lin Is Not the Answer for the Toronto Raptors
May 16, 2012

Marc Serota/Getty Images
Toronto sports fans may be a long suffering group, but it seems that hope continues to spring eternal in the Big Smoke.
Having been subjected to a seemingly endless cycle of losing and rebuilding, and with little to show for it, the Toronto fan can probably be forgiven for the occasional pipe dream. 
Sometimes these fantasies of all-stars and future Hall of Famers arriving in Toronto to rescue its fans from continued futility are loosely based in logic. But more often than not they are an emotional response from a battered fan base who see superstar saviors on the horizon.
Jeremy Lin is the latest in a long line of messianic candidates. 
I, like many others, found myself caught up in that whirlwind that was 'Lin-sanity.'  For that brief stretch, NBA fans were treated to not only a feel-good storyline, but add the fact it was happening in New York, and that Lin is a Ivy Leaguer of Asian descent, and you have the makings of a perfect marketing storm. 
As the season played out, Lin's luster faded somewhat as he transitioned from cultural phenomenon to once again being simply a basketball player.  We began to see the warts in his game that were overlooked during his meteoric rise, teams began to game-plan and exploit his weaknesses, and eventually came the season ending injury.
During an offseason for the Raptors, where the team once again finds itself in retooling mode, and where Jeremy Lin happens to be a free-agent, Toronto fans can't resist.  Their memories of that last second shot, the 27 points and 11 assists, the feverish excitement associated with Lin's arrival, the dream marketing potential! 
Forgotten are the dwindling shooting percentage, the sky-high turnover numbers, the dubious defense, and the six-point four-assist game against their Raptors.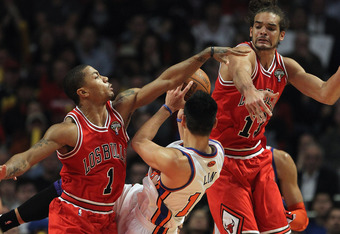 Jonathan Daniel/Getty Images
Given his limited experience, Lin still has to be considered something of an unknown quantity going forward.  From a marketing and hype standpoint, I understand the calls for Lin's descent into Toronto. 
From a basketball standpoint though, I'm not sure it makes sense.  For example, as starters, Lin in a wide open D'Antoni system, and Jerryd Bayless in a clamp down Dwayne Casey system put up similar numbers—Lin generated a couple more assists but also several more turnovers.  Also compare shooting percentages as starters—Lin .445 .329 .796 vs. Bayless .450 .429 .837.
Lin was a bit of a double-edged sword on offense—breaking down defenders in isolation but struggling mightily against half-court defensive schemes (particularly against screens), forcing up desperation shots or turning the ball over under pressure. 
Anyone who has seen the look on Dwayne Casey's face after a bad turnover would have to wonder how he could survive through Lin's first eight turnover night or how quickly the steady hand of Jose Calderon would return to the floor.
Obviously Bayless is lower profile and was the occasional target of Raptor fans' frustrations, but as a whole, played very well during a tough, transition year, putting up 17.8 ppg, 5.3 assists and 1.4 steals as a starter.  Bayless is more of a known quantity, has great familiarity with the team, and now Dwayne Casey's system, and seems the natural heir apparent to Jose Calderon.
From a purely marketing standpoint, the acquisition of Jeremy Lin makes a lot of sense—in the short term, putting a few extra bums in seats and perhaps garnering a couple more nationally televised games in the US. 
However, on a Raptor team that has needs at multiple positions, it seems the future is already here for the Raptors at point guard. 
By not pursuing Lin and focusing on those more pressing needs (adding depth at shooting guard or a threat at the three), the Raptors will be a stronger team and make it clear that this is an organization not blinded by hype or swayed by whimsy, but focused on substance, and building a franchise the right way.    
Not signing Jeremy Lin might be the smartest marketing choice of all—a choice that sends a signal to future free-agents and is sure to put bums in seats for the long term—the choice to win.