B/R Exclusive with PGA Pro and 2-Time Heart Transplant Recipient Erik Compton
May 16, 2012

Scott Halleran/Getty Images
Nothing about Erik Compton's story is common. One successful heart transplant is often considered a miracle in its own right, which makes the fact that Compton's had two nearly unfathomable.
But what may be more remarkable is that despite his arduous, lifelong battle with a heart condition (viral cardiomyopathy), he emanates an air of calm. Whether it's as an advocate for donor awareness in front of massive audiences or as a professional golfer—currently a rookie on the PGA Tour at age 32—in front of throngs of golf fans, Compton's take-nothing-for-granted attitude has been the source of his inspiring story.
He took some time to chat with B/R about how to create more awareness about organ and tissue donors, the paradigm shift sweeping through the world of golf and the life he leads off the golf course.
WL: I know that you are a diehard sports fan, so let's start off with some quick sports questions. Do you have a favorite sports movie?
EC: That's a tough one, because I instantly think of Major League, but then again, there's Caddyshack. Never mind, Major League.
WL: What is your most memorable sports moment?
EC: We were at the World Series when the Marlins won. It was my whole family. That was very memorable.
WL: Who was your favorite athlete as a kid, the one you most idolized?
EC: Ronnie Lott. I used to watch the 49ers Monday nights just for him.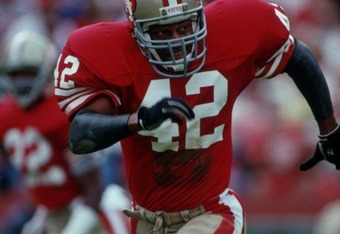 Getty Images/Getty Images
WL: I know you are Miami native, so what do you think—do the Heat have the NBA championship in the bag?
EC: Well I think the Heat are a great team, and I think if they don't self-destruct and show up to play, they will win the whole thing. I don't know if they are the favorite, though. No one is ever really a favorite in sports, especially today because of the level of competition out there. And as we saw last year, Dallas just shut them down. But if the Heat can get into transition, no one can stop them.

WL: I know that as a two-time heart transplant recipient, you are a major advocate for organ and tissue donation. Can you tell me more about the work you do in this field and how that ties into this week's PGA Tour event, the HP Byron Nelson?
EC: Well, this is a great location. Obviously, Nelson is a legend of the game, so to be able to play here, share my story and my work with Donate Life to reach out to fans and patients around the area that are going through or have gone through what I've gone through is a really amazing experience.
I obviously want to play and win each week out on the Tour, but in the big picture, saving lives and being able to make an impact is the message I'm concerned with. We want to get the message out—me, my family and Genentech, who I've partnered with and a team who supports my message.
To be an organ donor is simple—talk to your family, friends, school teachers and you can go to Donatelife.net and sign up. Also, you can get your organ donor card through your driver's license.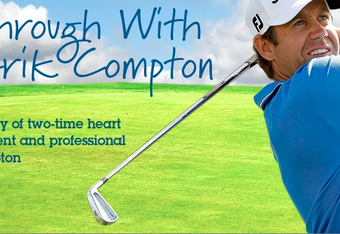 WL: How can people create more awareness about the need for organ and tissue donation?
EC: There are so many affected (more than 113,000 people are on the organ transplant waiting list in the U.S.), so being able to talk about it with family and friends is so important. Whether I'm winning or losing events, when people come out and see me play, see that I live a normal life, it gives hope for a lot of people.
There are still many people who don't believe transplants work. I challenge people to talk with me, watch me play, because I believe I have great life, and, you know, I've had two transplants. I'm very aware of organ donor families, especially aware of the family that helped me. It's a tragic experience to lose a loved one, but I've found that it's also a healing experience for donor families to be able to help others. Everyone wants to be able to help out someone else in a time of need.
WL: With regard to your specific story and the battle you've been through throughout your life, how has pursuing golf been a source of persistence and hope?
EC: Anytime someone goes through a traumatic experience, you need something to help you heal, and golf has done that for me. Golf has helped me recover from IVs, from major surgery, from the really hard times. I've been able to live my dream, even as I've battled my emotions.
WL: Let's transition a bit and talk some actual golf. You had a terrific season last year on the Nationwide Tour (eight top 25s, three top 10s, victory at the Mexico Open). What was it like to play so well and cap it off with a win at the Mexico Open?
EC: Well, that week at the Mexico Open was a tough week because we were playing at high altitude. There was so much adversity that week that, well, it almost played into my hands. I was very nervous because I knew that winning would grant me a PGA Tour card. It proved something to me, to my family. Can't put it into words. It's kind of a miracle to be honest.
WL: A lot of sports fans tend to sideline golf as not a "real" sport. How would you respond to them?
EC: Tough question, but I've challenged the best athletes to play golf. I challenged Michael Jordan and Alonzo Mourning, who's a good friend of mine, and there's no denying it's a combination of skill and sport. I'm not running as fast as I can or taking a beating like other sports. But it's not easy to play four days of golf, to travel, to wake up for different tee times, adapt to new conditions each week and the physical and mental strain of it all.
I will say this: Out of all the sports, in golf, you have to go out and earn your living—there's no big contracts. We are not sitting on the sideline and getting paid millions. Most people assume golfers are spoiled, but this sport requires you to make your own way.
WL: I'm wondering about your perception of Tiger Woods. Do you believe he can revitalize his golf game and find some consistency, or will we never again see the Tiger Woods of old?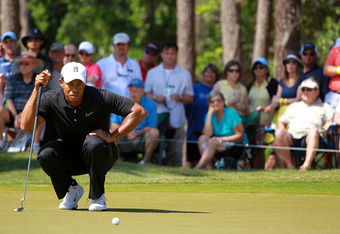 Andy Lyons/Getty Images
EC: Tiger's got his work cut out for him. I think Tiger is an unbelievable athlete. He could come back with a tear. I don't know how much injuries will hold him back either. He's trying to change his swing, and I think he will find his way back. He's still young. He can win majors until he's 50. I mean, look, he won Bayhill with a C- game. I wish I could do that. He's just that good. He will be back.
WL: Tom Watson recently proclaimed Rickie Fowler to be the future of American golf, no doubt sparked by his win at the Wells Fargo and the T2 at the Players Championship. What is your take on Rickie's game and his potential?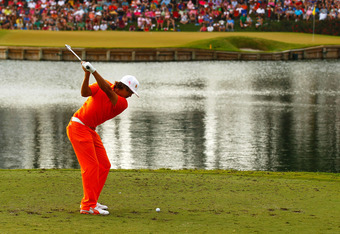 Mike Ehrmann/Getty Images
EC: Rickie is an unbelievable player. He has the ability to connect with the fans, has a great style, but I'm most impressed that at his age, he's just 23, he's really able to understand a lot about life. He's worked with me in the Donate Life foundation; he's very mature. Overall, he's a great player, and while it's harder to dominate in golf life it was once was, he's on his way.
WL: Among the current crop of young players—Rickie Fowler, Rory McIlroy, Jason Day, Ryo Ishikawa—who do you believe has the most potential?
EC: Well, I'd like to say all of them. I think they're going to seriously battle it out. But the cool thing about sports is that it's unpredictable. There's probably another 14-year-old somewhere who could be the next Tiger or Rory. These guys all have great games. But Rory McIlroy has a head start with the major (U.S. Open); he's very strong. Rickie, though, has the flair. Only time will tell.