LSU Football: Tigers QB-WR Tandem Snubbed in ESPN Article
May 18, 2012

Joe Murphy/Getty Images
It is no secret that Les Miles' LSU football teams are traditionally known for having dominant defenses and a powerful running game.
But this season, with a new, yet very skilled quarterback under center in Baton Rouge, Miles has come out and said publicly that he would like to air it out more in 2012. After suffering through four years of Jarrett Lee and Jordan Jefferson at quarterback, LSU fans have to be more than excited to hear that from their head coach.
But LSU isn't alone when it comes to SEC teams that plan to air it out more this season. In a conference traditionally known for hard-nose defense and a grind-it-out style of offense, fans could see quite the aerial display put on in 2012.
This past week, ESPN.com's K.C. Joyner wrote an article on the SEC's Top QB-WR Tandems in 2012. But, he failed to mention the Zach Mettenberger-Odell Beckham Jr. connection, which could turn LSU fans the wrong way.
Joyner listed his top-three SEC QB-WR Tandems as Jordan Rodgers/Jordan Matthews (Vanderbilt), Aaron Murray/Tavarres King (Georgia) and Tyler Bray/Da'Rick Rogers (Tennessee). He then lists Tyler Wilson/Cobi Hamilton (Arkansas) and Connor Shaw/Ace Sanders (South Carolina) as honorable mentions.
Now, this isn't to say that this is a bad list by any means. Murray, Bray and Wilson are arguably three of the top 10 quarterbacks in the country this coming season, so it's hard to go wrong there. But if Miles truly does let Mettenberger air it out this year, then he could make one heck of a tandem with explosive sophomore-to-be receiver, Odell Beckham Jr.
Keep in mind that Beckham Jr. was limited last season as a freshman, playing behind two upperclassmen and catching passes from two below-average quarterbacks. Now, with Rueben Randle gone and Russell Sheppard continuing to cement his name as one of the biggest busts in LSU football history, Beckham Jr. should be the hands-down No. 1 receiver on this team.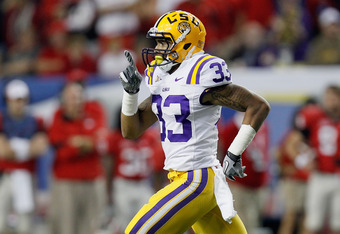 Kevin C. Cox/Getty Images
Beckham Jr. has big play ability, which is obvious by the numbers he posted this past season. The 6' speedy wideout caught 41 passes for 475 yards, an average of nearly 12 yards-per-catch. He caught a 52-yard touchdown reception against West Virgina in Week 4, and then followed that up with a 51-yard touchdown score against Kentucky the following week.
The numbers don't lie, and his speed makes it obvious that Beckham Jr. is a true home run threat; he just needs the right quarterback to get him the ball. LSU fans are hoping that quarterback is Mettenberger, and with everything he has shown thus far in the offseason, it gives us no reason to believe he won't be able to make a great 1-2 punch with Beckham Jr.
LSU fans shouldn't get discouraged that their new QB-WR Tandem didn't make this preseason list, but don't be surprised to see this duo be near the top of that list next season.