MLB Trade Rumors: Exploring the Idea of Kevin Youkilis to Philadelphia
May 17, 2012

Jim Rogash/Getty Images
The rumor mill is already pretty full when it comes to Kevin Youkilis.
Ever since going down with a back sprain, Youkilis has almost become an afterthought in Boston. Fans have become enamored with rookie Will Middlebrooks, whose solid defense and hot bat have made the transition somewhat seamlessly.
That being said, the idea of trading Youkilis has been floated both in the media and with fans alike.
In a piece by The Boston Globe's Nick Cafardo, the Philadelphia Phillies and San Francisco Giants are two teams that could have significant interest in obtaining the services of The Greek God of Walks.
Cafardo stated that if Youk can sting together three solid weeks of play, there is a strong market for third basemen.
Philly.com's David Murphy stated that the Phil's would be highly interested in acquiring Youk. Says Murphy:
If the Phillies could get him on the cheap, Youkilis would certainly be a worthy addition. He is currently on the disabled list with a back injury and is hitting just .219/.292/.344 with two home runs and 20 strikeouts in 64 at-bats. But he got off to a slow start last year and still ended up hitting .258/.373/.459 with 17 home runs. Such a batting line would be worthy of the cleanup spot in the Phillies lineup at this point.
Murphy goes on to propose the idea of swapping Phillies fifth starter Joe Blanton for Youkilis. While no, it is not a sexy choice for Sox fans, it is a pretty fair investment overall.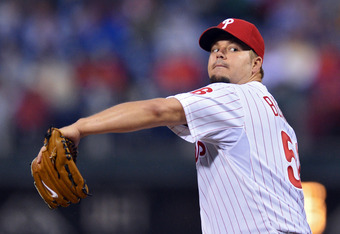 Drew Hallowell/Getty Images
This scenario would have two guys with somewhat similar salaries who will be free agents at the end of the season, both of whom fill holes for the other side.
Sure, Red Sox Nation would much rather see the team move Youk in favor of Cole Hamels. The likelihood of that move is almost impossible.
However, in Boston, almost impossible isn't entirely impossible.
Cole Hamels has asked the Phillies for a seven-year extension and is looking to cash in. Thus far, that extension has yet to come to fruition. Hamels' contract is up at the end of the year, like Youkilis, and has a much similar contract situation.
That is pretty much where the comparables end.
Hamels is five years Youk's junior and set to hit his big payday. Boston, theoretically, could give him that payday, but that would require the Phillies to acquiesce the remainder of their season in some regards.
They have no incentive to give up on a 28-year-old top-of-the-rotation pitcher with a 2.28 ERA.  
With that in mind, Blanton only has a 2.96 ERA in 2012 and would pose a nice upgrade in the rotation for Boston.
If nothing else, the next three weeks of Youk rehabbing will be quite interesting, to be sure.