Fantasy Football: 4 RB Whose Fantasy Value Rise Should Be No Surprise in 2012
May 17, 2012

Peter Aiken/Getty Images
2011 was not a great year for a lot of NFL running backs and their despondent fantasy owners. Torn ACLs, holdouts, two-back committee systems and pass-first offenses did damage to the fantasy values of many of the sport's top tailbacks.
But 2012 is shaping up to be a banner year for some RBs, including one coming off a season-ending injury, one who kind of got forgotten about and two kids on the verge of fantasy stat stardom.  
So here are four running backs whose rise in fantasy value should be no surprise in 2012.
Jamaal Charles, Kansas City Chiefs (RB)
Remember this guy?  Name ring a bell?  He was only the most dangerous running back in the NFL, with the home run ability of Josh Hamilton and the sprinter speed of Tyson Gay. But after a 2010 campaign where he amassed over 1,900 combined yards, Charles rewarded fantasy owners who spent first-round draft picks on him with 83 rushing yards and a season-ending knee injury after being cruelly tackled by a sideline.
Charles is vowing to make people "feel his pain" in 2012 when he returns. I hope he is referring to opposing defenders and not his fantasy owners, because the latter already felt his pain last year.
I don't think Charles will be a 1,900-yard threat again until 2013 when his knee is two years removed from ACL surgery, but this upcoming season he should be fresh and the main man in Kansas City's rushing attack. With newly-acquired Peyton "Madden Jinx" Hillis sharing some of the load, look for Charles to rush for 1,000 yards and add another 350 yards via his receiving.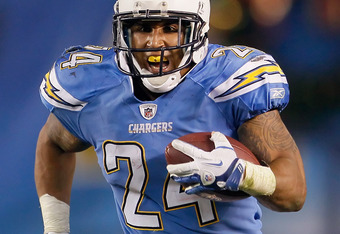 Jeff Gross/Getty Images
James Starks, Green Bay Packers (RB)
Green Bay used most of its draft picks on defensive players and none on running backs. So with Ryan Grant looking for work elsewhere, Starks seems like he will be the Packers' sure starter in 2012.
Starks was nicked up and underused in 2011, rushing for just 578 yards and one touchdown. But unlike other NFL teams, the Packers did not throw money at free agents or draft college kids to bolster their RB corps, so they must be satisfied, at least for now, with Starks as their top tailback. 
Starks has the talent to be a 1,000-yard rusher who can score a half-dozen touchdowns. And even though Green Bay is a pass-first team with quarterback Aaron Rodgers at the helm, Starks will still be valuable fantasy-wise if he is the primary ball carrier and gets the touches inside the five-yard line. 
Ryan Mathews, San Diego Chargers (RB)
Mathews no longer has to worry about the round mound of touchdowns, Mike Tolbert, taking his touches and his touchdowns away from him anymore (Tolbert scored 21 TD between 2010 and 2011). Tolbert has moved on to Carolina to block for DeAngelo Williams and have some fun with Cam Newton, so Mathews has all the rushing plays to himself.
Mathews' only current competition in the backfield is reserve RB Curtis Brinkley, who kind of resembles Tolbert and only has 112 career rushing yards, so he is about as threatening to Mathews as a goose is to a mountain lion. 
Mathews still misses games (six full games and parts of others over two seasons) and still fumbles too often (10 since 2010) to be a top-10 fantasy pick in my mind. If he loses playing time, though, it will be because of his own doing, not because Brinkley is running better. And if Mathews stays injury-free and fumble-free, he will carry the ball more than ever and could finish with 1,300 rushing yards and 500-600 receiving yards on top of it. 
Donald Brown, Indianapolis Colts (RB)
Lost in the armada of terribly thrown passes from Curtis Painter last season was the fact that Brown finally broke out and ran like the first-round draft pick he was back in 2009. Brown rushed for 645 yards and five touchdowns and overtook both veteran Joseph Addai and youngster Delone Carter on his way up Indy's RB pecking order.
Brown showed the big-play ability he never had before with an 80-yard TD run against the Tennessee Titans late in the season, and he averaged 4.8 yards per carry despite running behind an average-at-best offensive line. 
And Brown should be even better in 2012. Indianapolis drafted quarterback phenom Andrew Luck, tight ends Coby Fleener and Dwayne Allen, and wide receiver T.Y. Hilton with its first four picks, so the passing attack should be infinitely better, which will open up running room for Brown.
Addai has flown the coop, and the Colts have yet to bring in any serious challengers at RB, so the starting job is Brown's to fumble away. Carter has potential, but Brown should be the No. 1 guy going into the season. If all goes well, he should surpass the career-highs he set in 2011 and possibly be a 1,000-yard runner this season.