Washington Redskins: What Type of Impact Will Chris Cooley Have in 2012?
May 18, 2012

Sam Greenwood/Getty Images
It's a young man's game, so they say.
Chris Cooley, who will turn 30 this July, is by no means an old man.  In football years it's a different story, though.  With up-and-coming stalwart Fred Davis looking to improve on an impressive 2011 season and converted receiver Niles Paul looking to make a name for himself at his new station, it begs the question:
What kind of impact will Chris Cooley have in 2012?
Over the last decade, Cooley has arguably been the most reliable set of hands on the Redskins roster.  He's never been a speedster—leave the Vernon Davis comparisons at the door.  Nor has anyone ever pegged him as being "explosive."  But Cooley has, without fail, been a smart and reliable leader on the field almost since the second he landed in Ashburn.  
But, like many a capable and battle-tested veteran before him, the injury bug bit.  Hard.  His eight receptions for 65 yards in 2011 were one of the biggest voids for a Redskins offense that was essentially a void in and of itself.  The negative impact made by Cooley's absence would have been magnified had it not been for a former USC Trojan stepping up in Cooley's stead.  
Davis' 59 receptions for 796 yards became a boon for an offensive unit that struggled regularly to establish any identity with Rex Grossman under center.  Davis' athleticism was immediately apparent as he showed good speed and ability to adjust to make the catch, break off routes and even created some yardage after the catch.  
In short, Davis' stock rose dramatically in 2011.  Cooley's...well, if it didn't drop, it plateaued.  Also, let's not forget: the market value for athletic, hybrid-type tight ends these days is at an all-time high.  Thanks to Shannon Sharpe's antics throughout the 90's in Denver, the tight end position has incrementally morphed into what it is today.  
Athletic freaks who can run with receivers and man-handle linebackers—that's what we've come to expect from tight ends of this modern era of the NFL.  
Which now brings us to Niles Paul.  
Paul, a second year man out of Nebraska, was drafted as a receiver in the fifth round of the 2011 draft.  His rookie season was nothing if unspectacular as fellow Husker Roy Helu, Jr. absorbed much of the press while logging serious minutes at running back.  
2012 figures to be much different.  That is, according to Mike Shanahan.
At 6'1", Paul isn't towering in the prototypical sense but as he's already bulked up to the 240 pound range heading into camp, Paul is in the beginning stages of a transition that is, how do I say it...
Sharpe-ian?  
Paul's athleticism is undeniable and his abilities as a wide receiver instantly make him a receiving threat that any linebacker would have nightmares about covering.  
Of course, the migration in closer to the line comes with its own set of fine points and nuances but if Paul can make the necessary adjustments this Summer, he could be a future star tight end in the making.  
So, with the Shanahan's stockpiling younger, more explosive talent at the tight end position, what does it mean for a veteran like Cooley?
Firstly, it means he's needed.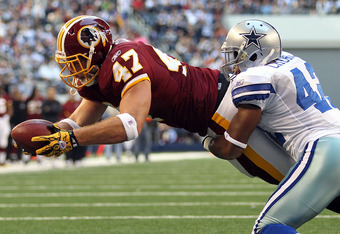 Ronald Martinez/Getty Images
This is an offense that is getting younger by the minute.  A good thing—a great thing—I know, but the presence of a veteran is an essential cog in this greenhorn-laden machine.  Cooley's knowledge of the tight end position and of the NFL game is essential for these rookies and second and third year guys who are just aching to get their minutes.
Cooley's been with the Redskins through all the thin and what little thick there has been since he first donned burgundy and gold.  Battle scars can be useful storytelling aids, especially when your audience is a fourth-year player just coming into his own and a kid who's never even played tight end before in his life.  
Secondly, Cooley has gas left in the tank.  A good bit, I suspect.  
No one in the NFL is injury free.  Cooley's injury is the recurring type and that's certainly a concern for any player, especially the player that is hitting the 30-year mark.  Davis and Paul are going to get their reps and those minutes won't just be benefiting their stat lines, they'll also help to spell Cooley and shield him from a good amount of wear and tear.  
A healthy Cooley is a huge boost for this Redskins' offense.  
He can also provide a huge edge for Robert Griffin III as he takes his first crack at navigating some very dangerous NFC East waters.  Cooley's route-running ability makes him easy to throw to and the notes he can give Griffin could be imperative at various points throughout the season.
Really, it comes down to what Cooley, Davis and Paul do on the practice field during camp.  
Nothing is guaranteed and as Mike Shanahan tries to ween Robert Griffin III on play-action and audibles at the line, Chris Cooley will be battling for reclaim his starting spot from a pair of young, multi-dimensional tight ends looking to play integral parts in the Redskins' resurgence.  
It helps Cooley's cause that the is still under contract.  It certainly never hurts being on the right side of the red tape when a position battle is set to take place.  
Most importantly, and for me personally, Cooley's a veteran and a franchise staple that deserves a shot at having another Pro-Bowl caliber season.  
"Captain Chaos" has been one of the few, consistently positive spots in the Redskins' ledger over the past decade.  He's a leader in the locker room and is the media-saavy type player that you want representing your team while the cameras roll.  
But, as a fan, you also want to see Fred Davis and Niles Paul compete at a high level and challenge Cooley for the starting spot.  This is, after all, about the team showing marked improvement in 2012 and the tight end position can make great contributions to that cause should competition during camp be at the level that it needs to.  
Worse case scenario:  The Redskins carry three, very capable receiving tight ends with them into the season opener against New Orleans in Week 1.  
A bit overloaded at the position?  Perhaps.  But that's only if you believe you can in fact have too much of a good thing.  
2012 could be a return to form for Chris Cooley.  Even if he doesn't get the majority of the reps and has to split duties with Davis and Paul, it's still a winning scenario.  The veteran redeems himself after an injury plagued season and his two understudies get ample opportunity to create names for themselves.  
Like I said, it sounds like a win.  
This is a younger Redskins team.  The shift from year one to year three of the "Shanaplan" is evident. As the figurative landscape at Redskins Park continues to reinvent itself, there needs to be room for a few familiar faces to keep the novices grounded. 
I, for one, hope that a healthy Chris Cooley gets his shot to lend his hand to the Redskins' rise. It's all about what he can contribute now and do while there is some ripeness left in his playing days.  
Let the chaos reign.