West Brom vs. Arsenal: 10 Things We've Learned from Gunners for Next Season
May 18, 2012

Ross Kinnaird/Getty Images
Well, we did it. It wasn't easy. It wasn't painless. And it wasn't always fun. 
But, 3rd place is ours, and so is Champions League football again. Arsenal has been written off, but the club sticks around and remains strong. 
It all came down to the last game of the season, and Arsenal made it tough once again.  But, after 90 painful minutes, the Gooners pulled out a 3-2 victory over West Brom. So, before we move into the transfer silly season and a real dissection of the 2011-2012 campaign, let's look at ten things we learned about Arsenal after the victory. 
Defensive Weakness Persists 
For the past couple of seasons, Arsenal has struggled defensively—and this season was no different.  The team conceded the most goals of any campaign under Manager Arsene Wenger, which raises a lot of questions heading into the summer.
Some of their defensive frailties can be explained away: The early season uncertainty, a litany of injuries, and Arsenal's attacking style of play. The first explanation is acceptable, as the 8-2 drubbing at United was clearly the exception and not the rule. 
However, Arsenal concedes too many easy goals, and Sunday's win illustrated that. On both goals, the defense was sliced through like flimsy flan.
If Arsenal wants to compete for titles next year, they need to make tangible improvements. Defensive reinforcements and an improved midfield pressing style (what Arteta brings) as a unit would be a good start start.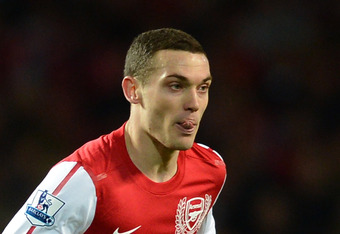 Laurence Griffiths/Getty Images
Podolski Couldn't Come Sooner
Arsenal exhibited the lack of cutting edge that has plagued the team all season. Apart from van Persie, the Gunners haven't been able to score with any regularity. 
If not for the fumbling hands of West Brom (and ex-Spur) Martin Fulop, Arsenal may not have scored any goals in the crucial game. Thankfully, that wasn't the case. Still, the win only worked to paper over the cracks once more.
Lukas Podolski will be a welcome addition to the Arsenal frontline.  The German international is clinical and ruthless in front of goal. 
When you compare him to the other left-wing options of Gervinho and the departing Benayoun, it has to make Gooners everywhere feel good. Arsenal creates a number of chances, but waste far too many.  Podolski will go a long way in changing this.
Szczesny Needs Competition
Arsene Wenger revealed before the West Brom match that Szczesny has been injured for five weeks; he hasn't practiced and has been taking painkilling injections before each match. So, this could at least partially explain his recent dip of form.
However, this injury revelation is just another example of how fragile the goalkeeping situation is at Arsenal. Wenger elected to play an injured Szczesny for the final five weeks of the season instead of turning to a back-up. This speaks volumes about the talent drop-off and the need for reinforcements.
Sunderland goalie Craig Gordon is available on a free transfer and is an option.
Honestly, who knows what Wenger is thinking?  Regardless, it is clear that an experienced goalie who could fill in for, and challenge, Szczesny must be a priority this summer. 
Coquelin Still Needs Time
Francis Coquelin was a surprise replacement for Aaron Ramsey in the center of the park against West Brom.  The versatile midfielder—who has filled in at fullback at times—has performed admirably many times this season.
Though Coquelin played reasonably well during the West Brom game, Arsenal still lacks depth at midfield.
Coquelin has the potential to be a big player for the Gunners in the coming years. Still, he doesn't seem ready to step into a regular midfield role just yet.
Coquelin is an effective tackler and strong with the ball at his feet. However, playing in the Arteta role in the West Brom game, he showed that he's not yet able to dictate the flow of the game. For a young player, this is one of the toughest things to learn and will take time.
While Coquelin can be a solid role player in the coming season, Wenger can't yet rely on him to play regularly and control the midfield in crucial games.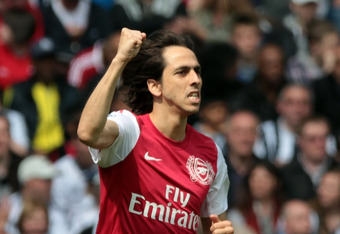 Ross Kinnaird/Getty Images
M'Vila Would Be Welcome Addition
Building off the point about Coquelin, it is further proof that Yann M'Vila would be a welcome addition to next year's Arsenal squad. 
This Arsenal team lacks depth at midfield and also lacks a true defensive midfielder. M'Vila can be a realistic solution to both of these problems—or at least a good start.
Rumors are building in the last week that Arsenal are wrapping up a deal for the combative Rennes midfielder. The Metro has even suggested the deal is almost concluded. 
Although there likely won't be confirmation for a while as to whether M'Vila has signed with Arsenal, Gooners are still getting excited—and rightly so. M'Vila is more disciplined defensively than Song, and good at distributing for the ball.
For all the defensive problems Arsenal has, the back four has been largely effective this year. Instead, many of the conceded goals come about because Arsenal's midfield fail to press high up the pitch, allowing allow gaps between them and the back four.
While M'Vila will not be a final solution to these problems, he will be a good start.
Benayoun A Loss
Although most Gooners were skeptical about the Benayoun loan signing in August, the last few months have shown it to be another astute move by Wenger. The Israeli and Chelsea midfielder proved his worth with another energetic and professional performance against West Brom.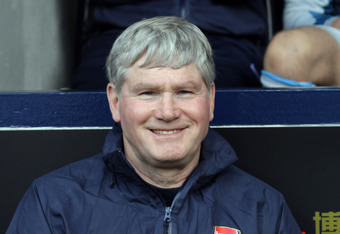 Ross Kinnaird/Getty Images
Although Benayoun saw limited playing time in the first half of the campaign, his fortunes changed recently. And, not surprisingly, it coincided with Arsenal's good run of form. He was a surprise starter in the 5-2 win against Tottenham, and after that turned in a number of strong matches—with goals against Norwich and West Brom.
Frustrating for many Gooners is how a 31 year-old loan player seemed to play with more passion and intensity than many Arsenal regulars. He seemed to connect with the fans and found a place for himself as a midfielder/forward on the left side of the attack.
Although Benayoun isn't a star, with game-breaking ability, he proved that he has the experience and mettle to contribute consistently in big games. 
It seems unlikely that Arsenal will try to sign him from Chelsea, but even so, Benayoun is an example of the passion players should demonstrate.
Santos Offers Different Options
Andre Santos' defensive inconsistencies have been well-documented—with many Gooners unconvinced that he is a reliable answer at left-back. So, I won't open that debate again, although I think he is better defensively than his is given credit for.
The Brazilian international does offer something different than other full-backs on the Arsenal roster—the ability to contribute offensively and chip in with goals.
Santos doesn't play the traditional role of an Arsenal full-back. Instead of just bombing down the wing and throwing in crosses, he plays much more of a playmaker role. He holds up the ball, plays interchanging passes with the midfield and even slides centrally to attack the goal.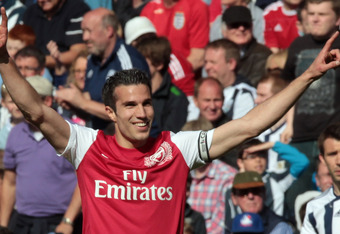 Ross Kinnaird/Getty Images
For all his defensive concerns, Santos can play a valuable role at Arsenal. 
Moreover, Wenger has recently employed Santos as a LW with Gibbs as LB. Although this won't be used often, it provides Arsenal with more defensive coverage when protecting a lead, while still offering the attacking outlet of Santos.
Wenger Does it Again
Wenger's time seemed as though it was coming to an end.
However, Wenger showed his value once more. After a disastrous summer and tumultuous start the season, he pushed his team to 3rd place. This was unthinkable in September and October.
Wenger still deserves some blame for how this season began, but it cannot be overlooked what a phenomenal job he did to turnaround what could have been a disastrous season.  At least for this week, Gooners can be pleased with Wenger.
But, as always, that honeymoon period will quickly end as we look for him to take a new approach in the transfer market.
Pat Rice Will be Missed
There were two defining images of the West Brom game: Wenger (in the dying desperate moments) hugging Pat Rice as Arsenal clung to a 3-2 lead and the Arsenal players throwing Rice in the air during the post-game celebration.
These two moments illustrated the affection Arsenal staff and players have for the club legend and the hole that will be left following his departure.
Pat Rice has received a lot of (unfair) flack over the past few years, as many Gooners have blamed him for Arsenal's defensive frailties. Obviously, as Wenger's No. 2, Rice is partly at fault for the team's problems. But, more importantly, he has been a guiding presence throughout Wenger's fantastic reign—including the Invincibles season.
Players seem to love him. Wenger obviously cares about Rice and values his contributions.  He was a loyal steward at Arsenal for more than four decades. So, it was fitting that after Arsenal's crucial victory on Sunday, it was Rice who provided the final sign-off.
It is time for a new era with Steve Bould taking the number two reigns, but it is worth reflecting on the amazing impact Rice had in shaping this club.
The Summer Madness Begins
And so it has started. We thought there would be a down period. Maybe at least five days? Possibly a week?
But no, it began the second the final whistle blew.  Robin Van Persie headed over to the away fans by himself for a round of applause. This set off rumors and speculation. Was he giving his final goodbye to the fans, or was he showing his appreciation and heading home to sign a new contract?
So, what the West Brom game taught us was that Arsenal fans can get ready for another summer of rampant speculation, gossip and transfer rumors. 
With that, be excited. There is never a dull moment for an Arsenal fan.
Thanks for reading, and please remember to follow me on Twitter @ArsenalAbroad