FYI WIRZ: NASCAR's Sprint All-Star Race Is Pointless but Powerful
May 18, 2012


One of NASCAR's most popular races does not count for points, but it certainly scores speed, thrills and bragging rights.
The Sprint Showdown and Sprint All-Star Race on the 1.5-mile quad-oval Charlotte Motor Speedway with 24 degree banking will commence on May 19 at 7 p.m. for those in the grandstands and others on SPEED TV.
Charlotte Motor Speedway describes the popular race in one quick paragraph:
Simply put, it is 90 laps for $1 million. The best of the best in NASCAR go all out in the annual NASCAR Sprint All-Star Race. With the unique format, short distance, no points on the line and a large sum of money to the winner, the All-Star Race regularly produces some of NASCAR's most exciting moments.
The night race consists of the Sprint Showdown, with two segments of 20 laps. Two winners advance to the All-Star race that hosts five segments of four 20-lap runs, followed by a mandatory final pit stop and the 10-lap shootout.
Winners of the All-Star segments get preferred top-four pit positions going into the final shootout.
This year, 20 top drivers have earned a spot in the field. Two drivers will join the elite group with a win in the Showdown.
Those drivers include: Trevor Bayne, Jeff Gordon, Carl Edwards, Kyle Busch, Kevin Harvick, Matt Kenseth, Jimmie Johnson, Regan Smith, Brad Keselowski, Denny Hamlin, Kurt Busch, David Ragan, Ryan Newman, Paul Menard, Marcos Ambrose, Tony Stewart, Clint Bowyer, Kasey Kahne, Greg Biffle, and Mark Martin.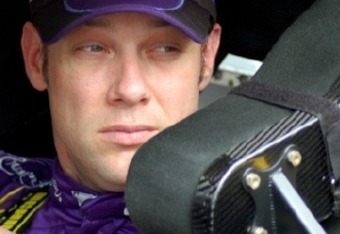 Select comments from 10 top All-Stars tell much about the fan-favorite event in the way of fun, spirited competition and home-field atmosphere.
Jeff Gordon (No. 24 Chevrolet)
It doesn't matter if points are on the line or not. I don't approach the All-Star race any different than I do any other race. However, it is a win-or-nothing kind of situation. If we don't win, then we don't lose any points—so you can kind of leave with a smile on your face.

The All-Star Race is always pretty wild and crazy.
Carl Edwards (No. 99 Ford)
We're just going for the win in each segment and hopefully get to Victory Lane like we did last year. That was a blast and one of the neatest nights of my career, so I'm excited to just go out there and have some fun.
Kyle Busch (No. 18 Toyota)
Being an all-star and being in the All-Star Race is one of the most fun things we get to do each year. You're definitely up on top of the wheel, and your guys do the best they can to give you a good car and to make it as lightweight as possible.

I think qualifying well can always lend itself to racing the All-Star Race well because you're running however many laps that segment is.
Two great champions, Matt Kenseth and Jimmie Johnson, defined the aspects that make the All-Star race special.
Matt Kenseth (No. 17 Ford)
It seems that teams are always willing to take more risks and try new things when it comes to the All-Star Race simply because there aren't any points associated with this race. The All-Star Race is just a lot of fun—having to qualify with a pit stop. Everyone is chasing the big check at the end of the race.
Jimmie Johnson (No. 48 Chevrolet)
There is no doubt the Shootout and the All-Star Race are more relaxed. Sure, we want to win. It's just who and what we all are. Without having the points and the structure of a normal weekend, it does make it a lot more fun.

It is a great testing weekend with practice and qualifying and all of that stuff. It's a good time to try stuff, and all teams do.

Ryan Newman is an automotive engineer, but he emphasized his racing background to define this race.
Ryan Newman (No. 39 Chevrolet)
This race is about the glory and the big prize. There are no points on the line, so, the way I see it, you want to either win it or bring back just the steering wheel in your hands, knowing you did everything you could to be the best of the best that night.
I think one of the coolest things about the All-Star Race for us is that it's a short race. It's kind of like the races we all grew up racing. It's a 'make your move and make it now' kind of thing. It's a unique layout, and to me that's what makes it fun.
Tony Stewart is known for an occasional media rant, but more often Stewart brings humor and excellent analysis of races and tracks.
Tony Stewart (No. 14 Chevrolet)
It's an event for the fans, and that's something that's very important to us, but there's a lot of bragging rights, too. Charlotte is an area where 95 percent of the Cup teams are based, so when you go there, you want to run well.

You're able to have guys come from the shop that don't get a chance to travel. They don't get a chance to come to the racetrack very often and see the fruits of their labor, so for them to come to the All-Star Race and see their cars run, especially when you have a good night, it really pumps up your organization.

You do it for your fans, but at the same time, you do it for your organization and your team. That's why the All-Star Race is important.
Kasey Kahne and Greg Biffle shared their insight.
Kasey Kahne (No. 5 Chevrolet)
You can't run the All-Star like any other race. With the format changes, your strategy is never the same as last year. Winning a segment is going to mean a lot this year. No one is looking for just a good finish. We all want the win.
Greg Biffle (No. 16 Ford)
"I'm super excited for the All-Star race Saturday night," Biffle said. "No points, I don't have to worry about anything. It's kind of like having a week off and getting to drive the car how I want to."
Kevin Harvick covered the most significant elements of the night race.
Kevin Harvick (No. 29 Chevrolet)
Our All-Star race is a lot different than other sports. With the All-Star race, they put a million dollars in front of you. Anytime they put that much money in front of anybody, it's going to cause things to rise to another level.

Take the points away from that and you really have some unique scenarios that come up. It's always fun when you know there is really nothing on the line but to win.

If you do, then usually there is a big check waiting for you at the end, so that gives you some bragging rights and a lot of money.
Looks like green flags are going to be numerous and thrilling.
FYI WIRZ is the select presentation of topics by Dwight Drum at Racetake.com. Unless otherwise noted, information and all quotes were obtained from personal interviews or official release materials provided by NASCAR and team representatives.