Jim Delaney: Alabama and SEC Haters Are Putting College Football in Danger
May 18, 2012

Ronald Martinez/Getty Images
It is a time for college football fans to be really concerned over the direction our cherished sport is taking.
When money and ego come together the outcome is not usually a positive one for the fans of any sport, and these two are clashing in a big way as the march toward a "playoff" is now moving forward.
What is the cause of all the angst coming from people like Big Ten commissioner Jim Delaney? The string of six BCS titles won by SEC schools.
What is the other bee in Delaney's bonnet and other SEC haters? It took one SEC school beating another to hand the nation's toughest conference their first BCS title game loss.
So, what is the danger a playoff is going to pose to college football?
First, how great was the last college basketball season? If you are like an ever increasing number of fans you had no idea what was going on until the tournament. Why? Because until March Madness starts, a loss here or there just really does not matter that much.
Think about all the hype around the Alabama-LSU game last year. It mattered. Why? If the season unfolded as it typically does, the loser would have been out of the BCS title race.
Fans of Oklahoma and Oklahoma State had a stake in that game. Out in Boise it was watched. Oregon and Stanford fans could dream. Even Arkansas fans could see a road to the title game pending the outcome of this one contest.
From there college football really became exciting. Bama fans had a real reason to keep up with Boise State because the common belief was that an undefeated Bronco team would leapfrog the Tide in the BCS. Many around the country hoped the upstarts from Idaho would get the job done.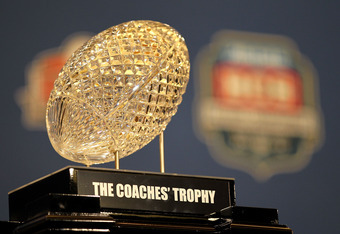 Andy Lyons/Getty Images
Then it happened...Boise State went down to TCU in a great game. If there was a playoff just ahead, Boise State-TCU would have been just another game because Bama fans would feel pretty confident about their team making the playoff field.
Oklahoma State still stood in the way of Bama's hopes and the Cowboy's had dreams of their own. A playoff would have made what happened in Ames on November 18th pretty uninteresting. When the Cyclones pulled off their upset win over OSU, teams all around the nation had renewed hope.
You know that fans from schools like Arkansas, Oregon, Stanford and even Kansas State were pulling for an Iron Bowl upset so Alabama would drop from their number two perch?
What unfolded this past college football season was just like almost every other year. Games your team did not play in mattered almost as much as ones you played. The net result was that you had a rooting interest in a whole bunch of games every week.  
You just can't say that about regular season college basketball.
Now Delaney and others want a playoff. What is more they don't even want to necessarily invite the best teams. Only conference champions.
What? The whole idea of the BCS was to get the best two teams together and play for a title. Delaney wants to go a place that would make this even more difficult than it is now.
Who would have been the featured teams with this criteria last year?
Well, there would have been that great ACC Champ Clemson who got drubbed by Big East champ West Virginia 70-33. By the way, the Mountaineers carried three losses into their BCS bowl game.
We would have had the opportunity to see what Wisconsin could do. It could have been said that the Badgers backed in to Delaney's playoff because they beat Michigan State in the conference championship game—a team they had lost to earlier in the season. And you thought Delaney and so many others hated rematches?!?
A very legitimate case could be made for OSU, and even Bama fans would not have been able to call it an injustice if the Cowboys had been selected to play LSU for all the marbles.
Out West the Pac-12 would have brought us Oregon. You might remember they were beat up pretty bad in the first game of the season by LSU. Oh, as was West Virginia.
It is hard to say that a playoff featuring these schools would have been the best way to decide the national champ, you know...the nation's best team.
Since a playoff is the road the power brokers are going to take us on, then what is the best way to go?
Remember the first rule of almost anything. Keep it simple.
Use the BCS system that is in place to determine the top four teams. Let one play four, two take on three and then the winners play to determine who gets the crystal.
Why will this not be the solution that the "powers that be" choose? Well, money and ego are both involved. And your college football is in danger.
Gary Brown is the author of the book "Summer School: Leadership Lessons From the Lady Titans"