Henry Hynoski: The New York Giants FB Is Key to Offense's Success
May 18, 2012

Al Bello/Getty Images
The New York Giants boasted one of the NFL's most prolific offenses over the course of their run to their victory in Super Bowl XLVI over the New England Patriots.
Should the Giants hope to accomplish much of the same fortune in 2012, especially on offense, their success hinges on the play of their underrated fullback—of all positions—Henry Hynoski.
An army of Giants fans just chuckled reading that. Eli Manning devotees are demanding a retraction of that statement.
However, Manning is a given. The Giants gunslinger is going to lead his teammates as he has since 2004, and the victories will certainly pile up.
But Hynoski is a game-changer, as odd as that may seem, and his presence in a much larger role for the Giants this season will make a dramatic difference on offense.
Last season, the Giants finished dead-last in the NFL in rushing, with an embarrassingly low 89.2 yards per game. The performance was the franchise's worst during Coach Tom Coughlin's tenure in New York.
Though his contributions as a lead blocker appeared minimal last season, marred by growing pains and time spent on the injury report, Hynoski's prowess as a lead blocker is something they sorely missed.
Sideline Scouting had plenty of nice things to say about the former Pittsburgh Panther entering the draft (h/t Ed Valentine of Big Blue View):
Strong blocker, a traditional lead blocker who really packs a punch... Has a great frame for an NFL fullback... Versatility will appeal to teams, is athletic for his size and can contribute as a receiver, runner, and blocker... Improved route runner who has a lot of potential to contribute in the passing game... Has a strong base and has shown the ability to push back defenders at the point of attack... Will be able to contribute on special teams units.
Hynoski showed flashes of brilliance late in the season for the Giants. In the Giants' final eight games (including the postseason), Hynoski caught 13 passes for 95 yards.
His leaping evasion of Dallas Cowboys cornerback Terence Newman might be his most memorable play, but his performance in Super Bowl XLVI against the Patriots was unquestionably his greatest and most promising effort to date.
It did not light up the box score by any means, though he showed exciting strength and athleticism on each of his two catches out of the backfield. But the job he did opening holes for the Giants rushers, as well as making a game-saving fumble recovery on a ball knocked loose from the grips of Hakeem Nicks, gave Giants fans pleasant memories of Big Blue's fullback the last time confetti fell in their favor—Madison Hedgecock.
All of this occurred on the field that nearly cost him his NFL career—Lucas Oil Stadium in Indianapolis.
Hynoski's hamstring injury he suffered at the 2011 NFL Combine did serious damage to the stock of one of the class' top fullback prospects and sent him free-falling out of the NFL draft—and right into the hands of general manager Jerry Reese and the Giants as an undrafted free agent.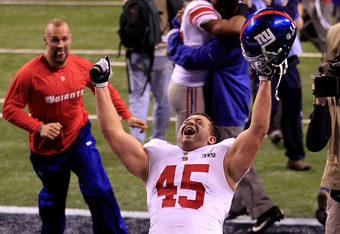 Chris Trotman/Getty Images
That free fall has delivered the defending Super Bowl champions with a player boasting the talent and potential to be one of the NFL's premier fullbacks. His abilities are comparable to those of the game's most versatile fullbacks of all time, such as Tom Rathman and Larry Centers.
The Giants love players with versatile talents, and Hynoski fits the mold. His ability to catch out of the backfield, occasionally carry the football and, most importantly, perform as a lead blocker will provide a much-needed boost to the Giants offensive attack in 2012.
The New York Giants are stocked full of incredible talent on offense that can make an impact at any point in a football game. But none of those players may be able to do so much in so many different ways with as few expectations to do so as the fullback Hynoski can this season for the Giants.
The Giants' pass protection, run blocking and, consequentially, rushing attack will all see an improvement in 2012, and much of that will have to do with blossoming young talent Henry Hynoski.
Louis Musto is a featured columnist for Bleacher Report. Follow him on Twitter.