Arsenal FC: Why Stan Kroenke May Be Right and Arsene Wenger May Be Wrong
May 24, 2012

Arsene Wenger faced his toughest test as manager of Arsenal FC this season after his team began the term with their worst league start to a season in 58 years.
In the end, Wenger made what looked like a few panic buys—when you consider his usual pace on purchasing—and was lucky enough to have Robin van Persie, who scored 37 goals in all competitions.
Arsenal were also helped by the ineptitude of their London rivals Tottenham Hotspur and Chelsea FC.
The team managed to get third despite choking at the last hurdle and midway through the campaign.
Once again, Wenger has taken credit for seemingly rescuing his team from a problem that he actually created in the first place.
What appeared unfair was that when the chips were against Wenger, and the team were playing poorly on the field, his loyal followers persisted with blaming the board; most particularly Stan Kroenke.
Yet when things went well, Arsene Wenger was once again lauded as the genius that he is.
This highlighted for me an issue with double standards amongst Wenger's ardent followers. Surely you cannot have it both ways.
Are you not responsible for what happens on the pitch? How can the board be held accountable for tactics and form? Yet when the team does suddenly start performing, why can Wenger take the credit?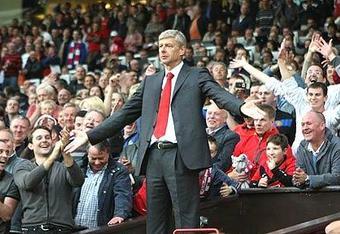 Stan Kroenke only became the primary owner of the club in April 2011. How is it that he can be the reason for anything that may have happened over the past year? Especially on the pitch?
It was not Kroenke's fault that in the closing stages of 2010-11, Arsenal's campaign quickly disintegrated out of existence—after still being in all four competitions—culminating in a humiliating cup final defeat to Birmingham City.
It was not Kroenke's fault that Wenger failed to acquire signatures for players in the final years of their contracts and we are seeing a repeat this season.
The club's stance on money management and funds is a morale and correct one.
There is no reason why Arsenal FC need to put the future of the club in jeopardy by spending excessive amounts of money and plunging the club into debt just to compete with the likes of Manchester City.
At the end of last year, Arsenal recorded pre-tax profits of £49.5 million whereas Manchester City recorded losses of £195 million. (Mail Online, The Telegraph)
If Man City's owners were ever to get bored and chose to pull the plug on their multi-million-pound venture, City would plunge into oblivion.
Arsenal can rest assured the club is run well and is far from being financially in trouble.
However, the scary thing for Arsenal is it currently appears that the selling of prized assets is the only real reason why they are seeing profit.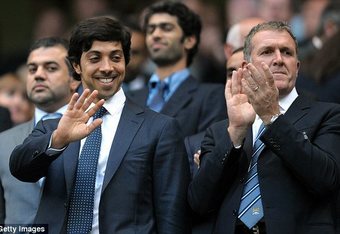 Arsene Wenger has had money to spend—whether it be in the transfer market or on his wage bill—and it appears he has not been so successful at doing this at the moment and translating it to good performances on the pitch for Arsenal.
There is no reason why players like Manuel Almunia, Johan Djourou, Nicklas Bendtner, Denilson, Abou Diaby, Carlos Vela and Marouane Chamakh should be on the wages they are. They are expensive and therefore scare off any buyers.
Questionable purchases such as Park Chu-Yung, Per Mertesacker and Gervinho not only cost money, but are drains on annual funds in regards to their weekly wage. For instance, Park earns £2.5 million per year.
It appears Wenger is perhaps more guilty for the waste of funds at Arsenal than anyone else, however, the fans will still blame Silent Stan.
At the current rate, Arsenal will struggle to reclaim their status at the top of the Premier League.
Follow me on Twitter: @SamuelMensahLDN