Ray Rice Holdout: What Shady McCoy's Contract Means for Rice's Upcoming Deal
May 19, 2012

Andy Lyons/Getty Images
Although there are many conflicting storylines surrounding the Baltimore Ravens' offseason, the most important one has yet to be resolved. That would be the fate of Pro Bowl running back Ray Rice who is currently holding out from all team offseason activities. 
Having been slapped with the franchise tag, Rice has opted not to sign it and instead wait for the Ravens to give him a better deal. Given that Rice is arguably the offense's most valuable player and he had the second-most rushing yards in the league last season, the Ravens obviously want to sign him to a long-term deal. 
It's been tough though, as this offseason has been one where many of the Ravens' key players are up for paydays. They have had to re-sign key players like Matt Birk, Lardarius Webb and Cary Williams. The Ravens are also working on long-term deals for Joe Flacco and possibly considering a new deal for Ed Reed.
This has unfortunately left Rice on the backburner, but the Ravens will not be able to ignore this situation that much longer. Rice and the Ravens need to come to a deal by July 16 or Rice will be forced to play this season under the franchise tag. 
With a little less than two months until this crucial day, a recent development has both sides talking. This would be LeSean McCoy's new contract, which makes him among the highest paid running backs in the league, according to ESPN.com. 
McCoy's deal is a five-year contract extension worth $45 million. This includes $20,765,000 guaranteed. 
This puts McCoy as the third-highest paid running back in the league. Chris Johnson is making a little more with a six-year, $56 million deal. Adrian Peterson is by far the league's highest paid running back with a seven-year, $96 million deal.
This deal could be very impactful to several other elite running backs who are looking for new contracts this offseason, such as Matt Forte of the Chicago Bears and Maurice Jones-Drew of the Jacksonville Jaguars. Of course, this list also includes Rice whose performance over the last three years has vaulted him into the discussion of best running back in the league.
While Johnson and Peterson earned their paydays with league rushing titles, their values seem to be trending slightly downward. Now Rice, McCoy and Arian Foster, who recently signed a five-year, $43.5 million deal, are in the running for the title of the league's best running back. Since all three running backs are nearly equal in value, reasonable thinking is that Rice will see a deal somewhere in the $40 million range.
Although the Shady McCoy deal does provide the framework of the market value for running backs, Peter King of SI.com (h/t Profootballtalk.com) reports Rice wants more money. After saying that he outperformed his rookie deal, Rice opened up negotiations with his desire to get a contract with Adrian Peterson-type numbers.
That's not going to happen. As important as Rice is to the Ravens, the shelf life of today's running backs make any contract a leap of faith. Even at 25 years old, Rice has had 852 carries over the last three seasons which doesn't include the 72 receptions per year he's averaged in that time span.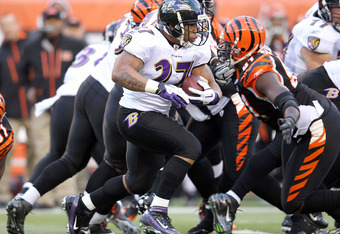 Andy Lyons/Getty Images
Still, it helps that Rice has been very healthy during his NFL career. He has only missed three games total, all of them coming during his rookie season. Therefore, the Ravens can certainly expect multiple elite seasons from Rice and they will eventually have to come around to pay him the type of deal he deserves. 
Rice is equal in worth to Foster and McCoy. That means that the Ravens will probably end up offering him around a five-year deal, worth around $40 million. He may get slightly less considering that McCoy is two years younger and Foster has been in the league one season less.
With Rice's holdout approaching two months now, he would be wise to accept this much. While the Ravens have no running back on their roster that is nearly as good as Rice, he is looking to play for a proven Super Bowl contender that knows how to utilize him to the fullest extent possible. Both sides need each other.
The franchise-tag deadline is the most crucial one right now. The Carroll County Times (h/t NBCsports.com) reports Rice has insisted that he can stay in shape training and conditioning on his own. Training has never been an issue for Rice, who is known for being a regular in the team's weight room.
Getting Rice back in mid- to late-July shouldn't cause any dropoff in Rice's statistics. Ravens fans should hope that a deal gets done by then so both Rice and the Ravens can move on to the more important task of trying to win a Super Bowl this season.